LG BH8220B review
This style-conscious 3D cinema system certainly looks the part - but how does it perform?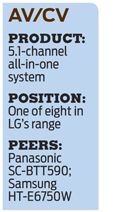 LG's BH8220B enters the all-in-one system battle arena wearing a silver, boxy design that recalls the DVD-based systems of yesteryear. It's as if someone at the Korean firm's design lab handed in the wrong piece of paper. That said, at least it's a tonal match for the brand's current range of super-stylish flatscreen TVs, and the brushed aluminium finish, particular on the side-firing subwoofer, is pleasing on the eye.
Potential buyers will need to arm themselves with £650 – not an inconsiderable amount in these days of £100 Blu-ray players and £500 42in TVs. Lucky, then, that as well as providing surround sound sonic thrills, the BH8220B will also spin your 3D Blu-rays, play footsie with your networked devices, usher you into LG's online Smart TV portal and plenty more besides. This explains why the full manual comes on a disc – it'd be a hefty tome in print.
Initial setup is par for the home cinema system course. Colour-coded speaker cables? Check. Oodles of polystyrene packaging? Ditto. Supplied HDMI cable? Er, no actually. Maybe it was just my sample. This lack of a digital umbilical isn't a problem in my house, but could bemuse other consumers.
Going for a drive
The five satellites are weighty and larger than you might expect. Each features three drivers – two newly-designed aramid fibre cone midrange units and a tweeter. The centre unit has a small plinth protruding from its base to aid installation.
The main unit/BD deck feels equally well built, with the disc tray and USB/3.5mm jacks sitting behind a front panel. The rim of the central volume control glows bright white when the system is on – and I couldn't find a way to switch this off.
Rear panel connections include optical audio in, an Ethernet port (there's built in Wi-Fi, too) and 2-in, 1-out HDMI. The output supports ARC.
Metal mayhem

Video playback is of high quality. Transformers: Dark of the Moon (BD) is packed with sharp edges and intricate details, and the LG deck doesn't falter in teasing them out. Partnered with my 42in Philips screen, it proved to be an enjoyable HD experience – Chapter 9 of Michael Bay's sequel opens in a desert at sunset. The plumes of dust spat up by a convoy of cars drift fluidly across the screen, and when two of the battle-bots start having a chin-wag their glinting bodywork is quite exquisite. 3D Blu-rays, meanwhile, retain all these good points, and there's depth-a-plenty (nor did the LG deck have any problem syncing with my 3D display). DVDs output at 1080p enjoy a gentle sharpening, but nothing that's going to make me stop buying BDs instead.
Sonically, LG's system is impressive, with a weighty, full-bodied sound that no doubt owes thanks to the larger-than-usual satellites. The centre speaker, in particular, stamps its authority on proceedings, making sure that dialogue is upfront and not overrun by the rest of the surround mix. Likewise, the subwoofer is no slouch, and laps up the frequent, foreboding LFE in Transformers... with relish. It does, however, tend towards an omnipotent rumble, rather than a tight, taut performance.
The identical front and back speakers track panning effects across the 5.1 soundfield with no irritating tonal change, and deliver the orchestral score with a decent, room-filling swell. In fact, the BH8220B can easily go loud enough for the kind of space it's likely to be installed in.
My main criticism concerns the LG's reproduction of higher frequencies – this system never really sings, preferring to focus on the midrange. This is something I found particularly obvious with music – Megadeth's Rust in Peace (CD) lacked the dynamism I know is in there. Movie soundtracks don't sound as expansive as perhaps they could, either.
Compelling proposition
Yet while there are the inevitable flaws with its sonic performance that audiophiles will pick on, the BH8220B is a compelling proposition for anyone new to the home cinema game. It's well-built, well specified and furnished with a intuitive hi-res GUI that makes operation a pleasure. Blu-ray performance is excellent and the speakers offer a surround sound experience far in advance of anything you'll find in a soundbar or TV speakers. It could easily become the Smart centre of your living room. And you might even like the slightly retro design...
---
HCC VERDICT
LG BH8220B
Price: £650 Approx
Highs: Blu-ray playback; largescale audio performance; solid construction; full of features
Lows: High-frequencies could be sweeter; sub could be tighter
Performance: 4/5
Design: 4/5
Features: 4/5
Overall: 4/5
---
Analysis
GUI: The BH8220B's menus are all hi-res and very responsive, but somewhat static in presentation – Smart, but not Albert Einstein
Killer feature: It's the LG's ability to muster up impressive volume levels and scale that really stands out – as well as its excellent BD playback
---
Specifications
3D: yes
Upscaling: yes to 1080p
Connections: HDMI v1.4 output; 2 x HDMI inputs; optical digital audio input; analogue stereo input; Ethernet port; USB port; FM aerial input; 3.5mm input
SACD/DVD-A playback: no/no
DTS-HD/Dolby TrueHD decoding: yes/yes
Claimed power output: 1,100W
Dimensions (main unit): 430(w) x 61.5(h) x 312(d)mm
Weight (main unit): 3.5kg
Features: 3D Surround Processor; LG Smart TV; Smart Share; built-in Wi-Fi; Wi-Fi direct; DLNA certified; Bluetooth streaming; external HDD playback; LG remote for Android and iPad/iPhone; four-band equaliser; FM tuner; DivX, AVCHD, WMV, MKV, FLAC, WMA file playback