The Last Stand review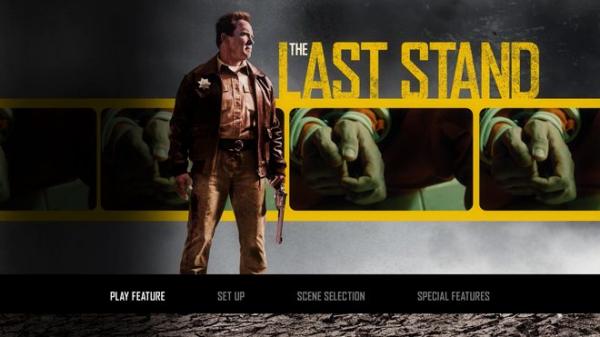 Arnie's return to the big screen is an unashamedly dumb action film - and is all the better for it
Having wrapped up an eight-year term as Governor of California, it was no surprise to learn that Arnold Schwarzenegger was planning a return to the silver screen. But at 65-years of age, many wondered if the former superstar would still have what it takes to kick-ass with the best of them.
Unpretentious old-school flick The Last Stand casts Schwarzenegger as Ray Owens, the sheriff of a small town in Arizona. But his usually quiet life is thrown into disarray when a notorious drug cartel kingpin escapes from FBI custody and makes a break for the border in a souped-up Corvette – and the only people standing in his way are Ray and a rag-tag bunch of townsfolk.
Of course, it's completely stupid (the escaping kingpin also happens to be a part-time race car driver). But, like the best '80s action films, it's also a lot of fun. Arnie still looks perfectly at home shooting people and - like some of Stallone's recent films - he makes his advancing years work for him, adding a sense of danger to the finale where he goes hand-to-hand with the younger, faster villain.
As well as the sheer pleasure found in watching Arnie get back into the action, a large part of the film's success also rests on the shoulders of South Korean director Kim Ji-woon (making his Hollywood debut). The Last Stand definitely benefits from the same kind of verve and over-the-top energy that made his 2008 'Eastern Western', The Good, the Bad and the Weird an international smash hit.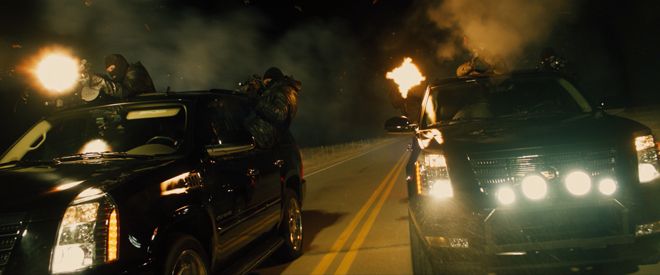 Picture: The Last Stand looks pretty spectacular in hi-def thanks to this Blu-ray's exceptionally sharp and colourful AVC 2.40:1 108p encode.
Close-ups of Arnie's weathered face highlight every little (and not so little) crease and wrinkle in immaculate detail, while the saturated palette gives the film a slightly heightened sense of reality that serves the material extremely well. Even the handful of night sequences hold up to close scrutiny, with only some minor crush and loss of shadow detail in the deepest blacks to complain about.
The only downside to the remarkable clarity and sharpness is that it doesn't sometimes highlight a couple of the less that successful CG effects - most notably the location of the final showdown.
Picture rating: 4.5/5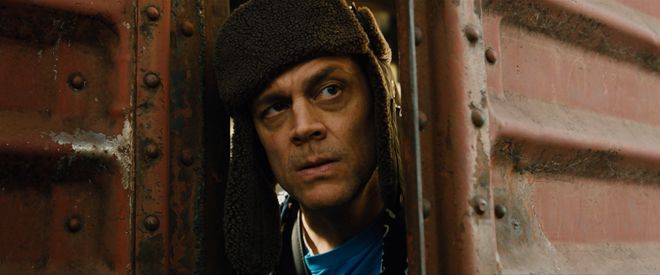 Audio: The disc's DTS-HD MA 7.1 delivers pretty much everything you could want for a film like this. There's not a lot of subtlety on show, but who really cares when it spends so much time throwing cars, gunfire and explosions around the soundfield with so much power, precision and clarity. Dialogue is also well-handled (even if nothing will ever overcome Arnie's natural dialect) as is Korean composer Mowg's wonderful western-influenced score.
Audio rating: 4.5/5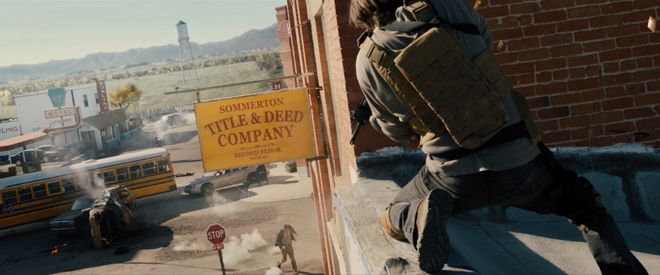 Extras: Lionsgate's disc packs in a reasonable batch of bonus features. Not only is there a half-hour Making of… documentary, but you also get a breakdown of one of the car stunt sequences, a featurette about the film's vintage weaponry, behind-the-scenes handycam footage shot by actors Johnny Knoxville and Jaimie Alexander, six deleted scenes and seven extended scenes.
Extras: 3/5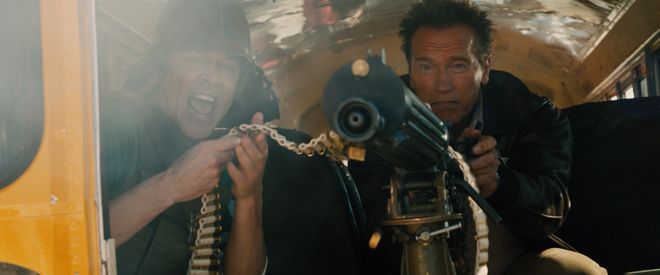 We say: It may be an old-school action flick, but Arnie's latest both looks and sounds cutting-edge in HD
The Last Stand, Lionsgate, Region B BD, £23 Approx
HCC VERDICT: 3.5/5