Knightriders review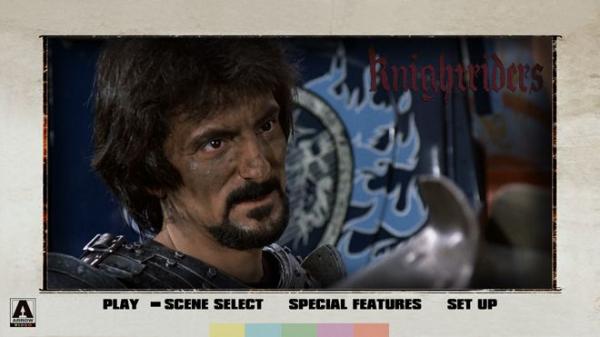 Knights jousting on motorbikes? What more could you possibly want from a cult film?
Between Dawn of the Dead and Day of the Dead, George A. Romero took time out to riff on classic Arthurian legends with this frequently overlooked tale of a renaissance fair troupe of jousting bikers.
Beyond the arresting central conceit of knights on motorbikes, Knightriders concerns itself with a tale of personal ideology versus commercialisation – the former represented by troupe leader Billy (Ed Harris), the latter by the skilled fighter Morgan (Tom Savini). What unfolds may be a bit overlong and rather rough around the edges, but it's also an oddly affecting and very likeable film that's ripe for rediscovery.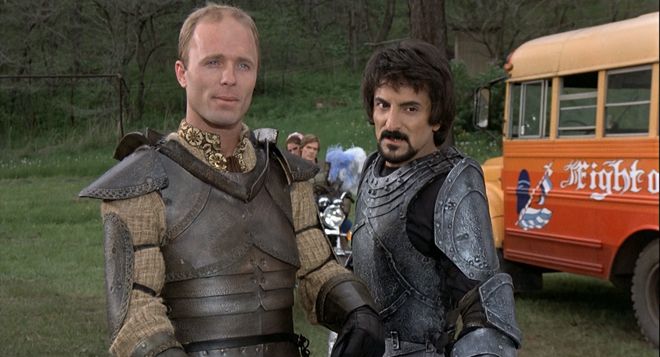 Picture: Arrow has done a sterling job restoring Knightriders for this Blu-ray release. Admittedly, the opening shots leading into the title opticals look worryingly soft, but once you get past this the AVC 1.85:1 1080p image instantly reveals its true colours. And what bold natural colours they are. In addition to the strong colour palette, this HD transfer also showcases some deep stable blacks, good detailing and plenty of native film grain.
Picture rating: 4/5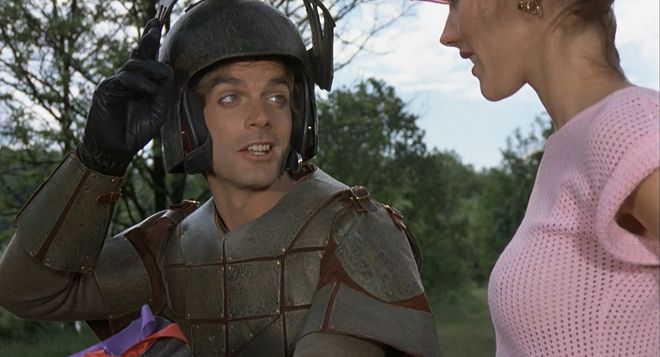 Audio: The nature of the source material means that the clash of revving bike engines and PA system commentary in Knightriders' LPCM dual-mono mix sounds a little muddy during the petrol-fuelled jousting sequences. Elsewhere, though, it copes fine with the movie's original audio elements and gets the best out of Donald Rubinstein's memorable score.
Audio rating: 3/5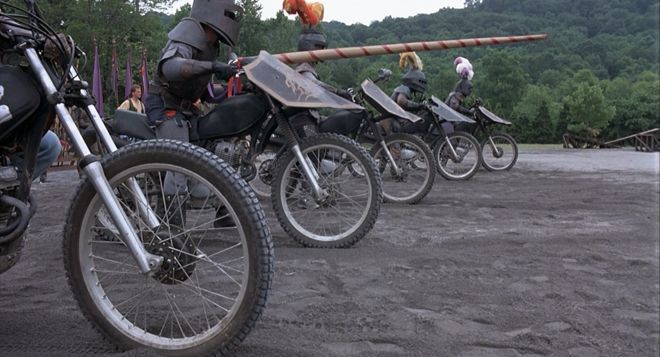 Extras: Rescued from the long out-of-print Anchor Bay R1 DVD is a very relaxed - yet extremely informative - commentary by the filmmakers recorded back in 1999, as well as a theatrical trailer and a pair of TV spots.
Exclusive to this release are a trio of newly recorded interviews with stars Ed Harris (13 minutes), Patricia Tallman (18 minutes) and Tom Savini (12 minutes). All three are worth a watch, with Harris seemingly bemused and amused that the film has taken on cult status, Tallman explaining how her inexperience led to her suggesting dialogue changes, and Savini revealing why he and Doug 'Pinhead' Bradley once found themselves singing songs from Camelot at a Red Lobster restaurant...
Extras rating: 4/5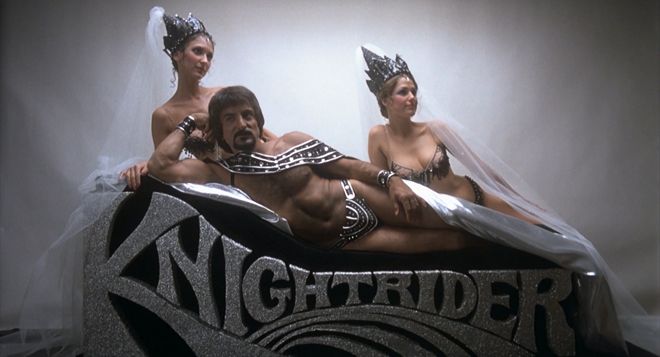 We say: Arrow's regal restoration should help bring Romero's cult flick to a much wider audience on BD
Knightriders, Arrow Video, Region B BD/R2 DVD, £23 Approx
HCC VERDICT: 4/5