Kaleidescape spills the beans on 3D BD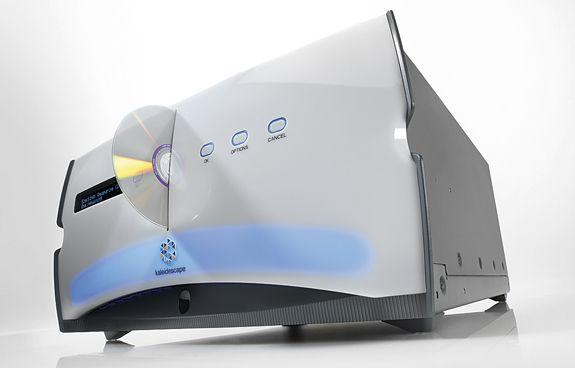 US media server specialist reveals why its latest M-Class hardware still doesn't support 3D
Media server maestro Kaleidescape has confirmed to HCC that it will have 3D support on its future players, finally bringing the high-end custom install solution into line with more mass-market hardware.
Some of you may have been left scratching their heads when its new M-Class hardware (including the M700 Disc Vault, pictured below) launched without 3D Blu-ray playback capability. Tom Barnett, Kaleidescape's Senior Director, Marketing explains why. 'When we were looking for a platform to support our M-Class players, we had a long list of things we would like it to do, such as the ability to support a great user interface and the ability to stream native 1080p content. None of the chipsets that underpin the big-brand 3D-capable Blu-ray players were considered suitable.
'The chipset that fulfilled all our criteria – and the players that we subsequently built around it – cannot support 3D, although a future version will. In other words, the current M-Class players will never support 3D Blu-ray content – even with a firmware update. Their successors will. You'll simply need to upgrade your player. The current servers will do just fine.'
Performance upgrades
Unfortunately, there's no word when a new 3D-capable product range may arrive. In the meantime, though, Kaleidescape is busy improving its service via firmware updates, and has added its Scenes and CinemaScape features.
The latter was developed in response to the popularity of 2.35:1 cinemas with Kaleidescape customers and dealers ('26 out of the 29 cinemas that competed for the [US] CEDIA Electronic Lifestyles awards in 2011 were 2.35:1,' reveals Barnett). This advanced video processing technique means switching between aspect ratios no longer necessitates moving your anamorphic lens. It also means that 'Scope screen owners can see Kaleidescape's hi-res UI in its entirety without having to scroll from left to right. This, we guess, is the kind of thing that could get annoying when you've spent thousands on a high-end setup.
The new Scenes feature is far wackier. Here, Kaleidescape has picked 4,000 of the 'funniest, scariest, most action-packed and emotionally-charged' scenes from over 700 movies, enabling users to flit etween them. 'We've made watching the best moments in your DVD and Blu-ray collection as easy and accessible as watching videos on YouTube,' says Barnett.