July issue on sale now!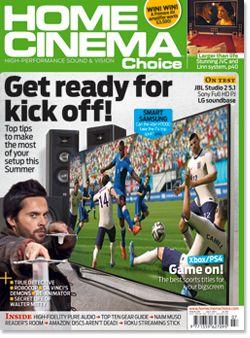 Home Cinema Choice 235 is available to buy in shops and online - and here's what's in it...
Get ready for kick-off! Tips and tweaks to ensure your home cinema setup is ready for a Summer of sport.
Smart Samsung: Not bothered about 4K? Then you'll find the UE46H7000 has a lot going for it.
Game on! The ten best sporting games for your bigscreen setup.
Blu-ray music, pure and simple: How Universal Music Group wants to use Blu-ray to bring high-quality audio to the masses.
System selector: Assembling a projection setup that provides largescale visuals and multichannel audio for less than you might think.
Win a Primare amp: Add a touch of luxury to your system with a high-end SPA23 integrated amplifier worth £3,500!
Plus: reviews of Monitor Audio's mid-range Silver 6AV12 floorstanding speaker array, LG's LAB540 soundbase speaker with integrated Blu-ray, Samsung's HT-H7750WM all-in-one system, Sony's VPL-HW40ES entry-level Full HD projector, Dune's HD Base 3D high-end media player, Roku's Streaming Stick and more.