Humax HDR-1010S review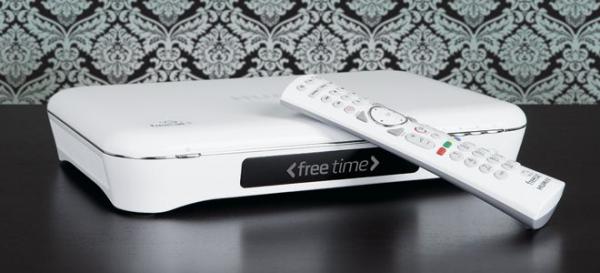 There's a new 1TB Freesat Free Time PVR, but is it really all that different from its predecessor?
Essentially Freesat's answer to YouView, the Free Time platform combines a backwards/forwards EPG with web-delivered catch-up TV and video on-demand.
It has hitherto been confined to just the one Humax-made Freesat+ PVR, the HDR-1000S, which has now been joined by this flashier sibling with its Apple-esque white finish. It houses twin tuners and a 1TB hard disk (unlike the 1000S, there's no 500GB option) able to store around 600 hours of standard- or 250 hours of high-definition recordings.
While Humax is keen to point out that a new moulding has been used rather than being a simple 're-spray', the case design closely mirrors that of the 1000S. Sporting much the same distinctive curves, the white fluorescent display is now attractively framed within a black window with a scattering of operating buttons located along the top edge. A flap on the right conceals a USB port (there's another on the rear) while on the right side of the box sits a CI+ slot should Freesat ever consider introducing pay TV.
Again the backplate has an HDMI output, an RGB-capable Scart, a composite video output, optical audio jack and an Ethernet port.
Apart from being in matching white and the 'Home' menu button having been re-located to the middle, the wand-style remote is otherwise pretty much the same as that supplied with the 1000S (and similar to that found with Humax's YouView PVRs) offering neatly arranged, clearly labelled buttons.
A notable improvement on the 1000S is built-in Wi-Fi, allowing you to keep the box uncluttered by network cables or wireless dongles. Wireless networks are detected as part of the setup procedure and you're prompted for passwords.
Setup aside, the Free Time user interface remains unchanged, meaning it still employs flashy graphics, thumbnail images, channel logos and short help videos. Together, these give the impression you're using a distinct service rather than just another Freesat PVR. As with the 1000S, the box can also operate as a standard satellite receiver in 'STB' mode, enabling it to be used for receiving channels not available on Freesat, though functionality is limited (there's no EPG for a start).
In the here and now
The HDR-1010S provides numerous ways of finding content. Firstly, the Free Time EPG displays now-and-next data, or what's coming up in the next seven days, in a timeline grid. Clicking on 'Earlier' reveals a list of shows available on catch-up for the selected channel from up to seven days previously, and selecting them takes you to the relevant player. You can also view channels of a particular type or in your favourites list only and schedule recordings (including series) and reminders. Then there's the 'Showcase' menu, which features highlights of what's on catch-up or live TV and can be used to set recordings. You can also search for programmes by title.
It's possible to record two channels at once while playing a recording, watching video-on-demand or using another 'smart' feature. A 'live pause' buffer takes effect when you switch to a channel and can last up to two hours.
The Humax's 'On Demand' menu gives direct access to VOD services including BBC iPlayer and ITV Player – 4oD and Demand 5 are flagged as coming soon (once technical issues have been ironed out, I'm told). Netflix is another rumoured forthcoming addition to Free Time. In the meantime, gorge on the new and very classy HTML5-generated leanback version of YouTube, complete with sorting and search capabilities which can be controlled using a smartphone or tablet. Shame there's no dedicated control/recording app yet for the PVR itself.
As with the HDR-1000S, there's a degree of bonus multimedia functionality on offer besides. Media in a variety of popular formats, including MKV and AVI, can be played from USB or network-connected drives or copied to the internal hard disk drive. Humax's underwhelming TV Portal, meanwhile, includes Flickr, Picasa, Wikipedia, news from OK!, The Daily Star and Daily Express, music videos from Villanoise and Bible TV.
Picture performance is again on the money. The Humax automatically adjusts settings to suit your TV, very effectively upscaling SD broadcasts via HDMI. Native HD broadcasts, from the BBC's HD channels in particular, also look pleasingly sharp. Streaming SD and HD catch-up TV and YouTube clips through my Virgin Media Super Hub located in the same room proved as smooth as could be expected. Audio is delivered without a hitch.
Make your choice
If the change of colour or having built-in Wi-Fi isn't a deal breaker, it's worth bearing in mind that the HDR-1000S can currently be picked up with a 1TB HDD for £20 less. That said, this is an attractive evolution of what was already an solid Freesat PVR to begin with.
---
HCC VERDICT

Humax HDR-1010S
Price: £300 Approx
www.humaxdigital.com/uk
Highs: Classy white finish; slick Free Time UI; built-in Wi-Fi
Lows: Still no Demand 5 or 4oD; limited mobile support; TV Portal not great
Performance: 4/5
Design: 4/5
Features: 4/5
Overall: 4/5