Humax HB-1000S review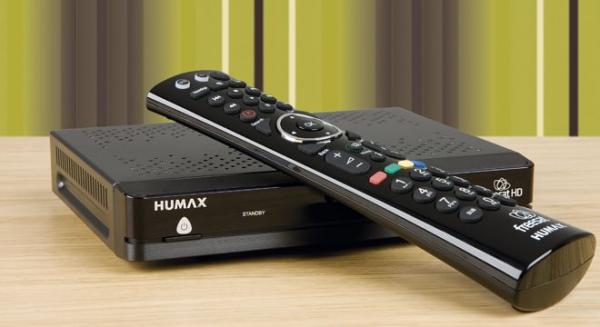 Roll back the cost of Freesat's YouView-esque service with this affordable set-top box
Freesat's YouView-esque Free Time service with integrated web-delivered video on-demand/catch-up TV currently has three Humax-made boxes to its name, of which this is the latest and cheapest.
Whereas the HDR-1000S and HDR-1010S are PVRs with dual tuners and built-in hard disks, the HB-1000S requires the addition of a USB hard drive for recording and timeshifting, and has only one tuner.
Though not enabled at the time of writing, Humax says it will also be able to act as a 'slave box' in future, allowing recordings located on the HDR boxes to be streamed over a network.
Unlike its distinctive stablemates, it's a compact, fairly nondescript black box with no proper LED display save for a power/standby indicator (a recording indicator would have been welcome) accompanied by a power button. The rear includes HDMI (via which video can be upscaled to 1080p), composite video output, an optical audio output, stereo phonos, an Ethernet connector and two USB ports. A compatible wireless dongle is needed for Wi-Fi.
The lengthy remote has an attractive glossy black finish and is tapered in the middle so it sits well in the hand. It can also be used to control copious brands of TV (a code list is included in the manual) and frequently-used buttons such as a Home button and PVR controls are located close to each other, making it intuitive to use.
The slick, colourful UI is pretty much the same as that found on the HDR boxes, with a Home screen acting as your main jumping-off point.
Stepping back in time
By default, the Free Time EPG displays now-and-next programme info, which can be scrolled up and down, either side of which appear Earlier (when you select a Channel 4, 5, BBC or ITV channel, excluding '+1's) and Later options. Earlier takes you to a list of shows available as catch-up TV from the same day or up to seven days previously, the selection of which takes you straight to the relevant player. Choosing Later brings up a conventional EPG grid with information stretching up to eight days ahead.
You can also sort the EPG to show only channels of a particular type, such as Movies, Radio or your favourites. A 'Showcase' menu, meanwhile, displays recommendations for on-demand and live TV and you can perform keyword searches to find upcoming shows by title. BBC iPlayer, ITV Player, Demand 5 and 4oD can also be accessed directly – alongside a YouTube portal – via the Humax's On Demand menu.
Having one tuner is certainly a drawback for recording, restricting you to archiving one channel a time. I was also unable to watch another while doing so unless both were being broadcast using the same satellite transponder. However, this is arguably mitigated somewhat by the catch-up TV content on offer.
You can schedule recordings, including series recordings – and if there's a 'clash', schedule a recording of the next showing – using the EPG, a programme banner (effectively a 'mini EPG' also with Earlier and Later options) via the Showcase and Search menus or by hitting record while watching a channel.
I was able to record with the box in standby, and when playing/streaming media files using players (except ITV Player), YouTube or Humax's TV Portal. You can choose start and end 'padding' times for recordings, start watching while in-progress and resume from where you left off. Both recordings and timeshifted TV can be fast-forwarded or rewound at up to 32x normal speed, or skipped through in chunks helped by a progress bar. Recordings can be kept from deletion but you can't play them using other devices. You can also set programme reminders.
An 'STB mode' enables the box to act as a conventional free-to-air satellite receiver for viewing more than just Freesat channels but functionality is basic – no EPG is provided and you can timeshift but not record.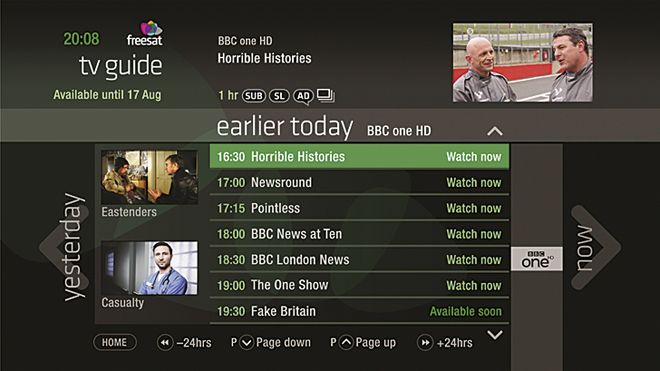 Media savvy
Considering the £100 ticket, the HB-1000S packs some welcome extra functionality, beyond its USB recording nous, in the form of multimedia playback via DLNA/USB. Compatible file formats include MP3 and XviD but while the box ably detected my networked PC running Windows 7 and a Western Digital NAS drive, it turned its nose up at some of my MKV files.
Humax's online TV Portal also includes Flickr, Picasa and Wikipedia browsing – but this is really nothing to get excited about.
As for AV quality, the HB-1000S won't work miracles with the often ropey-looking output of some Freesat channels, but the HB-1000S does an effective job on the whole of upscaling SD broadcasts and native HD TV looked suitably sharp and detailed on my Panasonic TV. Some minor jerkiness was evident navigating the UI on my test box, but I didn't experience any recording errors.
If you have, or plan to buy, one of Humax's HDR boxes, then the promise of multiroom functionality to come could be this receiver's big selling point. As things stand, there's enough here to make the HB-1000S worth picking up, either as a 'second room' Freesat box or an affordable introduction to the Free Time platform.
---
HCC VERDICT

Humax HB-1000S
Price: £100 Approx
www.humaxdigital.com/uk
Highs: Versatile Free Time functionality; well-featured USB recording ability; multimedia playback; small form factor
Lows: Single tuner limits recording; Wi-Fi not built-in; TV Portal needs more worthwhile apps
Performance: 4/5
Design: 3/5
Features: 4/5
Overall: 4/5