Home Cinema Choice 282 on sale now!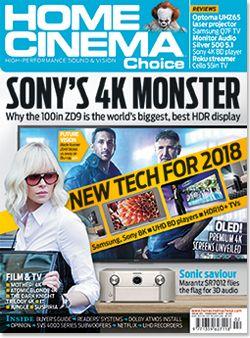 • Sony's KD-100ZD9 4K TV: We reveal why this 100in full-array backlit LED flatscreen is the world's biggest, best HDR display.
• New tech for 2018: From 8K displays to Ultra HD Blu-ray players, premium OLED screens to HDR+, we uncover the hottest kit and industry news from the world's largest tech show.
• Blade Runner 2049: We talk to acclaimed filmmaker Denis Villenueve about the long awaited science-fiction sequel and deliver our verdict on the UK Blu-ray release.
• Sonic saviour: Marantz's impressive nine-channel SR7012 AV receiver reveals a passion for 3D audio.
• Monitor Audio Silver 500 5.1: This revamped home cinema-centric floostander array with dipole/bipole surrounds impresses with its sense of scale and excellent detailing.
• Also: Find out how Damson Audio aims to take Atmos to the mainstream with its compact audio system; Isn't it time you embraced the Internet of Things?; JVC's entry-level DLA-X5900 4K-scaling projector; Samsung's affordable 55in 4K QLED flatscreen; Roku's 4K Streaming Stick+; plus all of the usual news, opinion, competitions and Blu-ray/DVD reviews.
---
---