Home Cinema Choice 275 on sale now!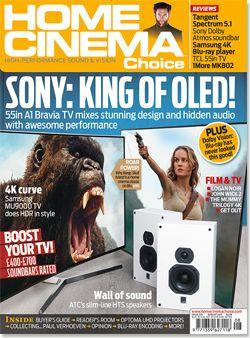 Sony A1 OLED! Soundbar grouptest! Samsung MU9000 TV! Dolby Vision! Logan 4K! It's all here!
This month's cover star is Sony's striking new A1 Bravia TV, which mixes awesome 4K HDR visuals and innovative audio tech to deliver a sensational AV experience. But is it enough to see the A1 crowned king of the Ultra HD OLED flatscreens? Find out in our in-depth review. We also chat to Sony CEO Kazuo Hirai to discover how he has turned the company's fortunes around and what the future has in store for the brand.
Also making a splash on the cover (and with our reviewers) this issue are Samsung's stylish UE55MU9000 curved 4K LED TV and ATC's slim-line, wall-mounted HTS 5.1 loudspeaker array.
Hunting for some new 4K Blu-rays to play on your home cinema system? Leading this month's charge is the superhero smash hit Logan and, as well as reviewing the disc, we chat to director James Mangold about crafting Wolverine's final ride. We also take a look at the world's first Dolby Vision Ultra HD Blu-rays and find out if the long-awaited HDR format lives up to the hype.
Also: Denon and Marantz tell us all about their new multiroom-friendly AV separates; Samsung's second-generation UBD-M9500 Ultra HD Blu-ray player; Four mid-range soundbars from LG, Monitor Audio, Philips and Samsung are put through their paces in our latest grouptest; Sony's VPL-VZ1000ES premium ultra-short-throw 4K projector; Blu-ray encoder David Mackenzie reveals why there's still plenty of life left in physical media; Kong: Skull Island delivers a monster Atmos mix on Blu-ray; plus all of the usual news, opinion, competitions and Blu-ray/DVD reviews.