Home Cinema Choice 271 on sale now!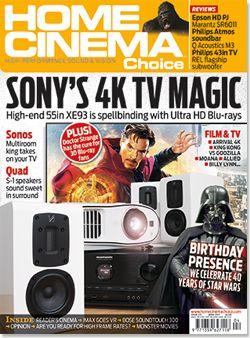 Sony high-end 4K flatscreen! 40 years of Star Wars! Quad S Series speakers! IMAX VR! It's all here!
In the month that Marvel's Doctor Strange makes its Blu-ray debut, Sony's KD-55XE9305 high-end 4K TV delivers a spellbinding demonstration of the power of High Dynamic Range technology, and Epson's magical mid-range EH-TW6700 projector conjures up a compelling case for sticking with Full HD cinema. Meanwhile, Quad's handsome S Series 5.0 standmount loudspeaker array proves to be a satisfyingly smooth all-rounder.
Elsewhere, Sony shows off its first OLED screen and reveals a few surprises as it gives HCC an in-depth look at its AV treats for the coming year. We also check out IMAX's big plan for virtual reality and celebrate 40 years of Star Wars with a look back across the sci-fi saga's home cinema history.
Also: How Sonos enlisted the aid of Oscar-winning audio engineers to help tune its Playbasound system; Specialist AV installer Cornflake invites us to experience the ultimate home theatre; The hottest kit from this year's Sound & Vision: The Bristol Show tech expo; Philips' Atmos-equipped 5.1.2-channel SkyQuake soundbar; Marantz's feature-rich nine-channel SR6011 AV receiver; REL's mammoth No. 25 1,000W subwoofer; plus all of the usual news, opinion, competitions and Blu-ray/DVD reviews.