Home Cinema Choice 269 on sale now!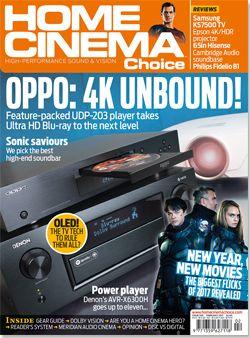 Oppo's first 4K Blu-ray player! Soundbar grouptest! OLED TVs! 2017's biggest films! It's all in here!
The first of this month's cover star's is Oppo's UDP-203 universal Ultra HD Blu-ray player. With support for Dolby Vision among its extensive features and superb image quality, the fan-favourite AV brand is clearly aiming to take home cinema to the next level with this debut 4K deck. Also making its presence felt on the cover is Denon's AVR-X6003H AV receiver, with its 11-channels of onboard amplification ensuring a largescale Dolby Atmos/DTS:X experience.
In this month's grouptest you'll find the Cabasse Stream BAR, DALI Kubik One, Definitive Technology W Studio Micro and Yamaha YSP-2700 doing battle to be crowned the king of high-end soundbar systems.
With a new year upon us, Team HCC looks ahead to the sci-fi sequels, superhero slobberknockers, car capers, war dramas, fright flicks and family films that will be luring you out of your home cinema and down to your local multiplex during 2017. From Alien: Covenant and Dunkirk to Star Wars: Episode VIII and Wonder Woman these are the blockbusters that every film buff should make a point of catching on the bigscreen before their eventual Blu-ray release.
Also: The hottest TV technology from this year's CES expo; Telecoms titan BT tells all about bringing Atmos audio to live TV broadcasts; Revealed: the ten signs that you're a home cinema hero; Epson's '4K-enhanced' EH-TW7300 LCD projector; Cambridge Audio's revamped TV5 (v2) soundbase speaker; Humax's versatile H3 Espresso media streamer; Sony's VPL-VW550ES 4K HDR projector; plus all of the usual news, opinion, competitions and Blu-ray/DVD reviews.