Home Cinema Choice 268 on sale now!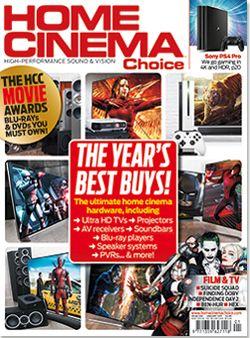 2016's best AV kit! Movie Awards! PlayStation 4 Pro! Reader's rooms revisited! It's all here!
Our yearbook special rounds up the best home cinema gear available in an extended reviews section. From Ultra HD TVs and projectors, next-gen AVRs, soundbars, Blu-ray players, speaker systems, accessories and more, we've left no stone unturned in bringing you the ultimate home cinema buyer's guide.
Of course, there's no point in having a killer home cinema system without having the very best discs to play on it. Our annual Movie Awards is here to help, celebrating the year's must-own Blu-ray and DVD releases, with a side-dish of on-demand.
We also take an in-depth look at Sony's new mid-cycle 4K refresh of its popular PlayStation videogames console. Find out if the PS4 Pro really can deliver sufficient high quality High Dynamic Range fun for joystick junkies to make us overlook the lack of Ultra HD Blu-ray functionality.
Also: YouView reveals its plans for the upgraded next-gen TV platform; Hyrbid Log-Gamma and what it may mean for your new Ultra HD flatscreen; Virgin Media takes the wraps off its Ultra HD TiVo box; we revisit four of our favourite readers' movie rooms from the past year; plus all of the usual news, opinion, competitions and Blu-ray/DVD reviews.