Home Cinema Choice 267 on sale now!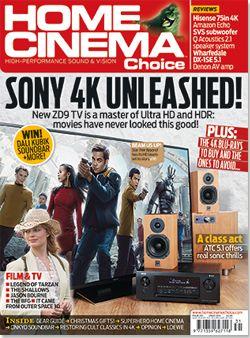 Sony ZD9 4K TV! ATC 5.1 speaker array! 4K Blu-ray round-up! Restoring Donnie Darko! It's all here!
This month's cover star is Sony's awesome KD-65ZD9 4K TV, a master of Ultra HD and High Dynamic Range that will make your movies look better than ever...

We also take a look at ATC's thrilling SCM7 5.1 standmount speaker array and Denon's cutting-edge AVR-X4300H AV receiver to see if they deserve a place in your movie den.
Of course, there's no point in buying an Ultra HD TV if you don't have any 4K content to watch, which is why we've rounded up a collection of the latest Ultra HD Blu-rays – including The Legend of Tarzan, X-Men: Apocalypse, Labyrinth and Pacific Rim – to find out which are worth buying and which are best avoided.
Why not treat yourself to something a little special this Xmas? Not only have we assembled a wishlist of system-boosting AV accessories, movie memorabilia and books in our gift guide, but our annual awards special highlights the past year's very best hardware buys.
Also: Arrow Films' restoration maestro James White talks 4K, film vs digital and the hunt for Donnie Darko's negatives; step inside a super-powered movie den; Onkyo raises the roof with its Dolby Atmos/DTS:X soundbar; win a DALI Kubik One soundbar and a DALI Katch wireless speaker!
More tests: Wharfedale's revamped DX-1SE 5.1-channel speaker package; Cabasse's Stream BAR high-spec soundbar; Hisense's budget-conscious 75in 4K/HDR flatscreen; Amazon's voice-activated Echo speaker; BenQ's football-friendly TH670S Full HD DLP projector; and a whole lot more!