Home Cinema Choice 265 on sale now!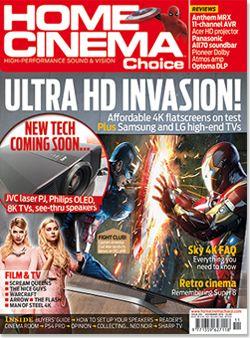 Ultra HD TV grouptest! Sky 4K FAQ! Remembering Super 8! IFA show report! It's all here!
With 4K/Ultra HD TVs now firmly established as the default technology for new screen buyers we're taking a look at six such models. First up is this month's cover star, Samsung's 65in UE65KS9500, which pushes its High Dynamic Range and wide colour spectrum technologies to the limits. We also get to grips with LG's Dolby Vision-enabled OLED65E6 and find out if it really is the world's most advanced TV.
If those two technological TV titans are a little rich for your budget, our grouptest rounds up Panasonic's TX-55DX650 and TX-58DX700, Philips' 55PUS7101 and Samsung's UE55KS7000 screens to prove that you can enjoy Ultra HD without an ultra high price tag.
Also: Everything you need to know about Sky's 4K service; SIM2 reveals how it is taking ultra short throw projection to another level; the hottest stories from Berlin's annual tech show; looking back to the days when 'home cinema' meant a Super 8 projector setup...
More tests: Anthem's flagship 11-channel MRX 1120 AV receiver; Panasonic's feature-packed SC-ALL70T streaming soundbar; Pioneer's mid-range VSX-1131 network amp; Optoma's low-cost H183X HD Ready projector; Captain America: Civil War 3D Blu-ray and a whole lot more!