Home Cinema Choice 264 on sale now!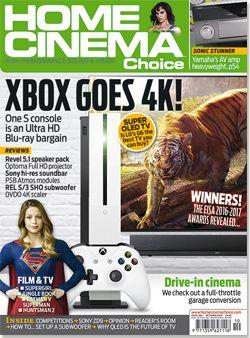 Xbox One goes 4K! LG G6 OLED TV! Inside Meridian's HQ! EISA award winners! It's all here!
Microsoft brings 4K Ultra HD Blu-ray to the mainstream with its revamped Xbox One S game console. Find out if this is the 4K disc spinner your home cinema set-up has been craving in our in-depth review. And if you haven't made the jump to UHD TV yet, we reveal why LG's new Signature OLED65G6 flagship TV may be one of the best displays that money can buy!
We also pay a visit to Meridian's HQ to get up close and personal with its active DSP speakers. Elsewhere, actor Andrew Lincoln spills his guts about making the hit TV series The Walking Dead.
Also: Sony tells us why its ZD9 screen is the 'ultimate HDR TV'; Sky invites us into its new Virtual Reality Studio; we celebrate the best of the best in home entertainment hardware with the winners of this year's EISA Awards!
More tests: Revel's second-generation Concerta2 5.1 floorstanding speaker array; Optoma's affordable HD27 Full HD projector; Yamaha's top-flight nine-channel RX-A3060 AV receiver; Acoustic Energy's compact Aego Sound3ar system; PSB's Atmos-enabled upfiring Imagine XA speakers; Batman v Superman: Dawn of Justice 4K Blu-ray... and a whole lot more!