Home Cinema Choice 263 on sale now!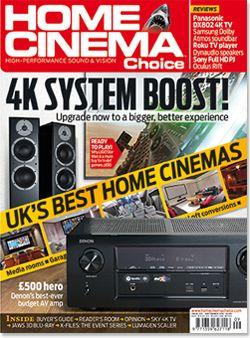 System-boosting 4K kit! The UK's best home cinemas! Devon's best-ever budget amp! It's all here!
With Ultra HD Blu-ray off to a flying start and Sky's 4K service nearly up and running, there's never been a better time to overhaul your system for a bigger, better experience. To this end we've rounded up a host of tantalising system upgrades, including the Panasonic DX802 and Philips PUS7601 HDR TVs, Samsung's innovative HW-K950 Dolby Atmos soundbar and Denon's feature-packed £500 AVR-X2300W AV receiver.
Elsewhere we take a look at the UK's best home cinema installs and media rooms as we drool over the winners and runners-up in the 2016 CEDIA Awards. If you're looking for inspiration for how to take your own movie den to the next level, this is the place to start.
Also: Denon and Marantz show off their radical new home cinema and multiroom hardware; 3D specialist RealD reveals how it is planning to reinvent the cinema screen; tips for building a quality music system to accompany your home cinema setup; Yamaha spills the beans on its new wave of MusicCast kit.
More tests: Dynaudio's entry-level Emit 5.1 loudspeaker package; Lumagen's reference-quality Radiance Pro 4242 video scaler/processor; Sony's VPL-HW45ES 1080p SXRD projector; the long-awaited Oculus Rift Virtual Reality headset; the Jaws sequels on Blu-ray... and a whole lot more!
Want to make sure you never miss an issue of HCC? Then it's time to subscribe – click here for more info.
Looking for a back issue? Then click here.