Home Cinema Choice 261 on sale now!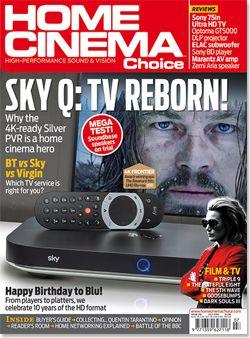 Sky Q! 10 years of Blu-ray! Sony flagship 75in 4K TV! Soundbase speaker mega test! It's all here!
The new Sky Q Silver set-top box takes centre-stage on the cover, while inside the magazine, our in-depth review reveals how the satellite supremo's bold 4K-ready PVR represents a massive leap forward for the Sky viewing experience, transforming it into a true home cinema must-have.
Amazing as it may seem, Blu-ray has been with us for a decade now. So, to celebrate the HD disc's 10th anniversary we take a look back at the format's origins, battle for success, definining moments and wonder where it goes from here.
Also: five premium soundbase speakers from Cabasse, Canton, Geneva, Philips and Yamaha go head-to-head in our latest grouptest. We also take a look at the services offered by BT TV, Sky and Virgin Media to find out which is right for you; check out Sony's impressive new 75XD9405 flagship 75in 4K TV; discover the benefits of ultra-short throw projection with Optoma's new GT5000 projector; learn how to transform our home cinema into the ultimate multimedia system; and get to grips with Oscar-winning survival thriller The Revenant on Ultra HD Blu-ray!
More tests: JL Audio's awe-inspiring f212v2 upgraded dual-driver subwoofer; Sony's feature-rich UHP-H1 Blu-ray/hi-res audio player; Zemi's stylish Aria Bluetooth/AirPlay speaker... and a whole lot more!
Want to make sure you never miss an issue of HCC? Then it's time to subscribe – click here for more info.
Looking for a back issue? Then click here.