EE TV Smart Box review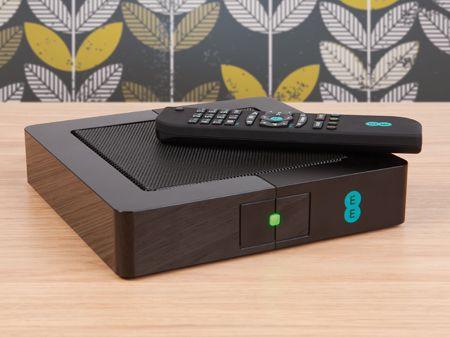 The mobile and broadband service provider's first PVR takes timeshifting to another level
The 1TB drive in the EE TV Smart Box is surely the hardest-working HDD in all PVR-dom. It's continually grafting, banking a half-dozen channels constantly, as well as recording and playing back to main and mobile screens. Think of it as a diddy, digital dervish.
Mobile and broadband service provider EE (the UK's largest) is the latest telco to muscle in on the TV market. With BT and TalkTalk already offering hybrid DVB/IP TV propositions, using the YouView platform, this newcomer hardware needed to offer something different – which it certainly does.
As a PVR, it's unassuming. Just 210mm across, it's close to half the size of a Sky PVR or Humax Freeview box. A fanless design, it uses a mesh roof to aerate its electronics, while the fascia is dominated by a glaringly large LED; red in Standby, green when awake. This traffic light sits adjacent to bold EE branding.
The rear of the box offers up an aerial loopthrough for DVB Freeview, plus an HDMI output, digital optical audio output, stereo phonos, gigabit Ethernet and a non-functioning USB port. If you don't want to hardwire your network connection, you can use integrated Wi-Fi. Usefully, the EE TV box can see both 2.4GHz and 5GHz bands, allowing you to rise above more congested Wi-Fi hotspots.
While the STB comes with a standard IR blaster, I suspect many users will probably opt to use the dedicated app on a mobile device.
Hybrid proposition
As with YouView before it, the EE Smart Box experience is a mash-up of linear OTT broadcasting and network functionality. The home screen comprises a live TV window, and broadcast channel thumbnails. There are also tabs and hot buttons for Radio, OnDemand, Recordings and Replay. It's the latter which gives this recorder its unique functionality.
You can assign six channels to your Replay group from a preselected group of 15. The EE TV box then auto-records the relevant multiplexes, and extracts the channels for a preset amount of time, allowing you to forage for items of interest. It's pretty cool. The last time I saw something like this was in a Toshiba R&D lab in Tokyo about a decade ago.
The amount of content you can attribute to Replay is variable. You can choose to catch 24, 18, 12 or six hours of stuff. Alternatively you can switch it off altogether. When the PVR is in Replay mode, you can still record two programmes at the same time. Switch it off, though, and you can record up to four programmes simultaneously. That should help overcome any family arguments.
Replay transpires to be an inspired way to catch shows you might have missed. Programmes are represented by thumbnails and organised by channels. Having a day's worth of TV on tap from a local hard drive is a great idea.
Unfortunately it's not possible to assign any HD channels as Replay options. EE cites the storage overhead required by HD files as a key reason not to offer HD Replay, as well as the lack of relevance to mobile users. The latter is certainly true, but this adherence to SD takes the shine off the service when it's being used in a living room/home cinema environment.
There's also a Restart mode, which allows you to start a show from the Replay channel bouquet from the beginning if you're late to the sofa.
There are also dedicated apps for streaming content. These include YouTube, Wuaki.TV, BBC iPlayer, Demand 5 and BBC Sport, with more in the EE app store. The absence of ITV Player, 4OD and Netflix is an obvious shortfall.
Overall AV performance is fine, with the proviso that you'll need a network speed of at least 4Mbps to coherently stream video content. Sound and picture setting modes are highly simplified. The Audio Output setting offers only Home Cinema or Digital Stereo tick boxes. The good news is that the box can deliver Dolby Digital 5.1 via HDMI and digital optical audio – although Freeview broadcasts continue to be flaky in this regard, depending on the channel. By way of example, an E4 Freeview transmission of The Big Bang Theory can be broadcast in stereo, while the same show via the Sky platform is presented in 5.1.
Where the system really starts to make sense is when used with the matching EE TV app. The modular UI is largely the same, and you can utilise the Replay modes, stream live channels and watch recordings from the set-top box's hard drive. Indeed, you can watch four different programmes, or recordings can be viewed on four different devices. When viewing on a mobile device, you can also cast back to the main screen.
The EE TV PVR is free to EE, T-Mobile and Orange mobile customers who sign up to an EE broadband plan; currently these start at £9.95 a month, for up to 17Mbps a month, or from £19.95 for fast fibre. Note that the EE TV box only works with EE wireless broadband from an EE-provided Brightbox router.
Overall, this hardware debut proves a novel addition to the fast-growing telco-sponsored PVR market. Its mobile functionality is excellent, although the lack of HD Replay is a key disappointment. While you'll still have to opt for a premium TV provider like Sky or Virgin for the best in Pay TV channels, the functionality here has a lot of appeal, particularly for heavy mobile users.
Specification
HDD: Yes. 1TB
Catchup/VOD channels: Yes. BBC iPlayer; Demand 5; Wuaki.TV; YouTube and more
Tuners: Yes. 4 x Freeview HD
Connections: HDMI v1.4; optical digital audio output; Ethernet; stereo phono output; USB (service); built-in Wi-Fi
Dimensions: 210(w) x 43(h) x 200(d)mm
Weight: N/A
Features: Six-channel instant Replay; over 70 Freeview channels; iPlayer/Red button support plus streaming content apps; mobile screen streaming; Series Link, pause/rewind live TV; Restart mode