Denon DHT-1312XP AVR/5.1 speaker system review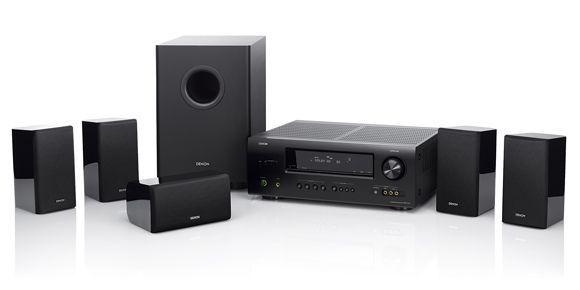 Budget-priced AVR and speaker combo package is a little lacking in refinement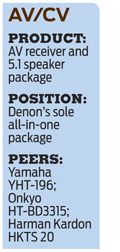 If you're serious about home cinema, then buying an AVR and speakers separately is usually the way to go. But sometimes the idea of getting everything in one fell swoop is too convenient to resist.
Buying a package can have other benefits, too. The speakers are often tailored to the dynamics and power output of the receiver, so you can buy safe in the knowledge that they're a good match.
Denon's DHT-1312XP throws the entry-level AVR-1312 receiver in a box with the SYS-1312 5.1 speaker system for an alluring £400 price tag. Just add Blu-ray.
Inevitably at this price the AVR-1312 is a basic, bland-looking box, but build quality is impressive and the inclusion of four 3D-compatible HDMI v1.4 inputs should keep you futureproofed for a while.
The speaker system includes four somewhat chunky-looking satellites. Their light, hollow cabinets and single full-range driver scream 'budget'.
A matching horizontal centre speaker and huge downward-firing subwoofer complete the array. The powered sub is equipped with a 100W amp and 8in cone woofer, with a volume dial, line input and power switch on the back.
The AVR-1312 lacks network functionality, USB media playback and HDMI upscaling, but decodes HD audio and offers a Compressed Audio Restorer for your MP3s.
The thin supplied cables make installation a pain (tip: use your own) and there's no automatic calibration to ease the setup procedure. But the logical onscreen menu makes tweaking easy.
High-energy
Denon's system musters a pulsating, energetic sound with a decent sense of scale. Don't expect smoothness or restraint though – it's geared up to make an impact from the off with its brashness and power.
That makes it well-suited to blockbuster guff like Transformers: Dark of the Moon, battering your brains with a torrent of fierce explosions, scattered gunfire and clanking metal. Thankfully this aggressive sound is free from excessive brightness, which keeps it listenable even with the volume up high. The subwoofer anchors the sound with thumping bass tones, though at times it overpowers the satellites, so judicious use of the volume dial is crucial.
Where the system falls down is with quieter material that requires a degree of subtlety – these speakers don't tease out half-heard high-frequencies with the same refined ease as superior two-way designs, plus the centre speaker tends to spit out speech a little too forcefully.
Still, fans of fast and furious cinema on a tight budget should add the DHT-1312XP to their shortlist.
---
HCC VERDICT
Denon DHT-1312XP
Price: £400 Approx
Highs: Convenient; attacking, exciting sound; four HDMI inputs; onscreen graphic UI
Lows: Lacks detail insight and smoothness; fiddly setup; speaker build quality
Performance: 3/5
Design: 3/5
Features: 3/5
Overall: 3/5
---
Specifications
Dolby TrueHD: yes
DTS-HD Master Audio: yes
THX: no
Multichannel input: no
Multichannel output: 5 x 75W
Multiroom: no
Connections: 4 x HDMI v.14 inputs; 1 x HDMI v1.4 output; 3 x composite; 1 x S-video; 2 x digital audio (1 x optical and 1 x coaxial); 1 x USB; 3 x analogue stereo; stereo minijack
Video upscaling: no
Dimensions: 435(w) x 382(d) x 162(h) mm
Weight: 8.9kg
Features: Cinema Equalizer; virtual surround; Tone Defeat; Compressed Audio Restorer; optional iPod dock; Quick Select buttons; onscreen GUI; five satellite speakers with single full-range driver and 150H-20kHz frequency response; powered sub with 100W amplifier and 8in woofer