CyberLink celebrates the best movie characters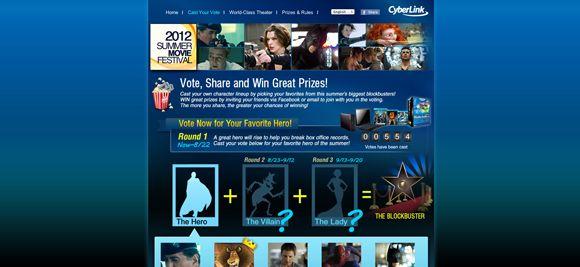 Vote for your favourite heroes and villains in the '2012 Summer Movie Festival' contest
CyberLink has launched its 2012 Summer Movie Festival, a new online contest allowing particpants to vote for their favourite film characters and maybe win some prizes along the way.
Between August 9th and September 27th participants can vote in each of the three categories - The Hero, The Villain and The Lady - and share their votes with friends via Facebook or email. By sharing these votes, participants also increase their chances of winning an exciting Blu-ray prize (apparently including copues of Avengers Assemble 3D, Battleship and The Hunger Games) or the grand prize package consisting of a Fujitsu LifeBook, Buffalo Blu-ray Writer and CyberLink's premium edition of Media Suite 10. In addition, all participants will receive a discount coupon for PowerDVD 12.
The 2012 Simmer Movie Festival is a lobal campaign with one set of prizes for worldwide participants. Click here for more information and complete rules.