CES 2016: 4K TVs, affordable UHD projectors and more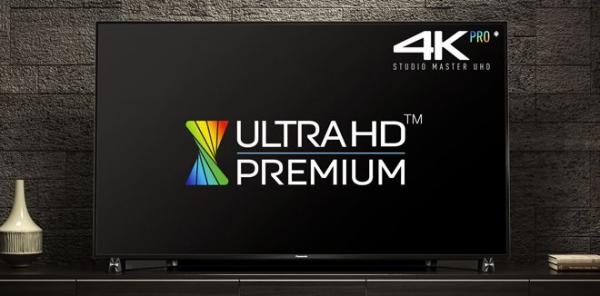 The standout stories so far from the massive Las Vegas tech show
'Ultra HD Premium' TVs arrive
The Ultra HD Alliance (UHDA) has launched a new consumer logo to help buyers know that the screen they're purchasing offers the state-of-the-art in current AV standards. TVs (and content services) carrying the 'Ultra HD Premium' logo are deemed by the UHDA to comply with 'performance metrics' for resolution, High Dynamic Range, peak luminance, black levels and wide colour gamut. These are the 'key characteristics of a robust next-generation experience' says the industry group.
Ultra HD Premium sets announced at CES include Panasonic's DX900 (above). This 4K LED-LCD set will hit the UK in the Spring in 65in and 58in flavours, and employs 'Honeycomb' structure local-dimming technology that Panasonic says ensures it can deliver the high brightness associated with HDR without compromising black levels.

'The DX900 manages to combine for the first time the extreme brightness that's an LCD's strong point with the sort of contrast and black level response that people used to love about Panasonic's plasma TVs,' boasts the company.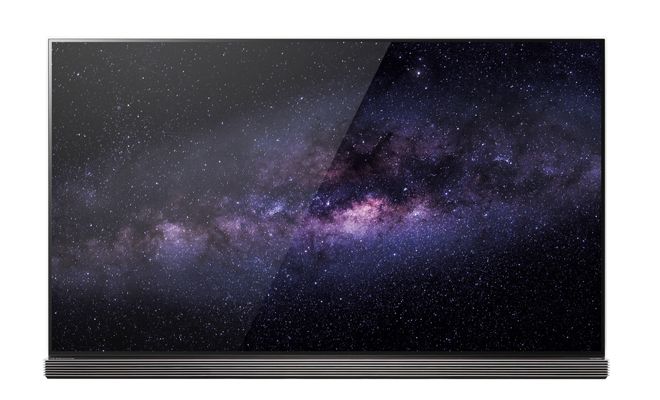 LG is also prepping Ultra HD Premium sets in OLED flavour. Its forthcoming G6 (pictured) and E6 models (at 77in/65in and 65in/55in sizes respectively) feature LG's new Picture-On-Glass design, which marries a super-thin 2.57mm OLED panel with a translucent back and Harman/Kardon developed speaker array. The screens claim to cover 99 per cent of the DCI-P3 colour space, and eat the BT.2020 standard for breakfast. Probably.
The UHDA currently has more than 35 member companies from across the AV industry, including TV marques LG, Samsung, Panasonic and Sony, plus studios 20th Century Fox, Universal, Warner Bros and Disney, and Netflix, Technicolor and Dolby.

Panasonic debuts Ultra HD Blu-ray player...
Panasonic has unveiled the UB900 (pictured above), its first Ultra HD Blu-ray player (it showed a prototype at CES in 2015) and marked it down for a Spring release. The deck follows Samsung's UBD-K8500, previously announced at the IFA show in September. Samsung's player was today given a $399 price tag in the US; Panasonic's is still unconfirmed.
On first showing, the UB900 perhaps looks the better bet for AV-hedz, particularly as it sports twin HDMI outputs allowing a split AV feed – useful if your AV receiver doesn't offer HDCP 2.2 compatibility. A new 4K High-Precision Chroma Processor, cooked up in conjunction with Panasonic's Hollywood Laboratory (PHL), is onboard to convert UHD Blu-ray's 4K 4:2:0 images to 4K 4:4:4 (at 24p), aiming for improved colour finesse. A similar trick is claimed of regular Full HD content.
Panasonic also claims the player offers 'dramatically improved' audio quality courtesy of its optimized, large-capacity PSU high-quality components. Playback of high-resolution audio formats, including DSD, is supported.
...Sony doesn't
The Big S has noticeable failed to launch a debut UHD spinner at CES, instead proffering a 'Hi-Resoultion Premium Audio and Video player' that's au fait with practically every format your can think of bar the next-gen disc standard.
Dubbed the UHP-H1 (pictured above), this all-in-one deck offers Blu-ray, CD and Super Audio CD playback, plus acts as a hi-res audio player – the latter including file playback from USB connected devices, streaming from online services (Spotify and Deezer are listed) and connected network servers, Bluetooth streaming to compatible, wireless headphones and integration with a Sony (SongPal Link-powered) multiroom system.

While it looks like a typical media device, Sony claims that construction niceties are in play to improve AV quality. Mechanical vibration is curbed by the UHP-H1's rigid frame and beam chassis design. A 32-bit 768kHz DAC teams up with the player's stereo analogue output.
As with Panasonic's UB900, Sony's UHP-H1 carries dual HDMI ouputs for split AV feeds. It's expected to hit stores (n the US at least) around March.

Sony has also announced a new 4K upscaling BD deck, the BDP-S6700, which features some of the music tricks of the UHP-H1, including wireless Bluetooth headphone hookup and Spotify integration.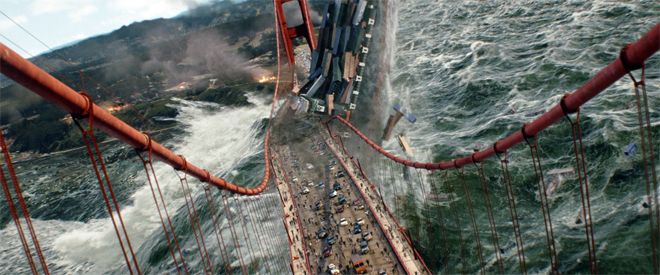 Warner pledges 35 Ultra HD Blu-ray titles by end of year
Before show doors had even opened, Warner Bros. Home Entertainment was tantalising movie fans with its announcement if its initial slate of Ultra HD Blu-ray releases with High Dynamic Range. Four titles are set to appear in the first wave – Mad Max: Fury Road, San Andreas (pictured), LEGO Movie and Pan.

The distributor says more titles with folllow 'quickly'. These will be a mixture of new releases available day-and-date with their initial home entertainment release and back-catalogue fare. Of the latter, Man of Steel and Pacific Rim have been confirmed. Warner Bros says that over 35 titles will be available by the year's end and 'Dolby Atmos will also be included on select titles for a truly immersive home theatre experience.'

So what other back-catalogue titles might we expect? Warner's vault includes the MGM archive – think The Wizard of Oz and Gone With the Wind – plus Peter Jackson's Lord of the Rings/Hobbit titles and Christopher Nolan's Dark Knight trilogy. Some of those would be nice.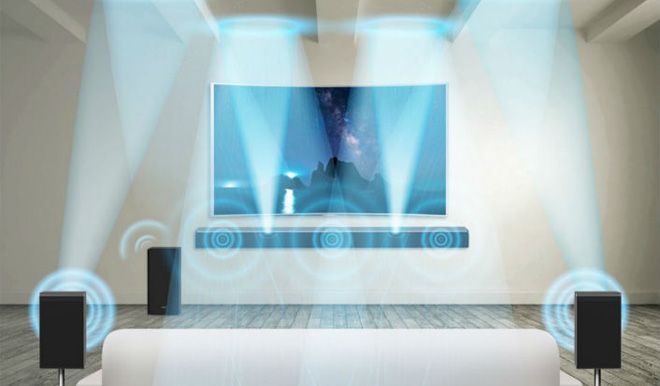 Samsung embraces Dolby Atmos
One of the more surprising CES launches is Samsung's HW-K950 soundbar system, which sees the Korean giant open its arms to Dolby Atmos and discrete multichannel audio.
The HW-K950 claims a 5.1.4-channel performance, delivered via a soundbar, subwoofer and wireless rear speakers. Both the soundbar and wireless rears incorporate Dolby Atmos-enabled upfiring drivers for reflective audio japes.

Samsung does have some previous form with height-layer sonics, having previously featured swivelling top-mounted drivers in its premium all-in-one systems. Yet the HW-K950 is its first collaboration with Dolby Atmos.

The soundbar system will go up against Yamaha's £1,600 YSP-5600 Dolby Atmos soundbar when it arrives (date still to be announced). Pricing is under wraps, too, although we expect it to be a shade more affordable.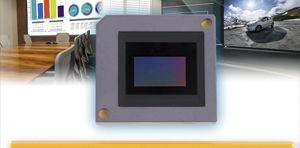 Texas Instruments confirms 4K DLP projector chip is ready
Projection screen owners desperate for a more affordable 4K projector solution than the current Sony offerings (and JVC and Epson pixel-shifters) will be pleased to hear that Texas Instruments has announced a DLP 0.67in 4K UHD chip. The manufacturer says this will pave the way to more keenly priced single-chip PJs for home cinema users and beyond.
'Based on proven DLP Cinema technology, the imaging choice for more than eight of 10 digital theatre screens worldwide, the DLP 4K UHD chipset combines the fast switching speed of the digital micromirror device (DMD) with advanced image processing,' says TI. 'This latest offering in a single-chip projector architecture enables high-resolution and high-brightness solutions at a price point that allows manufacturers to expand 4K UHD projection displays to a broad audience.'
The eight millions pixels of a 4K image are created from 4 million mirrors able to switch over 9,000 times per second. The result, says TI, is 'two distinct and unique pixels on the screen during every frame.'
TI hints that part of the affordability comes from the 0.67in DMD being of a similar size (0.65in) of a current 1080p DLP chip. The device can be used in conjunction with lamp, LED or laser light sources.
No new as yet on potential products, but frequent affordable DLP projector purveyor Optoma certainly seems keen. Says company president Robert Sterzing: 'TI's versatile 4K UHD chipset gives us the capability of developing high quality 4K UHD products for a variety of applications. With this product, more people will be able to enjoy 4K UHD projection systems.'