Sony VPL-VW760ES 4K HDR laser projector review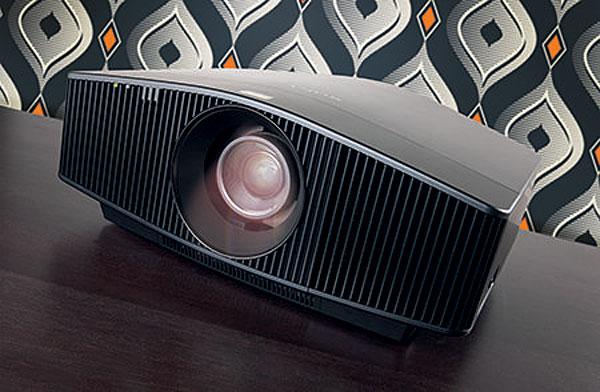 This laser-based 4K projector is the Sony's best home cinema model yet

I wouldn't normally describe a £15,000 home entertainment product as a bargain. But in the case of the Sony VPL-VW760ES projector, I'm more than happy to make an exception.
The VW760ES is a true, native 4K projector. There's no 'e-Shifting', pixel manipulation, or fancy multiple-mirror flashing going on here. The SXRD chips inside the VW760ES carry the full 4K worth of pixels. In fact, since they've come down from Sony's professional projectors, they utilise a cinematic 4K resolution of 4,096 x 2,160 rather than the 3,840 x 2,160 used by UHD TVs.
And this beast of a projector joins a fast-growing list of models that support HDR (high dynamic range) – specifically HDR10 and the broadcast-friendly HLG (Hybrid Log-Gamma) format.
Given the difficulties projectors often have with HDR's extreme brightness range, it's really the VW760ES's laser diode illumination system that is its star attraction. Lasers can typically run brighter and offer more light control than normal projection lamps, making them potentially much better at coping with the image demands of HDR sources.
The VW760ES still only claims a maximum brightness of 2,000 Lumens. JVC's also laser-based DLA-Z1, by comparison, claims 3,000 Lumens, while SIM2's Nero 4 UHD claims a mighty 5,000 Lumens. Those two models, though, cost £35,000 and £30,000 respectively, making this new Sony unit look positively bargain-priced.
Sony also claims that the enhanced light control made possible by its laser diode arrangement is capable of delivering an essentially 'infinite' contrast range, making that 2,000 Lumens spec go further than it normally would.
As with other laser projectors, life expectancy here rockets to around 20,000 hours of use compared with the 2,000-5,000 hours associated with standard lamps.
Aiding the VPL-VW760ES's picture performance is the latest version of Sony's Reality Creation processing, with its uncanny knack of both improving the quality of HD upscaling and somehow sharpening up native 4K content. Sony's Triluminos processing is also present, working with the colour-enhancing laser lighting to deliver an increase in available colour tones.
Finally on the processing front, you get a strong medley of motion processing options, many of which deliver results superior (in the way they reduce judder without causing irksome side effects) to those of really any rival PJ.
Sony VPL-VW760ES setup
All the VW760ES's cutting-edge tech has been fitted into a surprisingly compact (relatively speaking) and attractive body. It's certainly much smaller than its high-end Sony VW5000ES 'big brother' – although presumably that £65,000 model needs the extra space to handle the heat generated by its much higher 5,000 Lumens of light output.
Once you've got this projector in place in your theatre, setup is quite slick. There are dedicated focus, zoom and shift buttons on the remote, all of which control the motorised lens with exemplary precision. You can also set different lens 'memories' for different aspect ratios, so that you always get the maximum benefit from your screen.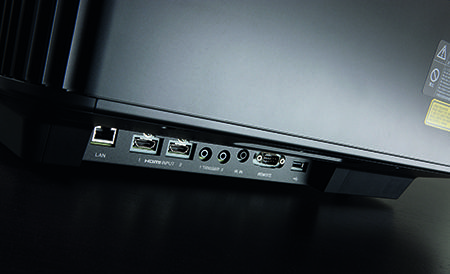 Connections are slightly hard to access under a ledge down the projector's left side, but cover the key bases with two HDMI inputs, two 12V trigger jacks, an RS-232 control port, an IR input, and Ethernet and USB service ports.
Those HDMIs can't quite pass full-bandwidth 4K HDR images at 50 or 60fps. With such content – such as Billy Lynn's Long Half-Time Walk on 4K Blu-ray, or numerous video games – chroma subsampling is reduced to 4:2:2 from the full-range 4:4:4 possible with 24p sources.
This is an improvement over the more limited (4:2:0) offering of Sony's entry-level VW260ES 4K projector. And, in my experience, doesn't deliver any really noticeable colour degradation.
If you're still a fan of 3D you'll be pleased to hear that this model supports it. As usual, though, we weren't given any glasses we might have used to put the PJ's 3D performance through its paces.
Sony VPL-VW760ES performance
That I've mentioned the VW760ES in the same breath as £30,000 (and above) projectors already gives you a hint as to why I think it's great value at £15,000. But it's spending time in the presence of its pictures that's really got me thinking of adding £15,000 to my mortgage.
Perhaps the most immediately obvious aspect of its images is how sensationally sharp and detailed they look. While other 4K projection solutions, especially DLP ones, have their sharpness moments, there really is no replacement for the experience of seeing a native 4K source mapped pixel-for-pixel to a true 4K display device.
The detail reproduced from the beautifully rich and textured Blade Runner 2049 4K platter is consistently jaw-dropping; one of the finest demonstrations of 4K's capabilities I've ever seen, in fact. Facial pores, individual hairs, the weave in clothing, the textures in sand and concrete, the seemingly endless crags in Harrison Ford's face… all of this image minutiae is immaculately delivered without so much as a hint of blurring or softness.
Such intense clarity makes the Blade Runner world feel more direct and 'real', as well as giving the film a commanding sense of space and depth, enhancing its already epic nature.
When there's motion in the frame, the Sony doesn't really bat an eye-lid. Motion handling is outstanding, the True Cinema setting the projector defaults to showcasing a particularly excellent balance of judder reduction and naturalism, ensuring that the image still looks unprocessed and movie-like rather than resembling a cheap TV show.
A more surprising achievement is the VW760ES's black level performance. Sony's laser light management results in some remarkably deep, natural and effective black colours during shadowy Blade Runner 2049 sequences, such as those during a fight between K (Ryan Gosling) and a replicant. There's only a hint of greyness over black areas, and shadow detail is generally in excellent supply (though there is an exception to this I'll get to later).
Black reproduction doesn't quite hit the levels that JVC's peerless D-ILA projectors muster. However, it's certainly far better than anything I've seen from Sony's standard lamp projectors, any of the recent influx of 4K DLP models, and even SIM2's much more expensive Nero 4 UHD.
And this performance is achieved without the image looking unstable or inconsistent. This is due, presumably, to the speed with which the laser light output can adjust to the needs of content. It sure beats the hell out of a sluggish and imprecise dynamic iris system.
Next to impress is the projector's colour performance. That laser lighting in conjunction with Sony's Triluminos technology delivers rich colours for all the neon and holographic advertising in Blade Runner 2049's street scenes. Yet it also copes beautifully with more subtle sequences, such as those in the desert at the film's beginning, and the orange-drenched Las Vegas scenes.
The jungle hide-out sequence in Pan also needs a mention here. This ultra colourful sequence on a 4,000-nit mastered 4K Blu-ray usually proves a painful challenge for HDR displays, yet it looked nothing short of magnificent on the VPL-VW760ES. The laser's vibrant intensity and the optical system's exceptional light controls produces a richness, solidity and authority that suddenly makes this the single most spectacularly good-looking HDR sequence I've witnessed on any projector I've tested. If only it could also make the movie better…
Most projectors are ultimately hamstrung as HDR displays by their lack of brightness – and yes, even the VW760ES can't completely solve this problem. It does, however, present HDR sources with considerably higher brightness peaks than you'll find with the same content in standard dynamic range.
Add this to the enriched colours already noted and you've got pictures from 4K Blu-rays that appear more dynamic and watchable than I've seen them on any PJ, outside of showfloor demos of the you-can't-afford-it VPL-VW5000ES. This PJ really is that good. But...
I need to introduce a few riders at this point, lest you start thinking I've stumbled across projection perfection and the rest of the industry can just shut up shop. My main bugbear is that while the VPL-VW760ES looks suitably punchy with HDR material, it still doesn't have quite enough luminance power to stop very dark areas – especially those contrasted by bright backdrops – resembling detail-free chasms rather than natural parts of the image. An example comes in Blade Runner 2049, as Wallace interviews Deckard in a bizarre orange room. In some shots you can barely see Harrison Ford's face at all, leaving you having to try and guess what he's emoting. It's a challenging scene that the Sony can't quite handle.
There is a way of reducing this issue: increasing the contrast setting. With Sony's 4K HDR models, increasing the contrast has the effect of reducing the full dynamic range of the images you're watching by raising the brightness 'floor'. While you're actually reducing the light range of images with every upwards contrast step, you're also introducing more light into the darkest areas without, crucially, significantly damaging black levels – as you would if you started to push the brightness setting.
I found, though, that I had to push the Contrast setting up to almost its maximum value to substantially reduce the silhouetting effect – and even then it wasn't entirely gone with extreme sequences such as the Blade Runner 2049 torture test.
It then turned out that pushing the contrast very high causes another problem with supremely bright HDR content: clipping. In other words, loss of detail and tonal subtlety in the picture's brightest areas.
This wasn't actually a problem for Blade Runner 2049 thanks to that film's strikingly limited HDR range. With the much higher brightness peaks of Pan, however, an elevated contrast setting on the VW760ES led to some pretty substantial 'flaring out' of ultra bright areas. The bright sun shining at the side of the planet as Peter first arrives in Neverland lost its definition.
Pause this shot, reduce the contrast and – lo and behold – by the time you get back to around the 65 or 60 setting normal detail levels start to be restored.
In the end I settled on a compromise, setting brightness to 55 and contrast to 75, but I couldn't engineer any perfect combination to completely kill that silhouetting issue – or at least find one which didn't have a knock-on effect to the projector's black level performance. You may find you want to consider tweaking the PJ's settings for different films.
It's worth reflecting from all this that a truly watchable VW760ES HDR picture isn't an especially accurate one, since you've had to reduce the image's dynamic range by raising the contrast floor.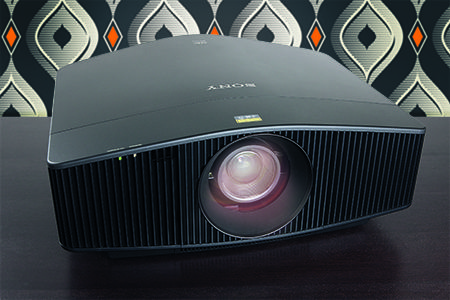 This is a compromise I've long come to not just accept but welcome where projectors are concerned. So much better to appreciate that HDR needs to be manipulated to suit a projector's capabilities than to slavishly try – and fail – to conjure up a 'native' HDR image that was really designed for ultra-bright TVs.
Another issue to consider is that this high-end Sony runs quite noisily in HDR mode, as its cooling fans try to handle all that laser light goodness. It's a smooth, consistent sound, at least, which makes it relatively easy to tune out. Still, if you can't box the VW760ES into a bit of (air-circulating) furniture, at least try and set it as far away from your seating position as you can. The 2.06x zoom and 1.38-2.83:1 throw ratio could be helpful in this regard.
The VW760ES deserves some more positive praise before I wrap up. So let me stress that it's both a brilliant upscaler of high-definition sources and a sumptuous handler of standard dynamic range content. There's none of the sense of a slight contrast compromise, sometimes seen with HDR projectors when they step down to SDR playback. Profound black levels combine with beautifully subtle colours, excellent shadow detailing (there's no silhouetting here), and that almost magical level of refinement that separates the classiest displays from the rest.
Sony VPL-VW760ES verdict
In an ideal world the VW760ES might have squeezed out another 500 Lumens of brightness from its laser light engine, and it definitely would have been less expensive. The bottom line, though, is that for the vast majority of the time it crafts gorgeous pictures that look better – comfortably better, actually – than those of some projectors that cost much more.
It's not meant or priced for a casual cinema setup, and warrants an installation that counters its running noise. But at the same time it has the style and usability of a genuine consumer product, and an asking price that ruthlessly undercuts the competition. It therefore finds an entirely new gap in the market, and fills it perfectly.
Specification
3D: Yes. Active shutter 4K: Yes. 4,096 x 2,160 HDR: Yes. HDR10; HLG Connections: 2 x HDMI inputs; 2 x 12V trigger; RS-232; Ethernet port; USB (service) Brightness (claimed): 2,000 Lumens Contrast (claimed): 'Infinite'
Zoom: 2.06x Dimensions: 560(w) x 223(h) x 496(d)mm Weight: 20kg
Features: SXRD projector; laser diode lighting; Reality Creation processing; Motionflow processing; 20,000-hour claimed 'lamp' life; 24dB claimed fan noise (in SDR mode); two dark room and one bright room cinema settings; 28ms input lag in Input Lag Reduction mode; vertical lens shift (+85%/-80%); horizontal lens shift (+31%/-31%); 1.38-2.83:1 throw ratio; built-in RF 3D emitter; 4K/60fps playback (with 4:2:2 chroma subsampling)

SPONSORED VIDEO

SPONSORED VIDEO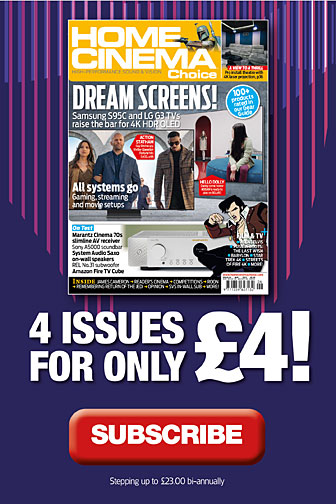 Home Cinema Choice #332

is on sale now, featuring: Samsung's 8K flagship; Anthem AVM 90 processor; B&W 800 Series Diamond; LG smart projector; Hollywood box office bombs; Hitchcock 4K; and more
Want to see your home cinema system featured in the pages of HCC? Click
here
for more info.