Sennheiser Ambeo Soundbar review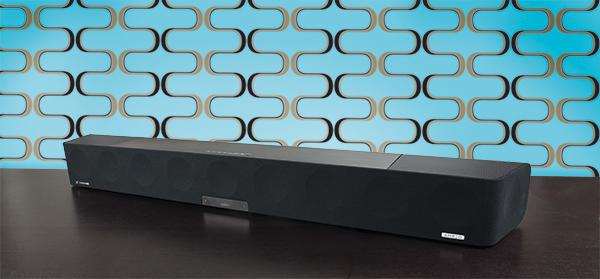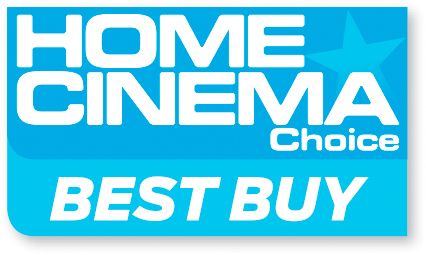 Douglas Adams famously described space as big. 'Really big. You just won't believe how vastly, hugely, mind-bogglingly big it is.' The same can be said of Sennheiser's debut Ambeo Soundbar. Weighing in at 18.5kg and measuring over a metre wide, health and safety dictates this is a two-man lift. Sennheiser sells 
an optional wall-mounting accessory, but I'm not convinced any of my walls could safely support it.
The soundbar's promise is of a 5.1.4 experience from 
a single box, and that's close to what you get. In many ways, it's both more and less than that. This is high-end home cinema reinvented.
Sennheiser Ambeo Soundbar design and features
As you might expect for the £2,200 ticket, build quality is formidable. The Ambeo Soundbar's forward-facing speaker array sits behind a taut cloth grille, while upfiring Atmos drivers are protected by metallic mesh. The bar's curving cabinet allows for additional side-firing drivers, which rely on a nearby boundary to bounce their output.
In all, there are 13 speakers at work here, with a combined claimed power output of 250W, peaking 
at 500W. Design embellishments include the familiar Sennheiser logo work to the left, and new Ambeo branding, which illuminates in use, to the right.
Ambeo, in case you're wondering, is Sennheiser's own immersive audio technology. It's scalable, meaning that 
it can be deployed as a proprietary multichannel codec, 
or implemented as an augmented audio trick atop the
 likes of Dolby Atmos.
The former was used as part of Pink Floyd's experiential exhibition Their Mortal Remains, to simulate a live performance of Comfortably Numb. The track had been remixed in Sennheiser Ambeo 3D at Abbey Road Studios. Sadly, there's no commercial content available in this Ambeo 3D format, so it appears here as an enhancement to other sources, be they immersive or conventional stereo.
This is actually the third Ambeo product from Sennheiser to hit the market. First out was an Ambeo VR microphone, which used four cardioid capsules arranged tetrahedral-style for 360-degree recording. It was followed by the Ambeo smart headset, which makes 3D audio recordings on an iPhone. But while both predecessors are recording devices, 
this is a playback solution aimed at well-heeled home cinema enthusiasts.
It's not short of sonic armoury. The driver array comprises six long-throw 4in woofers, five tweeters 
and those two top-mounted height drivers. There's no partnering wireless subwoofer. While one can be added 
via the Ambeo Soundbar's sub pre-out, I don't think many will feel the need (regards crossover, this is locked to 80Hz on the Ambeo, which seems a sensible choice). The whole raison d'etre of an all-in-one solution is to keep your room free of additional boxes.
A half-sized remote control is supplied which offers easy access to a selection of self-explanatory audio presets – Movie, Music, Sports, Neutral and Night – 
plus source selection and volume control. The soundbar responds to commands with a variety of bleeps and burps. Sennheiser also recommends users download its Smart Control app, which introduces an equaliser.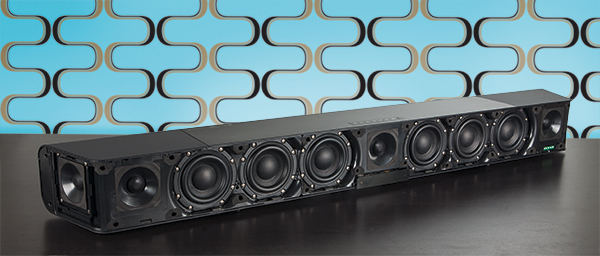 System compatibility is illustrated by a trio of badges: Dolby Atmos, MPEG-H Audio and DTS:X. While DTS:X and Dolby Atmos – recognised here in both Dolby Digital Plus (streaming and broadcast) and True HD (disc) envelopes – will be familiar to many, MPEG-H is rather less well known. It's actually a rival immersive audio codec currently finding favour in the Asian market, and could become 
a standard in China.
Connectivity is comprehensive for a soundbar, but 
not on par with a well-specified AV receiver. Inputs are recessed under the unit and run from analogue stereo and digital optical audio to a trio of (v2.0a) HDMI inputs (with Dolby Vision support), plus one HDMI output, which is eARC-enabled. There's also an Ethernet connection to support onboard Wi-Fi, plus a USB power port, and to 
help keep all the resulting cable spaghetti in check there's a rubber cable-tidy. The soundbar also boasts Bluetooth (v4.2), with NFC for speedy pairing, and is compatible with Chromecast and the Google Home app.
Setup is straightforward considering the technology 
at play here. Sennheiser suggests that when it comes to installation, the optimum distance between the soundbar and walls left and right is around 1.5m. But don't get too hung up on this, it'll perform well in any room... as long as it's not cavernous.
Once powered up, the 'bar waits to go through a setup routine, encouraging you with soothing electronic chirps 
to connect the provided microphone into the 3.5mm audio jack on the front fascia. This calibration system only measures from a single point, so place the mic in your preferred hot seat. A few frequency sweeps and you're done; it doesn't take very long.
Ambeo processing also comes in different flavours, accessible via the app: Light, Standard and Boost. In Light mode there's very little sense of any post-processing at work, while the Standard mode gives you a heightened sense of ambience when compared to straight stereo. 
In Boost, the size of soundstage broadens considerably, 
but it loses some focus in the process, so is probably 
worth avoiding.

The Sennheiser Smart Control app is actually the most frustrating element of the Ambeo Soundbar experience. Prone to disconnecting, and generally unresponsive, 
I suspect most users will forego it altogether. Pairing over Bluetooth is more straightforward, and allows your mobile to act as a source device.

Sennheiser Ambeo Soundbar performance
A run through of some standard Dolby Atmos demo clips confirms the immersive illusion of this single-box, 13-driver system. Objects seem to circle tightly around your head, distinct from a canopy of sound above. A Dolby Atmos-induced rainstorm, one of the tracks 
on the latest official Dolby Atmos platter, dramatically demonstrates this sense of height as rain pitter-patters seemingly on to a metal sheet above your head. 
With Ambeo disengaged, the soundmix retreats back 
to the 'bar.

The bass response is impressive; there's an appreciable pressure ripple when LFE effects arrive. And there's admirable volume on tap. If you want a wall of noise, 
this Sennheiser will build one for you.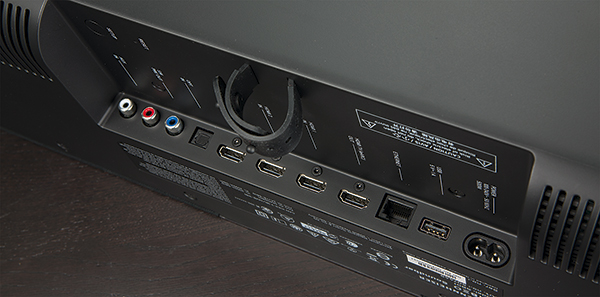 Pleasingly, the Ambeo Soundbar rewards those who drive it hard. The system really comes alive when cranked up; it's as if all the drivers step up their game. Let loose with the textured, thumping soundscape of Blade Runner 2049 (Ultra HD Blu-ray), I found it oppressively powerful; the score resonates threateningly, the general hubbub 
of the sci-fi world embraces you.
There's nothing mealy-mouthed about its performance. It's genuinely, hugely cinematic, and will make you want 
to revisit your disc collection. Step forward Kingsman: 
The Secret Service (Blu-ray), and the sequence where Taron Egerton is faced with his first task. As his dorm 
room is suddenly submerged underwater, the 'bar literally drowns you with the pounding score. As he shatters the glass and the water gushes out, it seems to pour directly from the speaker itself.
The Ambeo Soundbar isn't just for movies, though. 
It's convincingly musical too. And when tunes and immersive audio come together, the listening experience can be intoxicating.
Kraftwerk's Tour de France, remixed in Dolby Atmos, 
is a fantastic example of just how effective Ambeo with music can be. The system effortlessly fills the room with pumping electronic beats, so much more engaging than 
a straight stereo presentation.
Ståle Kleiberg: Mass for Modern Man, by the Trondheim Symphony Orchestra and Choir, in Atmos, may be tonally rich, even dense, but the Sennheiser is similarly undaunted. It unravels the knot of instruments and voices with the precision of a seamstress unpicking an elaborate weave.
Perhaps the biggest surprise is just how good Ambeo 
is at 'upscaling' two-channel content. It genuinely blurs 
the lines between a natively immersive codec and post-processing. I'm not suggesting you magically get discrete surround sound, or whizz-bang effects emanating from your ears. But the soundstage becomes wider, nuanced and realistic.
Sky One Kung-Fu show Warrior, which is broadcast 
in stereo, hits harder through this Sennheiser 'bar. 
Any disappointment about the lack of 5.1 transmission
 fades away. And when you do have a multichannel TV 
mix, perhaps live sport, the ambience that's created is smooth and naturalistic. You're not listening to channels panning left or right, you're simply engulfed by sound.
There are caveats, of course. During my review, a connected Blu-ray player from Panasonic repeatedly turned on and took control of the 'bar. There seems 
to be a CEC control issue here that needs fixing. And, 
as mentioned earlier, the Sennheiser app is a good deal less polished than you might expect, so there's room for improvement here too.
Sennheiser Ambeo Soundbar verdict
We've seemingly waited an age for Sennheiser's Ambeo technology to debut in the home cinema space, but it doesn't disappoint. This is a monumentally accomplished all-in-one that sounds supreme with both movies and music. It doesn't so much create a wall of sound, as paint 
a tapestry. It's powerful, artful and able to excite and delight in equal measure.
It's expensive, for sure, and not exactly stylish either. 
It has a few minor niggles, too. Yet this is a cut above the soundbar mainstream. It's a fabulous example of what Ambeo with Dolby Atmos and DTS:X can do.
HCC Verdict
Sennheiser Ambeo Soundbar
Price: £2,200
en-uk.sennheiser.com/
We say: When it comes to single-box 3D audio, no product does it better than this Sennheiser. Ambeo adds polish to Dolby Atmos and upscales stereo like a boss.
Performance: 5/5
Features: 5/5
Design: 4.5/5
Overall: 5/5

Specification
Drive units: 6 x 4in long-throw woofers; 5 x 1in tweeters; 2 x 3.5in full-range upward-firing drivers
Onboard power (claimed): 250W
Connections: 3 x HDMI inputs; 1 x HDMI output; digital optical audio output; phono AV; subwoofer pre-out; Ethernet
Dolby Atmos/DTS:X: Yes/Yes
Separate Subwoofer: No
Remote control: Yes
Dimensions (soundbar): 1,265(w) x 135(h) x 171(d)mm
Weight (soundbar): 18.5kg
Features: Ambeo processing modes; optional wall-mounting; microphone-assisted calibration setup; 4K HDR passthrough (HDMI v2.0a); eARC support; Google Chromecast; USB; Bluetooth; Wi-Fi; MPEG-H compatible; Movie, Music, Sports, Neutral and Night modes; Smart Control app; 30Hz-20kHz claimed frequency response; UPnP

SPONSORED VIDEO

SPONSORED VIDEO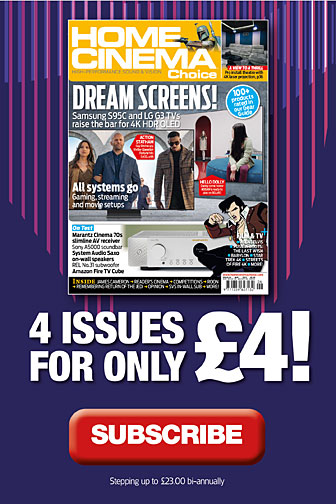 Home Cinema Choice #332

is on sale now, featuring: Samsung's 8K flagship; Anthem AVM 90 processor; B&W 800 Series Diamond; LG smart projector; Hollywood box office bombs; Hitchcock 4K; and more
Want to see your home cinema system featured in the pages of HCC? Click
here
for more info.