Samsung UE65JS9500 review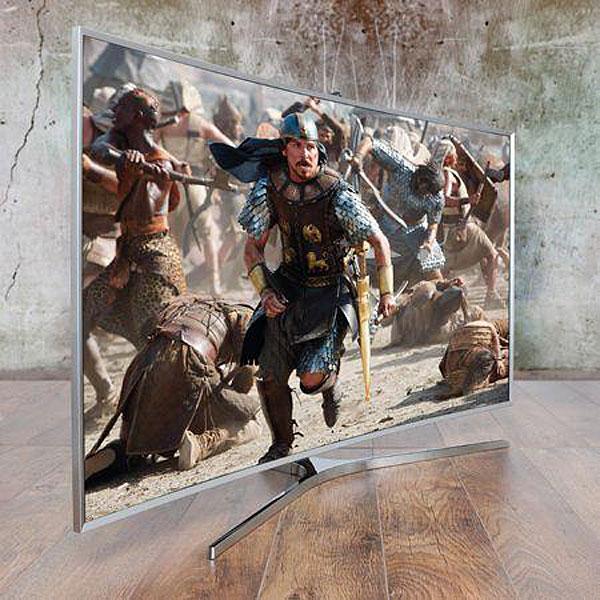 Samsung's flagship super-bright curved 4K/Ultra HD display rewrites the TV landscape

For Samsung, 4K is yesterday's news. Old hat. Water under an ultra high-definition bridge. The brand is already on to the Next Big Thing. What's more, this Next Big Thing isn't just something creeping into 'concept corners' at technology shows. It's already unleashed, on the first new 2015 TV we've had on test: Samsung's UE65JS9500.
This new technology is, of course, High Dynamic Range – or HDR, for short. And it's potentially a bigger deal for TV picture quality than 4K resolution.
As the prosaic name suggests, HDR TVs are all about delivering richer, more vibrant, more contrast-rich and brighter images. Or to put it more straightforwardly, they're about giving you more of everything you like.
As with so much of the best AV stuff, a true HDR experience has a content side and a display side. Content makers have to shoot and, especially, master to HDR specifications, and screens have to have the display characteristics and processing power to churn out all that extra HDR goodness. As AV history (think 3D and UHD/4K) has shown, this need for HDR content is possibly a significant hindrance to the format's adoption. Content makers routinely lag behind the screen hardware. It hardly helps that HDR standards have yet to be fully ratified (the Blu-ray Disc Association, for instance will launch 4K BD with an 'open standard'). But you have to start somewhere, right?
Techno titan
The real nitty-gritty of the UE65JS9500 – and the main explanation for its high £6,000 price tag – lies in the picture technologies crammed into it to deliver on its new HDR promise.
The most obvious specification is the native UHD resolution of 3,840 x 2,160 pixels. Anything less would be unthinkable for a high-end TV in 2015. More unusual is the extremely bright panel design, which is reckoned to be capable of delivering an HDR-friendly peak luminance of 1,000 Nits – well beyond the level of a typical LED-lit LCD TV.
Then there's the nanocrystal technology that Samsung has introduced on the UE65JS9500 to deliver the sort of expanded colour range required for a true HDR experience. Based on Quantum Dot wavelength manipulation systems, Samsung claims it's capable of delivering a much wider colour space than normal LCD TVs. As much as 93% of the Digital Cinema Initiative (DCI) colourscape, in fact.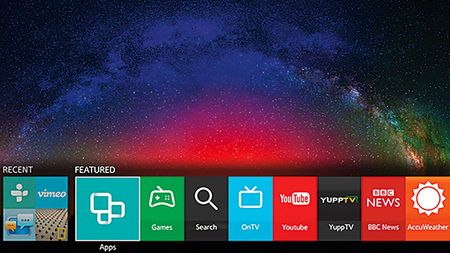 Chamfered appeal
It's a gorgeous-looking screen, too – suitably resplendent for such a significant TV. The bezel stands out from the crowd with the glinting lustre of its chamfered metal finish and the way it angles sharply back from its outer edges towards the panel.
The unusual design seems to funnel you into the picture, an effect enhanced by the fact that the UE65JS9500 features a distinct curved design, in keeping with Samsung's current philosophy.
The only bum-note in the design is how much it sticks out around the back. Couple the natural extra depth caused by the curve with an unexpected chunk of rear-side bulk and you've got a TV which won't lend itself well to wall hanging. The heft is well disguised from the front with the TV mounted on its desktop stand, though.
As has been the way with flagship Samsung TVs of late, the UE65JS9500's connections are all housed on an external One Connect box. This makes all kinds of sense in today's uncertain world, since it means you can update the set with future processing chipsets and even connection types as and when such updates become necessary. Connections on the current box include four HDMI inputs, four USBs, and the inevitable built-in Wi-Fi and LAN network options.
The network jacks deliver DLNA streaming from networked devices or access to the online portions of Samsung's new Smart TV system. This has undergone a considerable revamp this year with the introduction of a TV version of Samsung's Tizen OS. The results of this 'Tizenation' of the Smart environment are strikingly reminiscent of LG's WebOS icon-driven (and iconic) interface. While this is a little surprising considering the companies' rivalry, it isn't a bad thing as it means you get a far more streamlined, slick, unobtrusive and helpful onscreen menu system than was delivered by Samsung's 2014 'net-connected sets. It's now much easier to quickly find content, and app content levels are typically high. It's especially good to see that all the key UK catchup and subscription streaming services are already onboard or coming soon.
The only thing that wasn't up and running at the time of writing was Samsung's previously strong recommendations engine, where the TV highlights content you might be interested in based on your viewing history. This element of the Tizen OS is due to launch in the next couple of months.
As well as delivering a much slicker, more focused GUI, the shift to Tizen is a boon for people who own Samsung phones from the Galaxy S4 onwards, as it means the TV can automatically forge content-sharing links with your phone without you having to manually establish a connection.
On the whole, Tizen is a colour-rich, intuitive environment that reaps rewards.
Epic performance
Despite all the fine specification talk, nothing prepares you for the instant jaw-dropping spectacle of the UE65JS9500's native HDR pictures. Delivered for this audition from a Samsung-supplied USB stick and comprising specially remastered clips from Exodus: Gods and Kings and The Life Of Pi, the HDR picture quality step-up is so vast that going back to normal video feels like stepping back to an earlier, infinitely duller period in AV history.
It's the most extreme aspects of the HDR experience that strike you first. Fearsomely bright and pure whites at one end of the spectrum sit right alongside what might well be the darkest blacks I've seen from an LCD TV. The contrast range is instantly dazzling. Frankly, I'd never expected to experience such an effect from LCD technology. This is especially the case with the highly stylised, stretched-contrast images of Exodus: Gods and Kings. Scenes like the parting of the waves and the shots of burning houses at night across the Nile appear so dynamic and punchy in HDR that it's hard to take it all in. Perhaps the most useful comparison I can make is that images have the sort of luminous qualities previously only seen at a good digital cinema.
Colours enjoy extremes of tone that I haven't witnessed before. The Life Of Pi's gorgeously rich zoo scenes and the famous sequence where the whale launches itself from the glowing night-time sea all enjoy an exquisite level of saturation. What's more, nothing about this vastly expanded saturation feels unnatural or forced; it just looks more cinematic and, for want of a better description, more 'right'.
It's remarkable to see, too, how these extraordinary colours are propelled forth by ground-breaking levels of brightness without the darkness of black levels being compromised at all, and without causing any obvious signs of backlight clouding. Another key specification of the UE65JS9500 brings benefits here: a direct backlight system, where the LEDs sit right behind the screen, driven by a local dimming engine that can independently address the brightness of the LED clusters.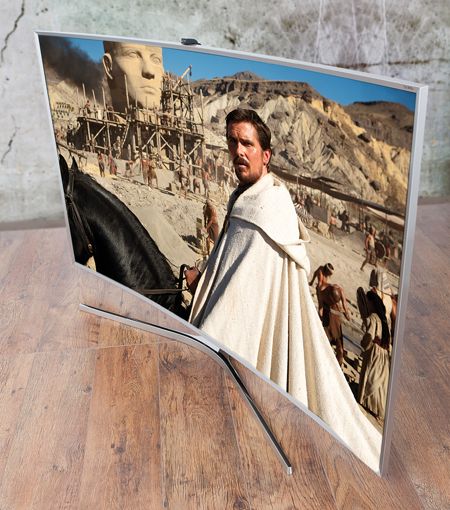 The colour of money well spent
Having adjusted to the new image extremes native HDR playback delivers, I started to spot other important new tricks HDR brings to the party. Lying between the colour and contrast extremes is an subtle and expressive range of luminance and colour tones. These infuse images with incredible amounts of shadow detail during darker sequences, and levels of colour accuracy and finesse at all times that eke out extra quality and clarity from native UHD pictures. Shots across Exodus...'s large battlefields or cityscapes, especially at night, contain a sense of depth, detail and vividness that you'll want to bathe in.
I can therefore instantly understand why the AV industry has shifted its gaze from merely adding more pixels to next-generation pictures to making those pixels work better. It's also easy to see why content creators are jumping behind HDR in a way that, perhaps, they haven't done with UHD, given the enormous impact it can deliver with relatively little creation effort and much smaller data size/streaming bandwidth requirements. Though having said that, HDR and UHD already feel to me like the proverbial horse and carriage. They just belong together.
To bring the impact of the Samsung screen's HDR capabilities into sharper focus, I ran the HDR Life Of Pi clips against the 4K Samsung Video Pack transfer of the same film on a normal – but good quality – UHD TV. And this head-to-head underlined just what an impact HDR has, as the standard version looked positively dim and washed out by comparison. And I've previously considered the Samsung UHD Video Pack transfer to be pretty impressive.
There is, of course, something sadly ironic about the greatness of the full HDR experience. After all, no normal consumer will be able to get their peepers on it for a good few months at least, until Netflix (which will start with a very limited content library) or UHD Blu-ray come of HDR age. Just as well, then, that the screen tech Samsung has developed to pursue its HDR dreams also greatly benefits regular content. Colour and contrast appear clearly subdued with non-HDR material, but the nanocrystal colour system, local dimming and the extra brightness offered by the panel combine to offer a punchy, dynamic performance.
The UE65JS9500 has an extensive picture calibration suite. This includes colour and white balance management and a fairly good level of control over the TV's processing options. There's also a mode that emulates the old Rec 709 colour system. Died-in-the-wool standards freaks can select this if they don't want their BD collection to be given a pseudo HDR makeover. Personally, though, I'd argue that Rec 709's time is well and truly up.
Spex appeal
Samsung's range-topper also plays its part in 3D's current quality (if not popularity) renaissance. As usual with the brand, it's an Active design, which means upscaled-to-4K BDs lose none of their resolution impact. And the boost in panel brightness and colour response ensures stereoscopic images have plenty of intensity to go with their sharpness and depth. I spotted only rare and subtle traces of crosstalk noise despite the image's brightness, leaving some motion judder (and a few processing artefacts if you try to defeat the judder) as the only significant 3D flaw. Motion handling with 2D material isn't best-in-class either, actually.
Other picture issues include some slightly over-aggressive oranges and reds, and occasional bleached-out whites, with non-HDR content if you watch it 'stretched' to take account of the screen's wide colour capabilities. And there's the recurring issue with preset picture modes; Dynamic, Natural and Movie all hinder the TV's potential. I found Standard to be the best default option for those afraid to tinker.
The Samsung's audio isn't as bleeding-edge as its pictures. Heavy bass can leave the speakers sounding strained, and the sound lacks attack versus the best integrated TV audio efforts. That said, the soundstage is large and moderately detailed, doesn't ever sound unpleasant, and delivers voices with a nicely rounded and realistic tone.
Overall, it's clearly a shame that the UE65JS9500's HDR party trick can't actually be used right now due to a dearth of material. Furthermore, the £6,000 price of entry will put it far beyond the reach of most households. However, to straightforward lovers of TV picture quality this curved 65-incher feels so game-changingly brilliant and ahead of its time that it's impossible to see it as anything less than a new reference product. I can't wait to see how Samsung's rivals react.
Specification
3D: Yes. Active
4K: Yes. 3,840 x 2,160
Tuner: Yes. Freeview HD, Freesat HD
Connections: HDMI x 4; USB x 4; RF input; LNB input; composite video input; Ethernet; integrated Wi-Fi
Sound: 60W
Brightness: 1,000 Nits peak
Contrast ratio: 'Mega'
Dimensions (off stand): 1,451(w) x 849(h) x 125(d)mm
Weight (off stand): 32kg
Features: HDR capability; 1,600Hz motion processing; colour and white balance management; Tizen-powered Smart engine; Precision Black local dimming and direct LED lighting; super-bright Ultra Clear Pro panel design; nanocrystal colour technology; USB and DLNA multimedia playback; Standard, Dynamic, Natural and Movie picture presets; screen mirroring; voice and motion control

SPONSORED VIDEO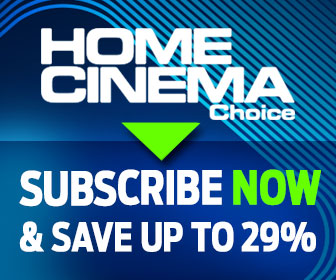 Home Cinema Choice #332

is on sale now, featuring: Samsung's 8K flagship; Anthem AVM 90 processor; B&W 800 Series Diamond; LG smart projector; Hollywood box office bombs; Hitchcock 4K; and more
Want to see your home cinema system featured in the pages of HCC? Click
here
for more info.