Samsung HT-E6750W review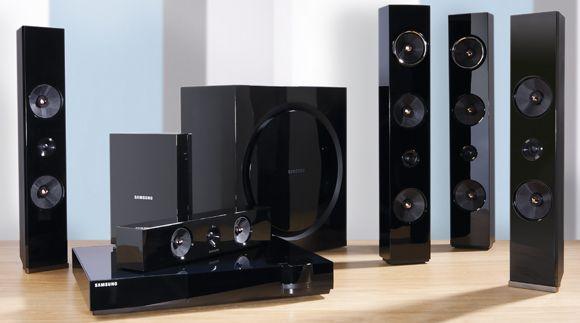 Flagship one-box system mixes old and new technology to craft a sonic surprise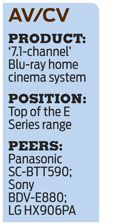 In terms of sound quality, all-in-one home cinema systems rarely live up to the standard of separates. But for its latest flagship system, Samsung has turned to the technology of yesteryear in a bid to redress the balance.
Inside the HT-E6750W is a combination of digital and valve amplifier technology, designed to give movies and music the sort of warmth and body not normally associated with one-box systems. It's a first in the market, a move that Samsung hopes will see it being taken more seriously in discerning home cinema circles.
But that's just one of many eye-catching features the HT-E6750W has to offer. In the box you get a full 5.1 speaker system, complete with towers for the front channels and wireless bookshelf rears, plus a 3D Blu-ray player/receiver unit.
As ever, Samsung has thrown its usual feast of networking tricks and internet content into the mix, making it much more than a mere home cinema system.
Additionally, Samsung describes the array as 7.1-channel, because the front left/right speakers each feature tiltable drivers that aim to deliver a separate vertically-fired channel. Not what you would typically consider 7.1 (eg. with additional rear effects channels) – it's more a front-height affair.
Bundle of boxes
Visually, the HT-E6750W isn't Samsung at its most daring, but all the components ooze contemporary allure. Slim and black as night, the Blu-ray receiver complements Samsung's flatpanel TVs nicely.And to underline their importance, those valves are visible through a round window in the top, glowing away happily with their red hue.
The speakers are uniformly attractive – the front towers rise 1.2m tall (although for our photography we didn't assemble them onto their elongated stands – you'll have to, though, as the stands house the speaker terminals) with angled lines and a gloss-black finish. Silver phase plugs have been added to the drivers, giving them extra visual sparkle.

But that's where my admiration ends. Pick them up and the bodywork is light and plasticky, classic signs of a system being built to a budget. At just under a grand, that's not ideal, but with so many other goodies stuffed into this system I'll cut Samsung a little slack.
Also in the box is a wireless rear speaker kit. This includes a TX transmitter card, which slots into the back of the main unit and beams surround information to a powered black box at the back of the room – in turn providing amplification for the rear speakers via supplied cables.
Predictably the subwoofer is of the passive variety, another one-box trait that can't even be avoided at this price. A dedicated centre speaker completes the set.
Connectivity is excellent. Two HDMI inputs cater for your external kit, easing the burden on your TV's inputs, while the v1.4 output zaps 3D pictures to a compatible screen. Analogue stereo and optical digital inputs accommodate even more of your devices, while an iPod can be connected directly to the front USB port or to the dock port on the back.
There's also an Ethernet port, but Wi-Fi users won't need it thanks to the built-in adapter. That makes it simple to access the system's wealth of web content, which comes courtesy of Samsung's Smart Hub.
This is essentially the same system as seen on Samsung's BD-E8500 PVR in our last issue, with the new signature services (Family Story, Kids and Fitness) alongside various apps and VOD services.
The system plays media over a network, talking to DLNA and uPnP devices. I was able to stream a healthy list of formats, including MKV, WMV, AVI, DivX, MP3, FLAC, OGG and WMA, and had no trouble playing the same files from my USB stick.
Other tricks include Samsung's Soft AP feature, which lets Wi-Fi devices connect to the 'net using the HT-E6750W as an access point, and built-in Bluetooth.
Audio story
But the audio tech is the real story here. Signals are channelled through a DAC then passed through the vacuum tube pre-amp, before being sent to the Class D amplifier. That way, it should keep the tonal characteristics of the valve but with the efficiency and claimed 1,330W grunt of the Class D amp.
Samsung has also upgraded the speaker cones from paper to glass fibre, which it claims improves the overall rigidity and more effectively resists heat and vibration.
But the question is, do these tweaks improve sound quality? Well, yes and no. On the plus side, the much-vaunted warmth that valve amps are famous for is certainly there, resulting in a deeper and punchier sound than Samsung's previous single-box efforts.
That much is clear with Thor's DTS-HD Master Audio track, as our Norse Avenger fights the Frost Giants. His hammer pulverises foes with a meaty thump, while the sound of rocks tumbling to the ground has a similarly visceral impact. The sats cross over seamlessly with the subwoofer, ensuring decent cohesion across the system with no gaps.
It's also evident in the weight it lends to the voices of characters – they boast a velvety quality that Barry White would've been proud of.
Yet the benefits of this added punch are counteracted somewhat by the overriding brashness of the sound. Sure it's exciting and dynamic, yet it lacks polish and control. Mid and high frequencies are a tad coarse and crunchy, which at times doesn't make for an easy listen at loud volumes. Not a disaster, but the sort of niggle that stops it hitting the same spot as a similarly priced separates.
And while the subwoofer does a decent job, I'd like it to be tighter and more focused.
Despite these criticisms, there's still much to admire, such as the immersive soundstage, which truly does expand upwards as well as outwards, plus excellent steering and placement. And the lack of finesse described above doesn't really come across when playing music. There's something rather enjoyable about the way it conveys vocals and demanding rhythms.
In fact, the HT-E6750W is mightily impressive by one-box standards. If separates are a no-go, then it should be auditioned. Just add an HDTV and home cinema is yours to enjoy.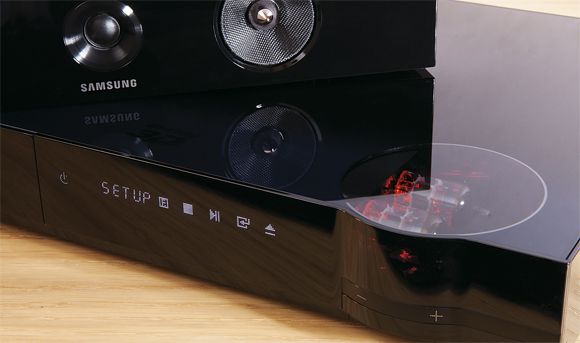 ---
HCC VERDICT
Samsung HT-E6750W
Price: £1,000 Approx
Highs: Extra warmth to sound; abundant features; 2D/3D Blu-ray pictures
Lows: Brash HF performance; speaker build quality; slow web browsing
Performance: 4/5
Design: 4/5
Features: 5/5
Overall: 4/5
---
Specifications
3D: yes
Upscaling: yes to 1080p
Connections: 1 x HDMI out; 2 x HDMI in; 1 x composite out; 1 x analogue stereo in; 1 x optical digital in; 1 x iPod dock connection; 1 x Ethernet; 1 x wireless card slot; 1 x FM antenna in; 1 x USB
SACD/DVD-A playback: no/no
DTS-HD/Dolby TrueHD decoding: yes/yes
Claimed power output: 1,330W
Dimensions (main unit): 65(h) x 430(w) x 323(d) (mm)
Weight (main unit): 3.9 kg
Features: Valve Tube tech; glass fibre speaker cones and angled top drivers; Smart Hub & Fitness, Kids and Family Story; DLNA streaming; web browser; MKV, WMV, AVI, DivX, MP3, FLAC, OGG and WMA support; Sound Effect DSP/SFE modes; angled top drivers; Wi-Fi Direct; Soft AP; built-in Wi-Fi and Bluetooth; wireless rear speaker kit; auto calibration; Smart Volume; ARC; AllShare Play; CD to USB ripping; FM radio; supports wireless mouse and keyboard
Click

here

to see what's inside Home Cinema Choice 306.

Reviews of Optoma and Epson 4K projectors, Philips' OLED934 TV, and Arendal's entry-level subwoofer; a roundup of classic movies on UHD Blu-ray; our annual gift guide; and a whole lot more...
Want to see your home cinema system featured in the pages of HCC? Click
here
for more info.