Rambo trilogy, Cliffhanger coming to 4K Blu-ray this November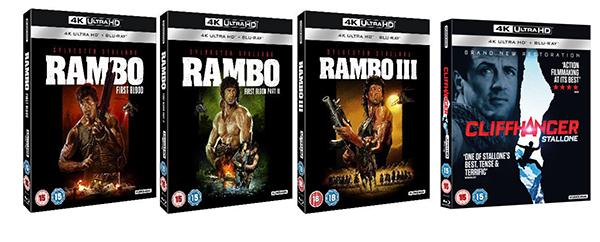 Fans of '80s/'90s action have something to look forward to this November, as Studiocanal has announced 4K Blu-ray releases of the original 'Rambo' trilogy and
Cliffhanger
– all starring genre giant Sylvester Stallone. The movies will also get new Blu-ray and Digital Download releases, with the Rambo flicks enjoying single-disc DVD outings too (for that real retro experience...)
Studiocanal reports that it has returned to the original film negatives for the release of Rambo: First Blood, Rambo: First Blood Part II and Rambo III, claiming the titles have been 'restored in a never seen quality thanks to extensive restoration and 4K scanning.' There's no further detail around the 4K process for Stallone's 1992 mountaineering caper Cliffhanger, however.
The four new UHD Blu-ray discs will be released on November 12. Each of the Rambo titles receives new artwork from German designer Adrian Keindorf. A limited edition Blu-ray/UHD combi will also be available exclusively from Zavvi with bespoke illustration from Jan Feindt.
Each movie will be accompanied by a range of bonus features. While some are ported over from previous disc releases, a new feature (Rambo Takes the '80s) will look at the franchise's development and legacy, and is split into three parts across the trilogy, with further goodies looking at the restoration process.
As for soundmixes, Studiocanal hasn't confirmed whether there's been any Dolby Atmos/DTS:X rejigging. We've asked for clarification, but assume at this point that it's DTS-HD MA 5.1 all-round. Here's the full breakdown of extra features:
Rambo: First Blood
Rambo Takes the '80s Part 1
Drawing First Blood - Making Of
Alternate Ending
Outtake
Deleted scene: Dream in Saigon
Original Trailer
Trailer
How to Become Rambo Part 1
The Restoration
The Real Nam
Forging Heroes
Audio commentary by actor Sylvester Stallone
Audio commentary by screenwriter David Morell

Rambo: First Blood Part II
Rambo Takes the '80s: Part 2
We get to Win This Time
Action in the Jungle
The Last American POW
Sean Baker - Fulfilling a Dream
Interview: Sylvester Stallone
Interview: Richard Crenna
Behind the Scenes
The Restoration
Original TV Spots
Original Trailer
How to Become Rambo Part 2
George P Cosmatos audio commentary

Rambo III
Rambo Takes the '80s: Part 3
Full Circle
A Hero's Journey
Rambo's Survival Hardware
Alternate Beginning
Deleted Scenes
Interview with Sylvester Stallone
Afghanistan A Land In Crisis
Guts and Glory
Behind the Scenes
The Restoration
Trautman & Rambo
How to Become Rambo Part 3
Original Trailer
Original TV spots
Selling a Hero (Easter Egg)
Peter MacDonald (Director) Audio Commentary

Cliffhanger
Commentary with Director Renny Harlin and Sylvester Stallone
Technical Crew Commentary
Personal Introduction from Renny Harlin
Deleted Scenes
Stallone on the Edge: The Making of Cliffhanger
Special Effects: Sarah's Fall & The Helicopter Explosion
Storyboard Comparisons
Trailer Introduction from Renny Harlin