Q Acoustics 3050i Cinema Pack 5.1 speaker system review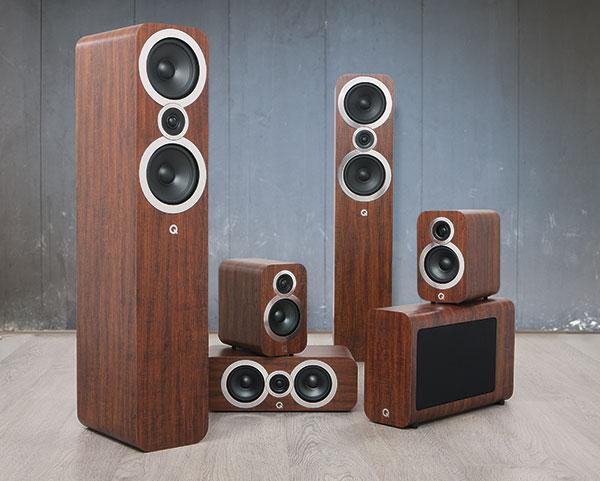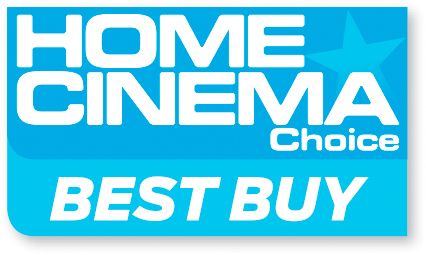 As if guided by some mystic force, Q Acoustics, founded a mere decade ago, seems incapable of putting a foot wrong. Be it in its
M series soundbars and soundbases
or traditional speakers, when it comes to close but no cigar – heroically missing the mark by just a hair – the company is utterly useless.
An established wunderkind in the budget sector, 
Q Acoustics rocked the high-end to its core when, out of the blue, it produced the £4,000-per-pair Concept 500, 
a floorstander of such quality and sonic reach it effortlessly put the bite on towers twice the price and more. Therefore, when Q Acoustics announces the successor to its hugely popular and affordable 3000 Series lineup – which includes everything you need for a neat and stylish 5.1 setup – expectations are sky high.
Not one for sweeping change, the 'i' beloved of audio and car makers alike is brought in to denote the evolved series which, at first glance, bears a striking resemblance 
to the outgoing fare.
Top of the range is the 3050i floorstander, priced at £650 per pair. There are two standmount models – 3010i (£200) and 3020i (£250) – while a new 3090Ci centre speaker (£170) and slender 3060S active subwoofer (£330) complete the family. Of course, you could pick 'n' mix your 5.1 system from this lot, but what we have here is the more expensive (£1,350) of the two money-saving packages Q Acoustic offers, with the 3050i floorstander rather than the 3020i standmount up front partnering 
the 3010i rears, 3090Ci centre and 3060S sub. Opt for the 3020i-based package and the price drops to an even more enticing £895.
Trickle-down tech
Claims for the new range are simple: better sound, smarter looks. Although nudging the bar a little higher isn't so simple, you might suppose, when your existing product 
is already so highly regarded. Naturally, having achieved 
so much with its Concept 500 flagship, there's trickle-
down involved, most critically something called P2P. 
This stands for Point to Point bracing which, according 
to Q Acoustics, supplies internal support 'in areas of the cabinet that need stiffening', including an extra precision-cut damping panel. Cue 'more focused, accurate and low-distortion fidelity', we're told.
Also a direct lift from the Concept 500 is Heimholtz Pressure Equaliser (HPE) tubing, which is said to limit internal standing waves and reduce resonance by converting pressure to velocity, thus reducing the overall pressure gradient within the speaker enclosure. This trickle-down tech has been applied to the 3050i tower speaker, as Q Acoustics contends this acoustic engineering is perfect for taller loudspeakers that tend to resonate at 
a single favoured frequency.
Both standmount models retain their distinctive curvy corners but have deeper, rear-ported enclosures than their predecessors, increasing their internal volume by 25 per cent for an improved low-frequency performance. 
The crossover used in the 3010 has been revised to take account of the 3010i's larger cabinet volume, enhancing both sensitivity and bass extension.
The standmounts' 4in midbass drivers use a cone, precision-formed from impregnated and coated paper, and mated with a newly developed rubber surround. 
Q Acoustics says the coated paper cone provides the optimum balance between stiffness and self-damping, which means it can accelerate without flexing and 
stop very accurately without unwanted resonances.
A new 1in microfibre soft dome tweeter is decoupled from the baffle via a suspension system, helping to isolate it from vibrations from the midbass driver, and has a wide surround for wider dispersion.
The enclosures' four tiny rubber feet make for easy bookshelf placement. Less so some speaker stands, but then there's always Q Acoustics' own 3000FSi stands (£150 per pair) or, if space is tight, the 3000WB wall brackets (£20 each).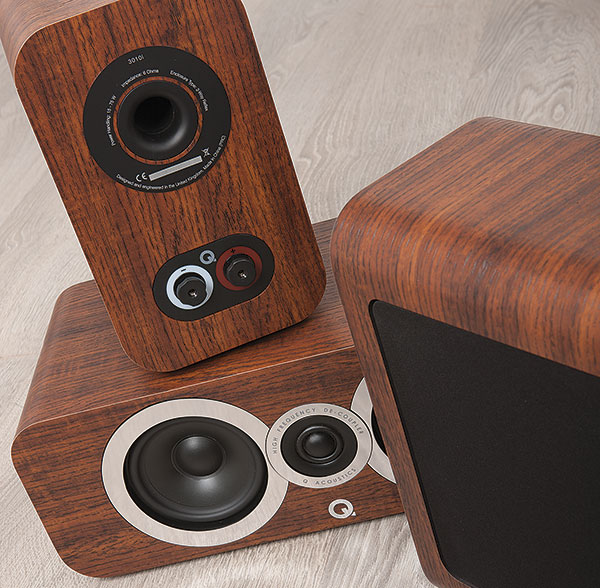 The front of house 3050i is an elegant tower with twin, rear-firing bass reflex ports and twin 6.5in midbass drivers sited above and below the 1in soft dome tweeter in a D'Appolito arrangement. As well as HPE tubing and P2P bracing, the usual terminal panel cut-outs have been removed to improve structural integrity. Rear outrigger plinths, plus spikes, are provide for wobble-proof levels 
of stability.
Designed to be the same width as most amplifiers 
and AV receivers, the 3090Ci centre speaker doubles 
up on the 3010i's 4in midbass driver to flank the same 
1in microfibre tweeter in the middle. Like the 3010i, it 
has pre-fitted rubber feet or can be wall-mounted on 
a dedicated bracket.
Rounding off the ensemble is the 3060S active, sealed subwoofer. As with Q Acoustics' other subwoofers, this 
is a slimline design that looks a little bit like a suitcase 
– only one made from wood. The sub's 8in bass driver
 is front- or side-facing, depending on how you position it. 
An onboard 150W Class D amplifier provides the grunt.
Adding to its discreet design is some nifty cable integration, which sees inputs (plus phase and auto on/off switch) hidden behind a removable side panel. Crossover and level controls are always accessible, however. The previous iteration of this sub, the twin-6.5in driver 3070S, was liked for its svelte size, speed, agility and musicality but lacked a little visceral oomph during moments of SFX overkill. Be interesting to see how 
this one fares.
But before we sit down with some high-potency, ballistic-bandwidth home cinema releases, a word 
about how this 5.1 collection looks and feels. For the money? Fabulous.
There are four finishes available: Graphite Grey, Carbon Black, Arctic White or, as here, a very classy English Walnut with a satisfying tactile depth to the grain. The neatly integrated binding posts and natty chrome driver trims 
look distinctly up-market, too, and unlike previous generations, there's no price premium attached to the glossy black/white finishes.
Natural balance Sometimes, a speaker system sounds 'right' in the sense that it simply doesn't get in the way of the source material. There's no conspicuous evidence of manipulation or editorialising; nothing overtly pumped up, pared back 
or otherwise tailored to construct a particular sonic profile. 
Q Acoustics' 3050i Cinema Pack is just such a system. Detail, focus and intelligibility are all fine but, more than that, it's the way these six boxes sound properly integrated with a warm, natural balance that impresses most.
It's an approach that's well-suited to material that 
takes as much care over its inner intricacies as its outer limits. The Blu-ray of Spider-Man: Homecoming is a good, synergistic choice in this respect. Soundscapes bristle 
with subtle ambient cues that perfectly define Peter Parker's varied environs, whether it's a street-level 
rumble or skyscraper swoop-a-thon. The 3050i system 
is especially adept at conjuring scale and crisply formed minutiae at the same time in the same space, suggesting not just exceptional transparency, but finely graded dynamic expression.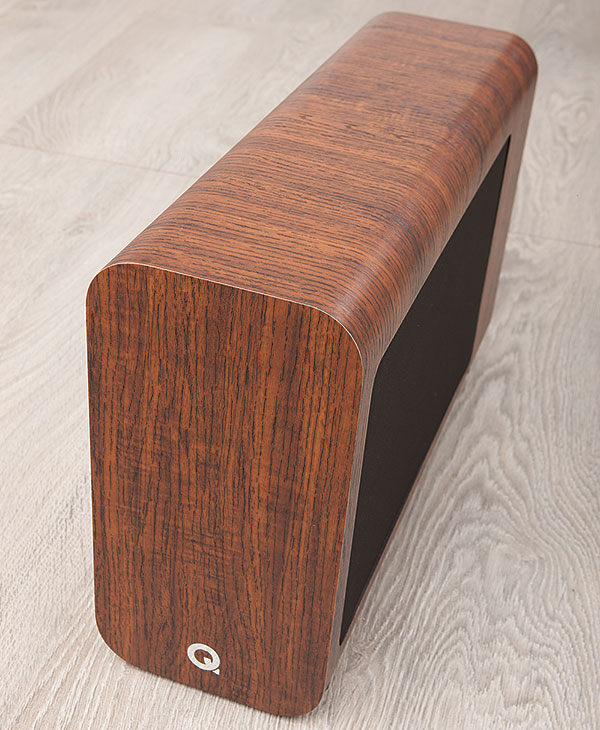 These talents again prove their worth with the strange (in a good way) Ghost in the Shell (Blu-ray) which, rather like Blade Runner 2049, leans heavily on the soundtrack's ability to weave a futuristic urban soundscape across three dimensions, populated with giant holographic adverts and dripping with atmospheric hustle-bustle, that meshes tellingly with the visuals. The film's richly layered music score is just as deftly handled and, as far as the low-end effects on this outing go, the slimmer-of-the-week subwoofer copes admirably, delivering meaty weight 
and decent extension.
A sterner challenge is posed by the Blu-ray of 
Fast & Furious 8 with its savage steering effects, gnashing valvetrains, throbbing exhausts and pounding music tracks. Here, the revved-up LFE channel gives the 3060S subwoofer just a little more than it can comfortably handle. But, far from falling apart, it gives in gracefully, compressing just a little rather than rattling on the end stops.
'Why don't you come to your senses?'
Feed the speakers Diana Krall singing her exquisite cover of The Eagles' Desperado (Wallflower, CD) and, on the more sympathetic of our Denon's AVR's surround settings, this system's an unqualified winner. Dusky vocal, understated ivory tinkling and satiny massed strings melt into an achingly beautiful whole that's mesmerising to listen to. Undoubtedly, the Krall track plays to the 3050i system's strengths but, like all the best speakers, it's the Q Acoustics' adaptability that convinces. Energetic with rock, expansive with big orchestras, intimate and tactile with simpler acoustic material (musicians other than Ed Sheeran 
are available), it frequently exhibits the canny ability 
to lay bare the spirit of whatever is played.
So let's get a bit cosmic. Yes, it's a cliché, but with Pink Floyd's The Dark Side of The Moon the music has a shimmering, scalp-tingling presence nailing that narrowest of lines that exists between resolving detail while fully encompassing the momentum of the whole. The sound 
is revealing without being pernickety, harmonically rich without lapsing into lushness and rhythmically coherent without rimshots bouncing off the walls. It's an extremely likable kind of presentation, devoid of manipulative emphasis, maybe a little dry, but ultimately satisfying.
For a final fling it's back to Blu-ray and the good-but-
not-as-good-as-the-original Guardians of The Galaxy 
Vol 2. If the film itself doesn't feel quite as fresh and funny, the audio mix seems about twice as busy and boisterous, and gives this system a serious workout, seemingly engaging all of the boxes all of the time. The potential for muddle and confusion is high but never quite materialises, the overlapping and aggressively steered effects refusing to clash or blur, the heftiest LF delivered gamely and with good speed – if not quite the weight and rolling infra-bass of bigger woofer. It isn't the most exciting performance ever but, at the price, the quality is little short of astonishing.
Masterful update
To sum up, this is a masterful update of an already very talented 5.1 package. It retains the basic balance and natural tonality of the original but in an expanded and more refined performance envelope, with enhanced clarity and insight. On top of which, it looks great, is well built and beautifully finished. And value for money? Off the charts.
HCC Verdict
Q Acoustics 3050i Cinema Pack
Price: £1,350 
www.qacoustics.co.uk
We say: Q Acoustics hasn't totally transformed its popular 3000 series 5.1 package, but has made it subtly better. Which means it's very good indeed.
Performance: 5/5
Design: 4.5/5
Features: 4/5
Overall: 5/5

Specification
3050i
Drive units: 1 x 1in microfibre dome tweeter; 2 x 6.5in paper cone midbass drivers
Enclosure: Twin rear-ported Frequency response (claimed): 44Hz-30kHz
Sensitivity (claimed): 91dB Power handling (claimed): 165W
Dimensions: 310(w) x 1,020(h) x 310(d)mm Weight: 17.8kg
3090Ci
Drive units: 1 x 1in microfibre dome tweeter; 2 x 4in paper cone midbass drivers
Enclosure: Twin rear-ported Frequency response (claimed): 75Hz-30kHz
Sensitivity (claimed): 89dB Power handling (claimed): 100W
Dimensions: 430(w) x 152(h) x 216(d)mm Weight: 6kg
3010i
Drive units: 1 x 1in microfibre dome tweeter; 1 x 4in paper cone midbass driver
Enclosure: Rear-ported Frequency response (claimed): 65Hz-30kHz
Sensitivity (claimed): 86dB Power handling (claimed): 50W-125W
Dimensions: 150(w) x 253(h) x 252(d)mm Weight: 4.1kg
3060S (subwoofer)
Drive units: 1 x 8in paper cone bass driver
Enclosure: Sealed Frequency response (claimed): 35Hz-250Hz
On board power (claimed): 150W Class D amplifier Remote control: No Dimensions: 480(w) x 300(h) x 150(d)mm Weight: 8.5kg Features: LFE input; stereo phono input; auto on/off; crossover and level controls; phase switch; supplied with spikes; removable connections cover

SPONSORED VIDEO

SPONSORED VIDEO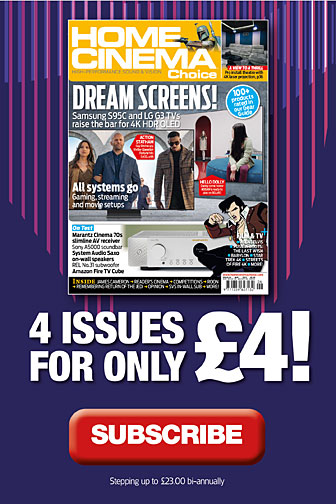 Home Cinema Choice #332

is on sale now, featuring: Samsung's 8K flagship; Anthem AVM 90 processor; B&W 800 Series Diamond; LG smart projector; Hollywood box office bombs; Hitchcock 4K; and more
Want to see your home cinema system featured in the pages of HCC? Click
here
for more info.