Paradigm 100 CT and Cinema Sub loudspeaker review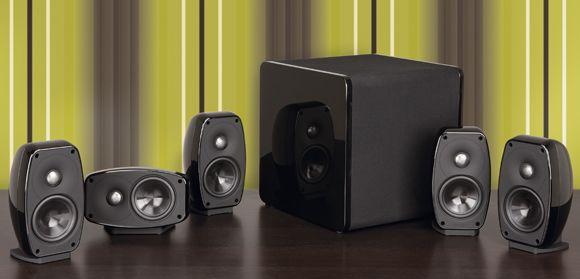 Sensational compact sub/sat array benefits from high-tech tweeter technology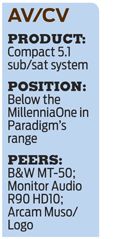 I don't know if it makes me even more OCD than normal reviewers but I do tend to identify corporate personality amongst speaker makers, just like one does for car manufacturers. For instance, Lamborghini designs nutty and flamboyant exhibitionists' rides and Bentley makes a different sort of posh to Mercedes. Likewise, the sweet-natured Canadian brand Paradigm tends – or tended – to manufacture speakers like Rolls Royce made engines.
'Bloody great pistons going up and down like lifts,' was how one engineer described the fabulously under-stressed motors in Rollers. And Paradigm, for any given enclosure size, has always been very generous with the actual speaker transducers it would stock in them. Lots of unstressed drivers – say six – where other brands would have just four in their same-size models, and then require them to work all the harder. Paradigm also does the same multiple-drivers load-share with some of its subwoofers, right up to the SUB2, which utilises six 10in cones and props them up with kilowatts and kilowatts of power.
So, moving away from that trend with its already well-received £2,500 sub/sat system called the MilleniaOne was quite a change in approach. To do that the brand needs individual drivers to go from Rolls Royce to Lamborghini; from only having a little job to do each to having a fat slice of everything to do.
Compact solution
And now it's launched these Compact Theater speakers, which, along with the subwoofer, aim to make an equally impressive sound for less than half the price of the MilleniaOnes.
The tweeters in each 100CT live in a little dish in the baffle described as a 'waveguide', which means there is a little help with off-axis performance from this slight horn-loading. Their domes are made of a massively stiff anodised aluminium and are expensively driven, with ferrofluid bathing their meaty voice coils. This, for those who don't remember, is like liquid iron and stays in the magnet gap. As it is a metallic-conductive liquid, it wicks heat away to the whole weight of the magnet itself and makes the tweeter's power handling and linearity improve dramatically.
Ferrofluid for speakers is like nitrous oxide for engines and is even more rare in mid-range drivers. True enough, the teeny 3.5in drivers that share the front baffles on each 100CT box with the very high-quality tweeters have no ferrofluid cooling – and no damn right doing what they do. It's absurd.
Buyers of this package get a quintet of the CT100 cabinets, with one called the centre by way of a badge on a grille in a different place and it being supplied with a slightly different stand/bracket set. Build quality is commensurate with the £1,000 system price tag. Each cabinets feels weighty and solid. Incidentally, part of what you are paying for is the thoughtfully-engineered set of brackets and mounts that enable a choice of mounting options. I used the fronts perched simply on bookshelves and the rears on optional (£149-per-pair) stands.
Delicious
In conjunction with an Anthem MRX300 receiver doing its RoomEQ thing, the CT100 array served up a delicious performance.
First I spun up some multichannel music from the maestro of the leading-edge, Peter Gabriel. It helps that this is awesomely well recorded, of course, but even so the initial impression was how classy and upmarket the whole Paradigm CT sound was. You get a slice of high-end from these bizarre little boxes. After only a few moments I found myself looking at them slightly dumbfounded.
The soundfield is divorced from the boxes, hanging in the air, and there is total synergy between all five cabinets, helped by the fact they're all tonally and technically identical.
The Cinema subwoofer uses a single 8in driver and 100W of power, and is wonderful for the money (you can buy it separately for £350). It supports the CT100s very well, right up to the bottom of the satellites' ability. The blend between them is true and you'll struggle to identify where the bass is coming from.
For movie material I turned to Transformers on Blu-ray. You can pick any entry from this franchise and find demo-worthy scenes, packed with chaos, mayhem and smashing robots as big as King Kong. My favourite starts with a little 'bot zooming about in radio-controlled toy mode and then rapidly evolves into a building-destroying serpent thing, literally demolishing stuff.
The Paradigms crafted a fabulous detail-rich sound, with crispy edges that cut easily through the crashes and explosions. This allows you to hear things going on in the background while the foreground is roaring. Tinkles, scratches and metal-on-metal sounds all had total intelligibility and definition.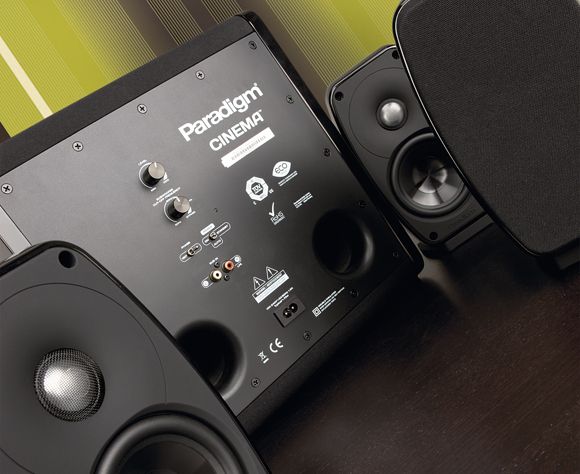 No sweat
I expected to hear the 100CT straining and popping, yet never really did. In fact it's been a long time since such a small system has so amazed me, but these drivers, and that S-PAL 3.5in mid-range in particular, are a clever achievement.
Voices were clean and uncoloured, even when Hollywood's finest are shouting, and the sheer size of the sound belies the size of the boxes. This really is a system for someone who craves a big sound but wants to avoid room-dominating speakers. There's something about that pistonic 3.5in cone and how it sheds heat away very fast – there is a classy front attack to the really high rise-time sounds that indicates that, like other metal-coned speakers, they exhibit very low power compression. This is when the front edge of the sound is asking such huge cone movements that the voice coil heats up like a toaster. If this is avoided by wicking the heat away as fast as through tinfoil, you get further and tighter cone motion at the start and a more involving and exciting sound.
So, from a subwoofer with six 10in drivers to a teeny atom bomb of a 3in speaker, Paradigm is now covering all the bases. Indeed, when you consider it's also launched the Paradigm Shift brand of headphones and Bluetooth speakers it's clear there's a broadening of the corporate mind going on.
Having designed this compact marvel, Paradigm has also stacked it up into some bigger products, the 200, 400 and Cinema Trio. The 200 has a brace, rather than just one of the 3in pistons, the 400 uses four of them to go with its tweeter the Cinema Trio is a three-channel under-TV 'bar'. I would expect these models to offer the same impressive performance, so if your budget is bigger or your tastes are different they're probably worth auditioning.
Wonder package
Paradigm's 100CT speakers, and the subwoofer that goes with them, form a bit of a wonder package. There are similar products from SpeakerCraft, Monitor Audio, Bowers & Wilkins and more, so competition is tough, but the brand can rest assured its change in philosophy is reaping rewards.
---
HCC VERDICT
Paradigm 100CT
Price: £1,000 Approx
Highs: Fabulously articulate and detailed soundstage; compact and unobtrusive design
Lows: You can get floorstanding speakers for the same money
Performance: 5/5
Design: 4/5
Features: 4/5
Overall: 4/5
---
Specifications
Paradigm 100 CT
Drive units: 1 x 3.5in S-PAL (Satin-anodised Pure Aluminium) midband; 1 x 1in S-PAL ferrofluid-cooled and damped dome tweeter
Enclosure: Two-way sealed
Frequency response: 85Hz-20kHz
Sensitivity: 88dB
Power handling: 50W
Dimensions: 122 (w) x 212 (h) x 157 (d)mm
Weight: 1.8Kg
Paradigm Cinema subwoofer
Drive Unit: 1 x 8in reinforced polymer composite cone
Enclosure: Front-firing, dual rear ports
Frequency Response: -3dB @ 32Hz to crossover
On board power: 100W
Dimensions: 322(w) x 342(h) x 322(d)mm
Weight: 9.7Kg
Connections: Phono input in stereo

SPONSORED VIDEO

SPONSORED VIDEO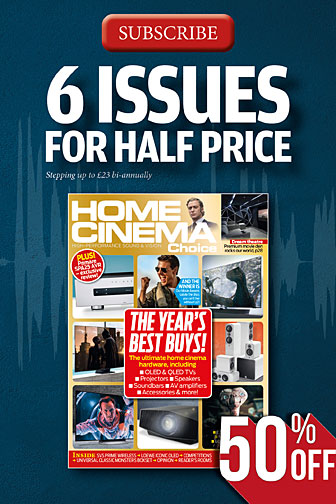 Home Cinema Choice #332

is on sale now, featuring: Samsung's 8K flagship; Anthem AVM 90 processor; B&W 800 Series Diamond; LG smart projector; Hollywood box office bombs; Hitchcock 4K; and more
Want to see your home cinema system featured in the pages of HCC? Click
here
for more info.