Panasonic TX-P65VT65 review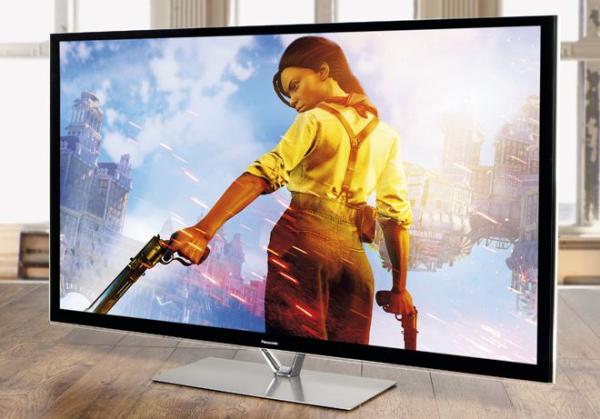 Brand's largest consumer plasma is a drop-dead gorgeous edifice with a features list to die for
For such a big-boned screen, Panasonic's 65in TX-P65VT65 NeoPlasma wears its weight well. A narrow metal trim with edge-to-edge black-filtered glass lends it a clean, lean appearance. If you've always considered that any TV larger than 50in will be an inconceivable intrusion in your living space, then this model could well change your mind.
In addition to its slimness, there's some very clever engineering at work here. A pop-up webcam is built into the top while forward-facing speakers, barely 7mm wide, sandwich the screen (previous big plasmas from the brand threw audio out the back, with obviously muffled results).
In addition to the regular IR remote control, the Viera VT65 comes with two Bluetooth peripherals: a dumpy touchpad controller with integrated microphone that invites you to sweep your thumb every which way, and an electronic pen. The latter actually allows you to write and doodle directly on the screen itself (and save your scribbles), supposedly without scratching the display. Of course, writing on a TV with a pen (electronic or not) is hideously counter-intuitive, and sends all the wrong messages to youngsters who won't be able to differentiate a Bluetooth pen from a magic marker. Use this at your peril…
Connections include (a miserly) three HDMIs, component/AV/Scart input via a supplied adaptor, three USBs, Ethernet, optical audio output and CI slot. The TV has an SD card slot for quick playback of JPEGs and AVCHD footage, and Wi-Fi is incorporated.
Significantly, the set offers a choice of twin Freeview HD or Freesat tuners (the latter requiring an LNB splitter). This duality provides a wide variety of practical innovation. The ability to timeshift programmes to an attached external USB hard drive, via a 3.0 USB connection, goes from being a curiosity of limited practical value to a genuine boon, as the set can record one programme while you watch another, therefore becoming a PVR replacement. It also offers a split-screen option – with two channels simultaneously displayed – twin-screen browsing and second-screen independent viewing on a smart device.
Naturally, there's also a wide range of streaming TV services as well as a variety of other diversions. Note that Panasonic's My Home Screen interface has been optimised for smaller displays, and at this size looks somewhat overblown, as if the UI has been constructed from toy blocks.
File playback from USB is first rate. The set plays most codecs and wrappers, including WMV, MKV, MP4, MPG, VOB, AAC, FLAC, MP3 and WMA. Across a network from a NAS, compatibility is only a tad more restricted, with MKVs awkwardly deemed unplayable.
Extreme images
The TX-P65VT65 delivers images of extreme clarity and punch, but Panasonic makes you work hard to get the best from the set. Out of the box, this TV, with its Infinite Black Ultra filter, looks leaden on almost every preset. Every year, the company's picture engineers endeavour to push their NeoPlasma panels darker and more dynamic than ever before, but on the evidence of the VT65 I'm tempted to argue they've simply gone too far. Images are dark and unsubtle, with crushed, inky blacks and greys alive with pixel noise. The problem is that panel luminosity appears to have been ratcheted up too high to achieve a higher number of gradations; viewed up close, peak whites bleach and pixel noise fidgets just above absolute black.
There is respite, though. Opt for the new Custom setting and you're given access to a Panel Luminance control. This can be reduced from High to Mid or more preferably Low, bringing immediate relief (the set's black level performance isn't diminished by dropping luminosity, as blacks remain convincingly deep).
Colour fidelity is excellent, with reds particularly deep and intense. The screen's Colour Gamut setting is best left on Native – using Blu-ray as a source, images really zing. Other options are SMPE-C, EBU and REC 709. Select the latter and it depletes vibrancy, and you'll miss out on the extended colour space offered by select sources.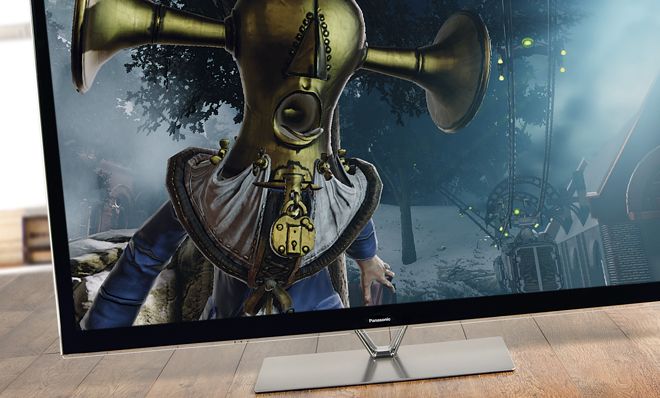 Daunting task
The VT65 bristles with adjustments and tweaks, which is fine for enthusiasts but daunting for those that are less interested in parameter minutia. Perhaps the most contentious is IFC (Intelligent Frame Creation), Panasonic's proprietary image smoother. On Panasonic's LED LCDs, IFC is key to retaining detail during movement. On the TX-P65VT65, it's much more of a minefield.
The important point to note is that even with IFC (aka 24p Smooth Film with 24p content) turned off, this panel, which boasts a short light emission of just 1/3,000th of a second, is natively fast enough to present 1080 lines of motion resolution, when measured at 6.5ppf. With IFC off, there're no motion artefacts and horizontal panning judder effects. Switch it on, though, and all sorts of nasty things happen. Set to Min, horizontal pans exhibit occasional colour blur. Set to Mid, artefacting around moving images becomes apparent. On Max, this artefacting becomes quite extreme and motion takes on that distinctive ice-skating effect. Conversely it also gets sporadically stuttery; playing BioShock Infinite with IFC on Max was like being sandblasted in the face.
What IFC can do is combat the subtle blurring that can still occur with fast movement, which can bring benefits. The troll BBQ campfire sequence from The Hobbit: An Unexpected Journey (2D Blu-ray) is a case in point. This darkly-lit scene, in which Bilbo and his Dwarven mates are captured by a trio of trolls, includes a fast-paced action sequence that can look a tad smudgy with IFC off. With IFC on Mid, the fight becomes easier to follow, and looks not unlike the movie's HFR 48fps cinematic presentation.
The VT65 is best viewed with HD sources; SD fare looks extremely ropey in comparison. 3D performance is fine, although while the presentation is highly detailed, and reasonably clean, challenging test sequences still induce double imaging – as with the Sony W9 (reviewed here), Tangled's menu poses problems. Still, the stereography itself is crisp and immersive.
The screen's sound quality is a slight improvement on what I've heard before from Panasonic's PDPs. Bass fans will feel short-changed, however.
Easy to accommodate
Overall, the TX-P65VT65 has the power to impress. For such a large panel, it proves easy to accommodate, thanks to its svelte glass and metal design, and boasts a features list that's decidedly futuristic – voice interaction isn't as foolish as you might imagine and that second tuner is a treat.
As for image quality, the set rewards enthusiasts with beautifully sharp, dynamic images on a fantastic scale, but you can't rely on any of the presets, which has to be considered a disappointment, and I feel the brand's engineers are driving this panel too hard in search of blackness and contrast. It's also a bit noisy in operation, courtesy of its internal cooling fans. The TX-P65VT65 therefore has the potential to be great, but it's not perfect.
---
HCC VERDICT

Panasonic TX-P65VT65
Price: £3,400 Approx
www.panasonic.co.uk
Highs: Sleek design; intuitive user interface; twin tuners; reasonable smart portal; outstanding clarity and colour performance
Lows: Overdriven picture presets; high luminosity panel settings highlight pixel noise; internal panel cooling fans are noisy
Performance: 4/5
Design: 5/5
Features: 5/5
Overall: 4/5

SPONSORED VIDEO

SPONSORED VIDEO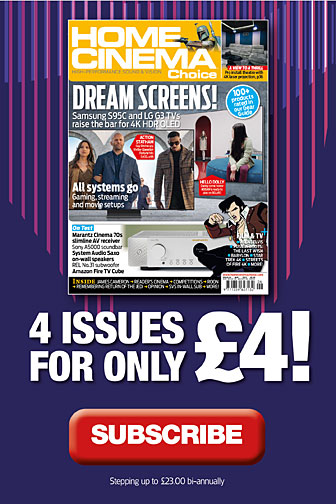 Home Cinema Choice #332

is on sale now, featuring: Samsung's 8K flagship; Anthem AVM 90 processor; B&W 800 Series Diamond; LG smart projector; Hollywood box office bombs; Hitchcock 4K; and more
Want to see your home cinema system featured in the pages of HCC? Click
here
for more info.