Panasonic SC-BTT460 review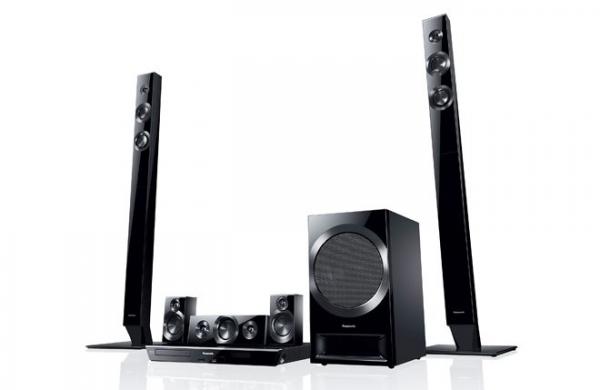 A Smart 3D Blu-ray player, amplifier and speaker system for the frugal home cinema fan
For most people, the process of piecing together a home cinema system is sheer bliss. Dealer auditions, studying spec sheets, poring over reviews to sniff out that perfect amp/speaker combo – for the seasoned enthusiast it's like a trip to Alton Towers. But for others, it's like being poked in the eye with a stick. That's the beauty of the all-in-one system: you get a complete setup in a single box, eliminating all the hassle and leaving you more time to actually sit down and watch movies.
Panasonic has plenty of one-box systems to choose from. The SC-BTT460 tested here sits below the top-end SC-BTT560 and SC-BTT880 models. It's a 5.1 array with a pair of large towers for the fronts but compact speakers for the rears.
Joining these in the box are a centre speaker, a passive subwoofer and a 3D-capable Blu-ray receiver. The latter is the brains of the operation. A slim unit, it's been tarted up with sloping side panels, while the black finish and glinting silver strip running along the top of the fascia is a nice combo.
On the front you'll find a USB port and SD card slot but rear socketry is less impressive. For starters there are no HDMI inputs, making it a hassle to feed sound from external sources. You have to settle for the optical digital or analogue stereo inputs, and feed the picture to your TV separately. However, if your TV supports Audio Return Channel you can send sound to the system that way. Ethernet is present, but there's no built-in Wi-Fi – you'll need to invest in Panasonic's £80 dongle.
Like most one-box systems, the speakers are built to a price. The fronts, for example, come in three pieces and the middle section is alarmingly light and plasticky. The passive subwoofer is equally lightweight. That said, the cabinets look great, and for typical one-box buyers that's probably more important. Cable management in the towers keeps mess down.
Despite their compact dimensions, the two-way rear speakers find room for a full-range driver and Piezo super tweeter – some companies would have fitted a single full-range driver and been done with it.
When it comes to features, there's a sense of déjà vu. While Panasonic's latest TVs boast a jazzed-up interface and enhanced Smart features, Panasonic has kept its Blu-ray systems pretty much the same as last year. In most areas that's not a bad thing, but Viera Connect could really have done with an overhaul. Applications include biggies like BBC iPlayer, YouTube and Netflix, but I'm disappointed by the continued lack of ITV Player, 4OD and Demand 5 catch-up services. And, once again, the Viera Connect menu is split across several pages, which makes it cumbersome to use.
Smooth and composed
The SC-BTT460 reproduces Dolby TrueHD and DTS-HD Master Audio soundtracks with considerable gusto. The sound boasts decent weight and scale, while staying smooth and composed during busy action scenes.
The new LincsD amp under the hood is said to reduce clarity-affecting jitter and distortion, and indeed it does seem a little more refined than previous Panasonic packages. It can't match the finesse and slam of a dedicated separates system, but the SC-BTT460 still conveys excitement and drama convincingly, confidently digging out the rich tapestry of detail during Hellboy II's Troll Market scene, making the fluttering fairies and buzzing creatures sound crisp and airy. The swells of subtle background effects are deftly handled, and I had no trouble making out the variety of oddball voices amid the hustle and bustle, each one coming through loud and clear from the centre speaker. And when Hellboy and Wink start pummelling each other into the scenery, there's a decent sense of punch and purpose behind the blows.
That's helped considerably by the sub's ability to reproduce bass forcefully while avoiding excessive bloat and overhang, which comes as a nice surprise. It doesn't rattle your ribs like an active sub, but integrates more seamlessly than I expected, provided you've spent a bit of time fine tuning the levels. There's a dedicated volume, as well as 'Subwoofer Level' settings and an H.Bass mode, all of which need reining in.
Also pleasing about the Panasonic's performance is that it doesn't sound harsh or shouty when the going gets tough, something few one-box systems pull off. That makes frenetic action scenes easy on the ear without compromising excitement. The soundstage is also immersive, even more so when you activate the 3D Cinema Surround mode, which brings extra richness and body, as well as spreading effects wide and high. The trade-off is that you lose some of the positional sense and precision in the front and rear channels.
On the visual side, the SC-BTT460 delivers sharp and clean pictures, with sumptuous black depth and dazzling colours. 3D pictures also pass muster. If you want to improve them further, there's a range of picture adjustments in the Options menu (which can be tweaked while you watch) and 3D image settings.
Likeable system
Although far from spectacular, the SC-BTT460 is a likeable 5.1 system with a solid AV performance and a living-room friendly design. But the absence of HDMI switching, built-in Wi-Fi and some VOD services counts against it.
---
HCC VERDICT
Panasonic SC-BTT460
Price: £350 Approx
www.panasonic.co.uk
Highs: Smooth, dynamic sound quality; excellent BD pictures
Lows: No 4OD, Demand 5 or ITV Player; no built-in Wi-Fi; no HDMI inputs; uninspiring speaker build
Performance: 4/5
Design: 3/5
Features: 3/5
Overall: 3.5/5
Home Cinema Choice #311 is on sale now

, featuring: Samsung Q950TS 8K QLED TV; Emotiva 11-channel power amp; Meridian in-wall speakers; binge-worthy TV boxsets; Color Out of Space interview; disc reviews; opinion; and more.
Want to see your home cinema system featured in the pages of HCC? Click
here
for more info.