Monitor Audio GX Series review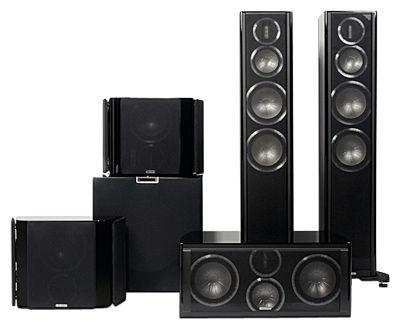 Adam Rayner takes Monitor Audio's Gold series cinema speakers for a spin
Our younger readers might laugh about this, but in the olden days, there were businesses that existed that would rent you a TV. As long as you stayed signed up you always had the latest model – and when the TV died the rental company gave you a new one and you could dispose of the old one as you wished. Good for me – I was allowed to break them up in the garage.
While my folks reckoned it would be 'educational', I loved the nihilistic destruction of taking it apart bit by bit, unravelling coils of wire and ending up with a lump of magnet, way stronger than that I had in my 'Fun With Magnets' set.
These magnets were the heart of the telly's loudspeaker, which had to be powerful to compete with the market and thus used a more costly magnet, with higher flux density than could be used in toys. It's still the case today. I have experienced a Neodymium magnet from a driver that I was literally unable to prise it from the steel shelving it was clinging to.
Early TVs had to be twiddled with a dial to get the stations and had actual numbers printed on – now look at them. The same technology growth applies to speakers. Advances in materials science, and the electro-mechanical engineering that these new materials engender (Kevlar, Neodymium, Carbon Fibre and just right now, Graphene), mean that in one lifetime you can hardly recognise the old scenario.
What we have here, in the shape of Monitor Audio's Gold Series, is as 21st Century as you could wish for, with performance figures and specifications that would have literally boggled an expert 20 years ago. In fact, they might not have believed you.
Monitor Audio has a real fan base that loves its kit and knows that even at the entry-level, the product line called Bronze, the sound will be clean and will exhibit tremendous accuracy of sound stage and placement. I wasn't too keen on those myself, as at their price point, I would have been shopping for max volume and impact and size rather than looking for refinement.
This 5.1 array is the newest of the Gold series, sub-dubbed GX to distinguish from previous incarnations, and their place in life is to be first in line to inherit the mad-end technology developed for the HCC award-winning Platinum series. Thus, for what is still arguably a fat slice of money, you get nearly all the fabulousness of the even costlier top-end Platinum series, just a year or so later and not having to pay for the R&D costs.
These speakers drip with technology. First there are the C-CAM RST drivers. C-CAM is Ceramic Coated Aluminium Magnesium alloy. It's very light and stiff and will act in a pistonic fashion with no flex and break up helped by the Rigid Surface Technology. This is a super light alloy, with a layer of ceramic to stiffen it, and a series of raised ribs in the surface to resist flexing under drive and thus non-pistonic behaviour.
I believe, and I was production manager of Acoustic Energy at the time (and Monitor Audio's Mo Iqbal had licensed his tweeter to be in the AE1) that the metal C-CAM material development came about because of the AE patent.
AE's BIG patented secret is soft spun aluminium in a cone shape (far too soft yet to be a speaker cone) which is hard-anodised both surfaces – just like the lining of a race car engine cylinder – to make a tri-layer-composite of immense rigidity.
But C-CAM has come so very much further. Where AE still has the same 5in driver and has gone up to an 8in in the metal cone tech they use, Monitor Audio offers a Dustbin Lid From Hell in the shape of the mighty 15in C-CAM piston hiding behind the grille of the very clever and technically equipped subwoofer in the line up for GX, the GXW15.
And it doesn't stop there with C-CAM, for the Holy Grail of filtered-down technology with the Gold GX is their odd-looking tweeters. These are not domes, but flat slices of this super rigid C-CAM that actually hang suspended in a magnetic field of a pricey Neodymium-Ferrite-Boron magnet. The teeny sliver weighs hardly anything and as such can accelerate rapidly to change direction and reproduce tones up to 60kHz.
And what does all this high-falutin' technology mean to your audio experience? It means a set of bass and midrange drivers with low power compression and tweeters that sing with amazing grace.
Dipolar disorder
For my I audition I had the towering GX300 three-ways floorstanders, a centre called GCX 350 (the bigger of two offered in Monitor Audio's range) with the same four drivers on board, and a pair of GXFX rears that have dipole along-the-walls drivers – two small C-CAM mids and their regular Gold dome tweeters – on each end, as well as a ribbon tweeter and a mid-driver in their front faces. You could switch from dipole to monopole by a switch on the front, or more cunningly – and perhaps more for the home automation-heavy USA market – they have 12V trigger switchability too, with extra 12V terminals on their rears to connect a wire to. Annoyingly, though, the GXFX don't sport the seductive magnetic grilles of their sibling speakers.
The subwoofer has some real DSP smarts and a self-EQ system which works well. You can choose up to a wall-like 24dB of crossover slope too, which is rare.
I lived with these speakers for nearly a fortnight, and fell into a pattern of rewatching the recently-purchased BD of Pirates Of The Caribbean On Stranger Tides. The dialogue in the movie's opening scene – 'How soon can you sail?' 'With the tide…' is followed by a long and loud triangle note…TINNNNNNG! And so help me, from that note these Monitor Audios place you right inside the film. The sheer delicate richness that these five tweeter ribbons can raise, partly due to their reach up, but also to their reach down, since they have a very wide passband, made for a princely presentation. At the other end of the spectrum. the GXW15 woofer just drops and drops. While it isn't as fast as, say, the B&W DB1, it has scale, might, majesty and melodic ability too, due to the huge amp inside. The system can thus create the scale the Bronze array cannot do and are close to the rare high-fidelity cinema thrills that the Platinum series presents. For me, this makes the GX product a clever spend.
Running through Pirates... had me scribbling all sorts of notes ('huge, rich, foundation-shifting bass with power and grip'; 'nil flex on the 15in piston'; 'Exciting, musical and able to create a sense of scale'), but all you need to know is that I loved this system with a passion. It's a lovely looking set, with such a fabulous sound that the £7,000 ticket still feels value for money – although personally I would have saved £150 by opting for the standmount GX100 rears over the GXFX wall-huggers.
HCC VERDICT
Highs: Rich, accurate texture to upper mids and highs; potent subwoofer; high-quality build and finish
Lows: Dipole/Monopole FX rears are costly and lack the magnetic grilles of the rest
Performance: 5/5
Design: 5/5
Features: 5/5
Overall: 5/5
Specifications

Monitor Audio GX 300
Drive Units: 2 x 6.5in C-CAM Ceramic-Coated Aluminium-Magnesium alloy RST bass drivers; 1 x 4in RST C-CAM midrange driver; 1 x C-CAM ribbon tweeter
Enclosure: 3-way rear-ported
Frequency Response: 30Hz-60kHz
Sensitivity: 90dB
Power Handling: 200W
Dimensions: 317(w) x 1105(h) x 370(d)mm Weight: 27.2kg

Monitor Audio GCX 350
Drive Units: 2 x 6.5in C-CAM RST bass drivers; 1 x 4in RST C-CAM midrange driver; 1 x C-CAM ribbon tweeter
Enclosure: Three-way sealed
Frequency Response: 40Hz-60kHz
Sensitivity: 90dB
Power Handling: 200W
Dimensions: 390(w) x 254(h) x 168(d)mm
Weight: 9.9Kg

Monitor Audio GXFX 300
Drive Units: 1 x 6.5in C-CAM RST bass driver; 2 x 4in RST C-CAM midrange drivers; 1 x C-CAM ribbon tweeter and 2 x C-CAM dome tweeters
Enclosure: Two-way, sealed monopole/dipole, switchable by front switch or by 12V trigger signal
Frequency Response: 60Hz-60kHz
Sensitivity: 87dB
Power Handling: 100W
Dimensions: 390(w) x 310(h) x 168(d)mm Weight: 11.9Kg

Monitor Audio GXW15 subwoofer
Drive Unit: One 15in C-CAM Ceramic-Coated Aluminium-Magnesium alloy driver with triple suspension
Enclosure: Sealed cabinet, 1in MDF construction with internal bracing and sealed amp compartment
Frequency Response: 18Hz-120Hz
On board power: 650 RMS Class D amp
Dimensions: 400(w) x 430(h) x 400(d)mm
Weight: 35.3Kg
Connections: Stereo phono in/outt; phono LFE in/out; 12V trigger; 3.5mm for setup mic


SPONSORED VIDEO

SPONSORED VIDEO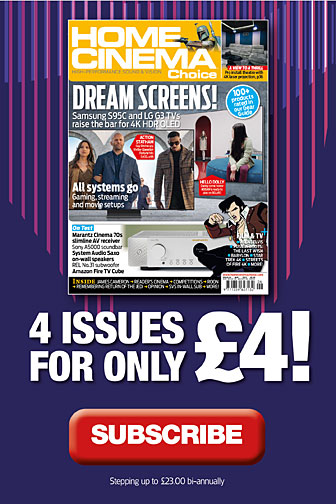 Home Cinema Choice #332

is on sale now, featuring: Samsung's 8K flagship; Anthem AVM 90 processor; B&W 800 Series Diamond; LG smart projector; Hollywood box office bombs; Hitchcock 4K; and more
Want to see your home cinema system featured in the pages of HCC? Click
here
for more info.