Lionsgate lines up three more cult classics under its Vestron Collector's Series Blu-ray label

Fans of old school, cult horror will be pleased to hear that Lionsgate UK has now announced the third wave of its Vestron Collector's Series. The label, which delivers Blu-ray releases of schlock video rental favourites, has scheduled a trio of titles for debut on February 25th.
Class of 1999, originally released in 1990, stars Malcolm McDowell and Stacey Keach in a future-set tale of street gang violence and robotic warfare. 1989 black comedy/horror Parents finds youngster Michael (Bryan Madorsky) wondering if his Mum (Mary Beth Hurt) and Dad (Randy Quaid) are cannibalistic killlers. And The Unholy (1988) heads to New Orleans for an apocalyptic horror pitching Father Michael (Ben Cross) against satanic forces.
Each Vestron Collector's Series Blu-ray features 'restored and remastered' hi-def encodes and hours of bonus features, including directors' commentaries, original trailers, interviews, galleries and behind-the-scenes features. And those with fond memories of standing in the horror aisle at their local rental shop will love the original sleeve art.
Previous Vestron Collector's Series Blu-ray releases in the UK are Blood Diner, C.H.U.D. II: Bud The Chud, Waxwork, Return of the Living Dead 3, Lair of the White Worm, Wishmaster and The Gate. Further titles have also been outed on the label in the US.
Class of 1999 special features
• Audio commentary with producer/director Mark L. Lester
• 'School Safety' – interviews with director/producer Mark L. Lester and co-producer Eugene Mazzola
• 'New Rules' – an interview with screenwriter C. Courtney Joyner
• 'Cyber-Teachers From Hell' – interviews with special effects creators Eric Allard and Rick Stratton
• 'Future of Discipline' – an interview with director of photography Mark Irwin
• Theatrical trailer
• TV spots
• Still gallery
• Video promo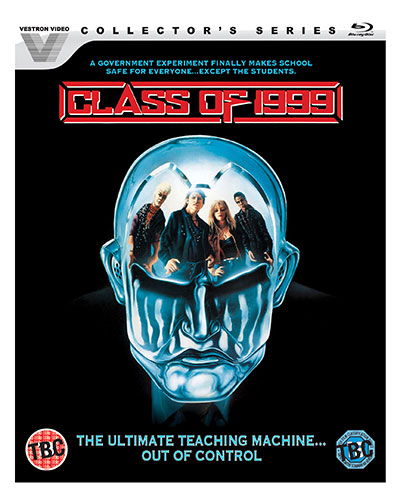 Parents special features
• Audio commentary with director Bob Balaban and producer Bonnie Palef
• Isolated score selections and audio interview with composer Jonathan Elias
• 'Leftovers To Be' - with screenwriter Christopher Hawthorne
• 'Mother's Day' - with actress Mary Beth Hurt
• 'Inside Out' - an interview with director of photography Robin Vidgeon
• 'Vintage Tastes' - with decorative consultant Yolanda Cuomo
• Theatrical trailer
• Radio spots
• Still gallery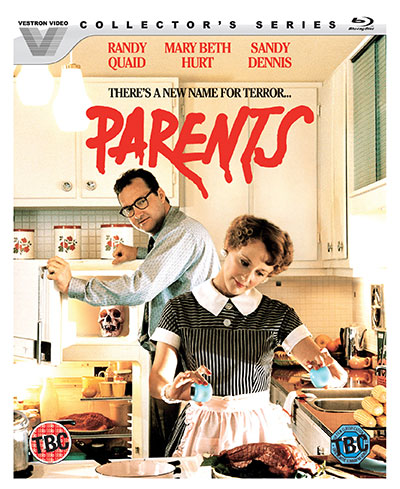 The Unholy special features
• Audio commentary with director Camilo Vila
• Isolated score selections and audio interview with composer Roger Bellon
• Audio interview with production designer & co-writer Fernando Fonseca, featuring isolated selections from his unused score
• 'Sins of the Father' with Ben Cross
• 'Demons in the Flesh: The Monsters of The Unholy'
• 'Prayer Offerings' with production designer & co-writer Fernando Fonseca
• Original ending featuring optional audio commentary with producer Mathew Hayden
• Theatrical trailer
• TV spots
• Radio spots
• Original storyboard gallery
• Still gallery