Epson EH-LS10000 review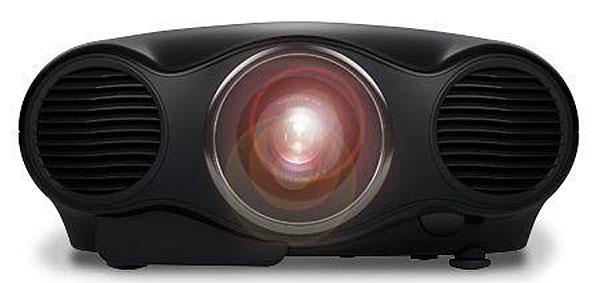 Why Epson's high-end laser projector is a home cinema revelation

Thanks to the Epson EH-LS10000, I can see clearly now the grain is gone. I can literally see all obstacles in my way. Gone are the dark clouds... replaced by perfect shadow detail and absolute blacks. This is laser home cinema, and it's nothing less than a revolution in bigscreen viewing.

The commercial cinema world is already upgrading. Premium chain IMAX has promised to equip a dozen super-sized theatres in 2015, including the Empire in Leicester Square. Auro-3D promoter Barco has installed laser projectors in screens across France, Brussels and Madrid. Sony Professional is expected to unveil its first laser theatre projector at the end of the year.
But you can own a laser cinema tomorrow. All you need is the Epson EH-LS10000. And while not quite boasting the same spec as its commercial cousins, this innovative projector is no less remarkable and available for a fraction of the price.
Of course, we've seen projectors with solid-state light sources before. LED Picos are ten a penny, and Viewsonic has touted a laser/LED hybrid, the Pro9000. None come close to the performance offered here, though. This a PJ for the OLED age.
In exalted company
At £6,000, the EH-LS10000 is priced directly against Sony's native 4K/UHD VPL-VW300ES and JVC's e-Shift 3-equipped DLA-X700R, competing not just with 2,160p pixel density images, 10-bit colour richness and firework dynamics, but other attributes not image-related.
Size is one. At 18kg, the EH-LS10000 is undeniably a heavyweight. Large enough to swallow two of the brand's EH-TW6600 projectors whole, with room for nachos, this is very much a dedicated install product. You won't be pulling it out from under the stairs and plonking it on a coffee table.
Not that you'll mind bolting it to your ceiling. Finished in stealthy matt black and as curvaceous as a pebble, it looks gorgeous. The lens is protected by a sliding cover, while the forward-facing air intakes curve with the chassis. Had it been finished in verdant green and sporting a few extra fins, it would have been a ringer for Thunderbird 2.
Semiconductor laser diode technology isn't cheap, which goes some way to justifying the premium price tag. The EH-LS10000 employs a blue laser light engine with two light paths. One blue laser diode generates blue light routed through an optical diffuser, while the other uses a phosphor wheel to generate yellow, which is then in turn split into red and green via a dichroic mirror. The result is a three-colour light source compatible with Epson's long-established 3LCD panel technology.
The manufacturer rates the life of this laser power-plant at 30,000 hours in Eco mode. Essentially, this means it'll still be working when 8K is old news, so there's no need to factor in the cost and angst of replacement light bulbs.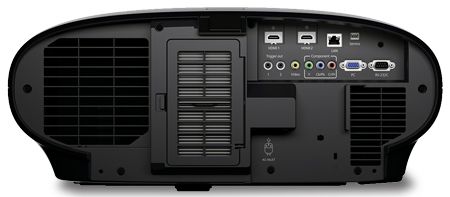 Cable mismanagements
Connections are to the rear, hidden behind a cosmetic grille. This unscrews to offer access to two HDMI inputs, Ethernet LAN, two 12V triggers, component and composite video inputs, a PC D-sub and RS232. You better not plan on using them all, though. The cable management entrance isn't big enough to accommodate a full house.
'HDMI 1' is, assures Epson, HDCP 2.2-compliant for use with upcoming 4K content, such as Ultra HD Blu-ray and set-top box solutions from the likes of Sky and BT. Epson also claims 4K native support up to 60fps, even though the HDMI inputs are v1.4. This would imply that some chroma subsampling is going on to work around bandwidth limitations.
There's no on-body control cluster. Instead there's a pop-out panel that offers joystick menu navigation, source selection, lens adjustment and power.
Menu and image options are comparable to other models in Epson's range. Image manipulation and setup options are comprehensive. Keystone and lens shift (90-degree vertical and 40-degree horizontal) correction help square up your picture image, and there's a 2.1x motorised zoom. A ten-position lens memory function allows you to change zoom and lens alignment to suit different content. The projection distance at wide/tele settings, to achieve a 100in image, is 2.83m-6m.
The EH-LS10000 may be large, but it's surprisingly quiet. Thanks to some clever heat management, it purrs along at a consistent 19dB in Eco mode; a vague whisper that will be easily masked by the full-blown surround sound system that will no doubt be nearby. Laser light doesn't require any warm-up; it's virtually instant on (just six seconds to power up) at full brightness. The projector was bright and beaming long before my electric screen, activated by the 12V trigger, had even descended from the ceiling. Tasty.
As clear as night and day
White and colour light output are rated at a modest 1,500 Lumens, but any concerns about the brightness of the projector are quickly squashed when up and running. Indeed, its pictures are actually watchable in moderate levels of ambient light – good news for sports parties and social gaming shindigs. But it's in a dedicated light-controlled theatre that the EH-LS10000 (literally) shines.
Of course, it's not just the laser assembly that's notable beneath the hood of this movie-room monster. This projector also reintroduces 3LCD Reflective technology. The company first teased this at IFA 2010, in the form of the ill-fated EH-R4000. While that projector impressed, it never came to market because the reflective panels were too difficult to manufacture. It transpires all the working EH-R4000 samples seen at the time were made by hand. The idea was, regretfully, shunted back into R&D – until now. Reflective panels allow Epson to achieve a far higher contrast ratio compared to transmissive LCD panels. The visibility of the pixel grid has been reduced, significantly increasing image punch and detail.
All of which conspires to imbue laser-projected images with a very different character to those cast by a standard UHP lamp and regular 3LCD panels. Colour fidelity is outstanding. Reds and blues appear deeply saturated, without the merest hint of noise. There's an old-school Technicolor lushness on display that's sumptuous. It's ermine for the eyeballs.
Image presets comprise Cinema, Digital Cinema, Dynamic, Natural, Living Room and Adobe RGB. Both Living Room and Dynamic send the projector into noisy hyperdrive and should be avoided. Cinema proved my go-to mode as it's extremely well judged. Should you feel the need, there's also provision for ISF calibration. Spec-wise, the EH-LS10000 claims to eat the standard sRGB colour space for breakfast and even exceed the DCI colour standard, something new-fangled Quantum Dot TVs fall shy of.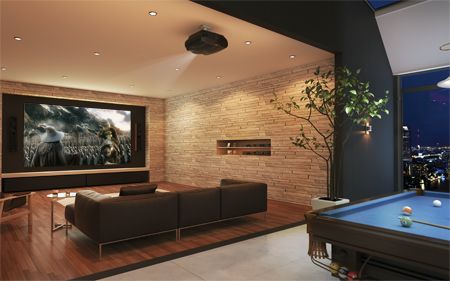 Pictures enjoy extraordinary sharpness. This is immediately notable on interfaces like the Sky Planner. The 2,160p upscaling pays dividends here, with none of the mini-jaggies you might see on a comparable Full HD model. And CGI animation looks astonishing.
Dynamism is another strong point, with the Epson throwing forth deep blacks and gradated shadow detail. The high-contrast monochromatic stop-motion of Frankenweenie (Blu-ray) looks stunning; lighting bolts crack pure white against a pitch black sky as Sparky is brought back to life.
And when Jor-El escapes General Zod amid planet-wide quakes (Man of Steel, Sky Movies), explosions glare in the deeply-shadowed caverns, then baby Kal-El gets blasted with a Kryptonian McGuffin and the resulting fireworks are dazzling. HDR? Who needs it!
Such high contrast doesn't come with the traditional scritchy noise of dynamic iris adjustment. The EH-LS10000 controls its laser engine rapidly, adjusting the light output between zero and 100 per cent without need of a mechanical iris. It can also shut the laser off completely to achieve absolute black; impossible on a lamp-based beamer.
Playing with pixels
But what of the '4K enhancement' feature that debuts on the EH-LS10000? While the projector supports a native 4K input and outputs a 3,840 x 2,160 resolution image, the panels betwixt are HD resolution. So at the heart of the projector is a 4K upscaling chipset, which is used in conjunction with optical chicanery that electronically shifts alternate frames half a pixel across and half a pixel up, effectively doubling the frame rate and the apparent resolution. The technique is similar to what JVC has done with its e-Shift engine. There are different levels of 4K enhancement on offer, rated 1-5. (After some experimentation, I stuck at 3). There are also variations of range and strength, adjustable on a sliding scale.
The process does a remarkable job. I may have been watching Zack Snyder's superhero romp on Sky, but subjectively it could just as easily have been coming from a 4K cinema DCP. Frankly, viewed in isolation, I doubt many could tell the difference.
The projector's 3D performance is similarly impressive. Thanks to the 480Hz vertical refresh rate offered by the projector's 3D drive, crosstalk double imaging is negligible. The menu sequence from Tangled, a familiar 3D torture test, is rendered without clouds of phantom lanterns. There's some loss of brightness, but not as much as you might imagine. 3D animation retains vibrancy and colour.
Resolution, however, is regular 1080p. Epson's 4K pixel enhancement doesn't work when you're wearing the funny glasses. There's also 2D-to-3D conversion with depth control offered, but only a heathen would resort to such crassness. Two pairs of Active glasses ship in the box.
Reflective LCD panels and laser light aren't a panacea for all ills, though. A moving test pattern confirms a familiar loss of motion resolution at just 6.5ppf. In this respect, the EH-LS10000's performance is no different from any other 3LCD projector with token interpolation. However, this doesn't translate to any perceived lack of clarity; the projector maintains a genuinely filmic quality.
Love at first light
Epson's EH-LS10000 is a phenomenal home cinema projector that sees the brand reach for a slice of the high-end and grab it with ease. It may not be native 4K, but the job it does with 1080p sources is nothing short of remarkable. Great-looking content, like Marvel's Avengers on Blu-ray, will have your jaw on the floor. Epson may well be shilling a pixel-manipulated illusion, but no one is doing it better. There's an intricacy and beauty to its images which defies logic. 'Do you really think I'm pretty?' asks Scarlett Johansson of her grizzled captor. My dear, you've never looked prettier. Perhaps 4K is a state of mind? Welcome to the next frontier in projection technology.
Specification
3D: Yes. Active shutter
4K: Not native, but 3,840 x 2,160 via enhanced picture presentation
Connections: 2 x HDMI (v1.4); Ethernet; component and composite video inputs; PC D-sub; RS232; 2 x 12V triggers
Brightness (claimed): 1,500 Lumens
Contrast (claimed): 'Absolute black'
Dimensions: 550(w) x 225(h) x 553(d)mm
Weight: 18kg
Features: 4K Enhancement technology; 19dB fan noise (Eco mode); 30,000-hour LED lamp life (Eco mode); Epson Poly-silicon TFT active matrix 0.74in panel Reflective HTPS; laser diodes; image interpolation; ten memory lens setting; vertical/horizontal lens shift; vertical keystone correction; 2.1x powered zoom; motorized focus; 30-300in image size; 1.28-2.73:1 projection ratio

SPONSORED VIDEO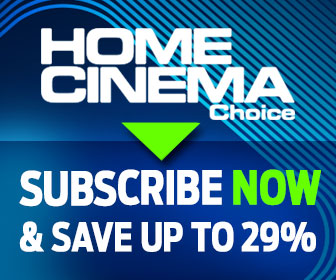 Home Cinema Choice #332

is on sale now, featuring: Samsung's 8K flagship; Anthem AVM 90 processor; B&W 800 Series Diamond; LG smart projector; Hollywood box office bombs; Hitchcock 4K; and more
Want to see your home cinema system featured in the pages of HCC? Click
here
for more info.