Yamaha thinks smaller with MusicCast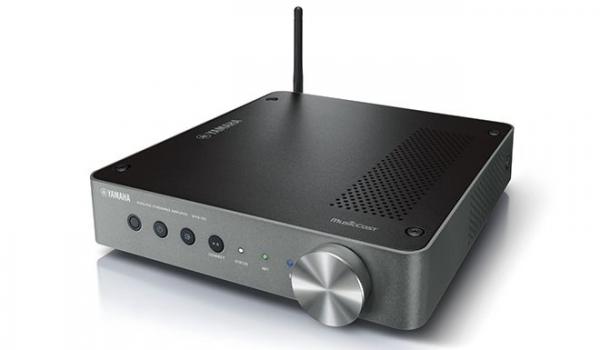 New wave of multiroom hardware includes compact amplifier for TV and hi-fi
Yamaha has unveiled two new ultra-compact additions to its MusicCast audio range which it believes could transform the way you listen to TV.
Amid MotoGP superbikes at the Yamaha Motor facility in Milan, the brand previewed a range of racy new additions to its multiroom lineup. Arguably the most exciting new arrivals were the MusicCast-enabled WXA-50 wireless streaming amplifier (£400, pictured right) and WXC-50 pre-amp (£300).
Utilising a versatile compact design, the pair can function either as a standalone music system, or enhance an AV setup. Both components support 24-bit/192kHz hi-res audio streaming, with AirPlay compatibility and Bluetooth.
The pre-amp is particularly clever, in that it can be used to bring an existing AV receiver into a MusicCast ecosystem. As well as analogue and digital inputs/outputs, it features two-way streaming, playing back audio from other sources on the network, or sending audio wirelessly to connected MusicCast sources. TV audio, Blu-ray and streaming services can therefore be heard in any connected room.
The matching WXA-50 amplifier is slim enough to be placed behind a wall-mounted TV on a shared VESA mount. Hooked up to a pair of bookshelf speakers, this not only dramatically improves telly audio, but also turns the TV into a MusicCast client.
With the feet removed, the amp is also compact enough to fit a 1U system rack, where it can be used to power a whole-home audio system. Product specialist Chris Wray told HCC: 'This means MusicCast is much more CI friendly and allows it to go head-to-head with similar products in the market.'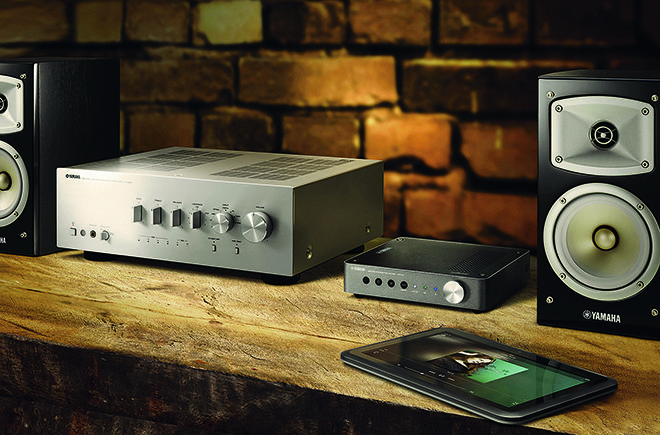 HCC heard a preview of the bijou system, which looks cool and delivers a high level of audio clarity. Rated at 70W per channel (into six Ohms), the amp easily outperforms the kind of powerplant found in a typical soundbar.
New 'bars break cover
Yamaha also used its Milan showcase to introduce a new Digital Sound Projector, the £900 YSP-2700, as well as a regular soundbar, the £350 YAS-306. The latter uses Air Surround Xtreme tech to simulate a surround experience, but only sports traditional drivers.
Most likely, it's the higher-end model which will intrigue enthusiasts – the YSP-2700 utilises an array of 16 controllable drivers to steer and reflect sound around your listening room. A mic is provided to calibrate this Intellibeam tech to the specifics of your environment. The YSP-2700 ships with a wireless sub.
Connectivity includes three HDMI inputs, all of which support 4K sources with HDCP 2.2, making it suitable for use with Blu-ray players, media streamers and games consoles. The YSP-2700 includes Apple Airplay and Bluetooth, and has Spotify on board.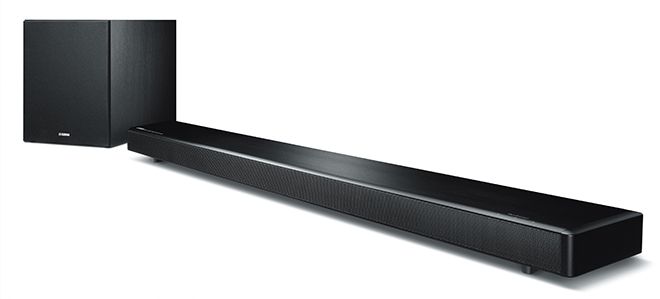 There's a heap of audio processing offered, too, from Yamaha's Cinema DSP enhanced soundfields (choose from ten different programmes for films, music and games), to a Compressed Music Enhancer that adds sonic body to low-bitrate MP3s.
Tickling the multiroom ivories
While integration of wireless multiroom with AV gear is fast becoming the norm, Yamaha surprised with the news that it was building a MusicCast bridge between its home audio products and professional piano range.
Enter the new Disklavier ENSPIRE, the world's first multiroom player piano! When used with Yamaha's Disklavier Radio streaming service, a self-playing function with content provided by the likes of Jamie Cullum and Sarah McLachlan, musical recordings can be heard on any MusicCast connected audio system. Users have access to around 500 tunes via an app.