Xmas issue on sale now!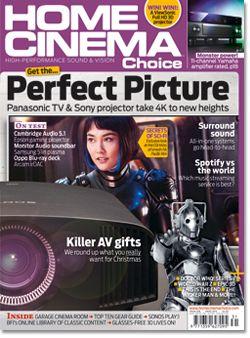 Home Cinema Choice 228 is available to buy in shops and online - and here's what's in it...
Perfect picture: Panasonic's revolutionary TX-L65WT600 HDMI 2.0 TV and Sony's £8,800 VPL-WV500ES projector take 4K to new heights
Killer AV gifts: From Blu-ray boxsets to cinema seating we round up the Xmas gifts that won't disappoint
Secrets of sci-fi: Industrial Light & Magic's Hal Hickel reveals the CGI tricks used to bring Pacific Rim to life
Monster power: Yamaha's new 11.2-channel amp/processor duo reviewed
Surround sound: Four all-in-one systems go head-to-head
Spotify vs the world: Which music streaming service is the best for you?
Win: a state-of-the-art ViewSonic Full HD 3D projector
Plus: reviews of Cambridge Audio's Aero 5.1 speaker system, Oppo's BDP-130D Blu-ray player, Monitor Audio's ASB-2 high-end soundbar, Toshiba's 65L9363DB 4K TV, Arcam's £400 irDAC and much more...