Universal resurrects its Classic Monsters in hi-def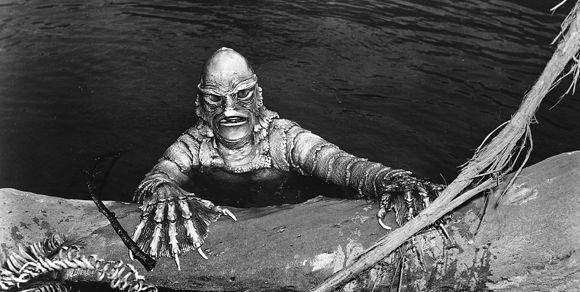 Studio announces full details of eight-disc box set that will hit the UK in October
As part of its ongoing 100th anniversary celebrations, Universal Pictures has announced a Blu-ray boxset containing eight chilling classics that pioneered the horror genre.
Universal Classic Monsters: The Essential Collection will rise from the grave to haunt UK retailers on October 1, priced around £50, and promises digitally restored and remastered Blu-ray presentations of Dracula (1931), Frankenstein (1931), The Mummy (1932), The Invisible Man (1933), Bride of Frankenstein (1935), The Wolf Man (1941), Phantom of the Opera (1943) and Creature from the Black Lagoon (1954).
The boxset also promises more than twelve hours of bonus features (detailed below) and a collectible 48-page booklet (containing behind-the-scenes photographs, original posters, correspondence and more). And best of all, the set will feature both the US and alternate Spanish-language versions of Dracula, plus both the 2D and original 3D presentations of Creaure from the Black Lagoon.
Here's a complete rundown of the confirmed features...
Dracula
1931 Spanish version with introduction by Lupita Kohner
The Road to Dracula featurette
Lugosi: The Prince of Darkness featurette
Dracula: The Restoration featurette
Monster Tracks interactive pop-up facts about the making of Dracula
The Dracula Archives
Alternate score by Philip Glass, performed by the Kronos Quartet
Commentary by film historian David J Skal
Commentary by Steve Haberman, screenwriter of Dracula: Dead and Loving It
Frankenstein
The Frankenstein Films: How Hollywood Made a Monster featurette
Karloff: The Gentle Monster featurette
Monster Tracks interactive pop-up facts about the making of Frankenstein
Universal Horror documentary
The Frankenstein Archives
Boo!: A Short Film
Commentary with film historian Rudy Behlmer
Commentary with historian Sir Christopher Frayling
100 Years of Universal: Restoring the Classics featurette
Trailer Gallery
The Mummy
Mummy Dearest: A Horror Traditional Unearthed featurette
He Who Made Monsters: The Life and Art of Jack Pierce featurette
Unravelling the Legacy of The Mummy featurette
The Mummy Archives
Commentary with Rick Baker, Scott Eisman, Steve Haberman, Bob Burns and Brent Armstrong
Commentary by film historian Paul M Jensen
100 Years of Universal: The Carl Laemmle Era featurette
Trailer Gallery
The Invisible Man
Now You See Him: The Invisible Man Revealed featurette
Production Photographs
Commentary with film historian Rudy Behlmer
100 Years of Universal: Unforgettable Characters featurette
Bride of Frankenstein
She's Alive! Creating The Bride of Frankenstein featurette
The Bride of Frankenstein Archive
Commentary with Scott MacQueen
100 Years of Universal: Restoring the Classics featurette
Trailer Gallery
The Wolf Man
Monster by Moonlight featurette
The Wolf Man: From Ancient Curse to Modern Myth featurette
Pure in Heart: The Life and Legacy of Lon Chaney, Jr. featurette
He Who Made Monsters: The Life and Art of Jack Pierce featurette
The Wolf Man Archives
Commentary with film historian Tom Weaver
100 Years of Universal: The Lot featurette
Trailer Gallery
Phantom of the Opera
The Opera Ghost: A Phantom Unmasked featurette
Production Photographs
Commentary with film historian Scott MacQueen
100 Years of Universal: The Lot featurette
Theatrical Trailer
Creature from the Black Lagoon
2D and 3D Blu-ray encodes
Back to the Black Lagoon featurette
Production Photographs
Commentary with film historian Tom Weaver
100 Years of Universal: The Lot featurette
Trailer Gallery