'Uncut' Hammer Dracula comes to Blu-ray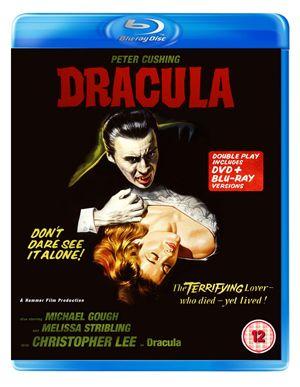 Lionsgate and Hammer to serve up some classic hi-def horror with real bite in March
This in itself would be enough to get most film fans salivating, but the really exciting news here is that the Blu-ray platter will use seamless branching to offer two versions of the film - the 2007 BFI restoration and the new 2012 Hammer restoration.
The latter is particularly notable for the inclusion of two scenes (Dracula's seduction of Mina and Dracula's sunlight disintegration) that were censored by the BBFC back in 1958, with the missing material having been unavailable for decades. Thankfully, uncut versions of the two reels in question were located in Japan, and using those the missing material has now been reinstated to the film.
In addition to the restored 1.66:1 presentation of the film itself (in both guises), Lionsgate's Double Play Blu-ray also promises the following extras...
* Dracula Reborn - This 30-minute retrospective documentary looks back at the making of the film and features interviews with Jimmy Sangster, Kim Newman, Mark Gatiss, Jonathan Rigby and Janina Faye.
* Resurrecting Dracula - A 20-minute look at the film's restoration, from the BFI's 2007 restoration to the integration of the 'lost' footage, with interviews with key staff at the BFI, Molinare and Deluxe 142. It also covers the February 2012 world premiere of Hammer's interim restoration.
* The Demon Lover: Christopher Frayling on Dracula (30-minutes)
* Censoring Dracula - A 10-minute featurette about the film's treatment at the hands of the BBFC
* Audio Commentary featuring Hammer historian Marcus Hearn and critic Jonathan Rigby
* Japanese Reels - All four surviving Japanese reels (6-9) in their entirety (40-minutes)
* The World of Hammer: Dracula and the Undead
* Dracula Reading - Janina Faye reads a chapter from Stoker's novel at the VAULT festival
* Stills Gallery - Over 100 fully-restored and rare images
* Booklet by Hammer archivist Robert J E Simpson (PDF)
* Original Shooting Script (PDF)