TVonics DTR-Z500HD review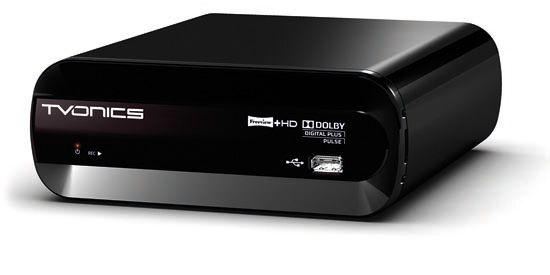 Looping the loopthrough
Adrian Justins reviews a 'bot that remembers viewing habits
How do you stand out in the crowded Freeview HD PVR market? Excluding media streaming and DLNA networking is hardly in keeping with the Freeview zeitgeist, but the DTR-Z500HD boasts a couple of handy features that look compelling. One is a built-in HDMI switcher and two, it can make basic, TiVo-style recommendations based on your recording history so long as metadata is provided by each broadcaster for the shows you choose to record.
Highs
The slickly-designed user interface makes this box a pleasure to use. The fonts and colour scheme are attractive, and navigation between menu screens is fast and logical, although programme information is basic. The remote control is classy despite some titchy buttons.
HDMI switching is handy if your TV is short of inputs or you just want to make things look neater by routing one HDMI into your screen. The box simply acts as a loopthrough – it can't process the HDMI audio feed.
Picture quality is right on the money, especially the four HD channels, and with a built-in 1080p upscaler even standard-def Freeview looks about as good as it gets.
Lows
The Ethernet port is part of the Freeview spec, but there's no compulsion to use it so here it's simply using up real estate on the rear panel.
There are two USBs, one at the front and one at the back, but media playback extends only to JPEGs. The inability to show movie clips is frustrating to say the least.
AAC/ Dolby Plus signals are transcoded to Dolby Digital, but only Dolby Digital and Dolby Digital Plus broadcasts will output as 5.1; so depending on the format being used for broadcast, you may or may not get vital metadata (such as audio description on BBC HD Freeview, which is broadcast in Dolby Digital).
---
TVonics DTR-Z500HD
Price: £230 Approx
Overall: 3/5