Thor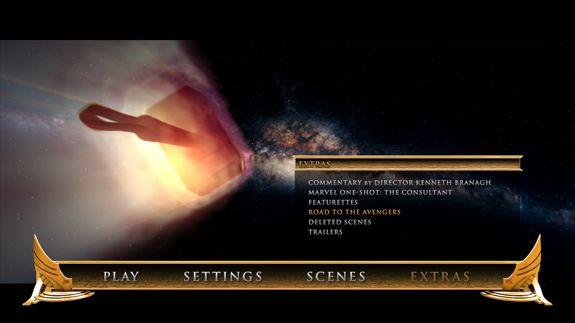 Gods move into another dimension of sight and sound in Brannagh's superhero epic
Grand in scope and packed with spectacle, Kenneth Branagh's Thor doesn't quite stack up against the very best superhero movies, but it's a blast nonetheless.
While the rest of the films set in the Marvel universe have at least kept their heroes relatively grounded, Thor is a much riskier proposition in its mix of Norse mythology and God-like beings inhabiting another dimension. In theory, it simply shouldn't work. But Branagh brings a steady hand to the material, never taking any of it too seriously, but never undermining it either. Add in some charismatic performances and breathtaking action scenes, and you can count us amongst the legions of fans looking forward to Thor's return to the big screen in next year's superhero mash-up The Avengers.
Picture: The film splits itself across three distinct locations, two of which are handled extremely well by the Blu-ray's AVC 2.40:1 1080p encode (we'll get to the other one later). The New Mexico landscape looks wonderfully bright, clear and natural, full of rich earthen tones and fine textures. Even more impressive though are the gleaming spires and halls of Asgard, with their crisp delineation and lavish colours. The only failing comes when the action moves to the perpetually dark world of Jotunheim, where the impeccable fine textures and detailing evident elsewhere are occasionally scuppered by some obviously crushed blacks and the rather flat look caused by its limited palette.
Picture rating: 4/5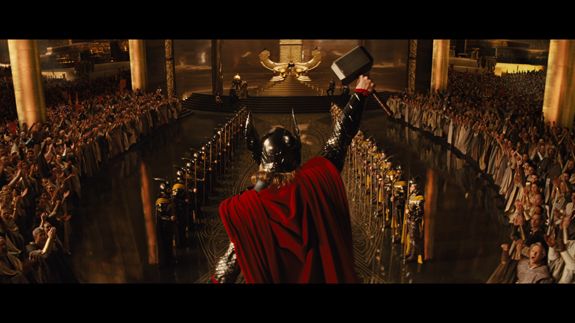 Audio: Thor's DTS-HD Master Audio 7.1 soundtrack hits home with all of the impact of the Norse God's mighty hammer. It's a skilfully engineered track that surrounds the listener with positional sonics, while never overwhelming the natural dialogue presentation or Patrick Doyle's triumphant score. Scenes such as the battle with the Frost Giants in Chapter 3 and the face-off with the Destroyer in Chapter 12 are undoubtedly the best examples of the mix's incredible range and effortless dynamics, but whichever Chapter you spin up, you're bound to be bowled over by this truly God-like mix.
Audio rating: 5/5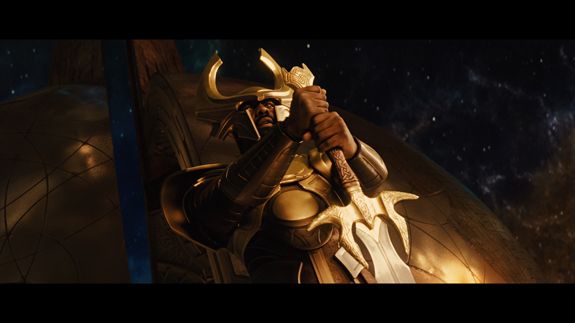 Extras: While unlikely to rock your world, Marvel's God of Thunder hits Blu-ray with a perfectly respectable roster of bonus goodies. Kenneth Branagh provides a fascinating and extremely informative solo-commentary for the film itself, and then performs the same duty in an optional track available on a collection of eleven deleted scenes (25mins).
More behind-the-scenes info can be gleaned from a collection seven featurettes, covering such diverse topics as casting, the creation of Mjölnir (Thor's hammer) and scoring the movie. There's also a brief 3min tease for next year's Avengers movie, talking up how the Marvel movies tie together, and the first of a series of Marvel One-Shot shorts about S.H.I.E.L.D. agent Phil Coulsen (Clark Gregg) that help tie the various movies together. Rounding out the package are a trio of trailers, plus a DVD and Digital Copy of the film.
Extras rating: 3/5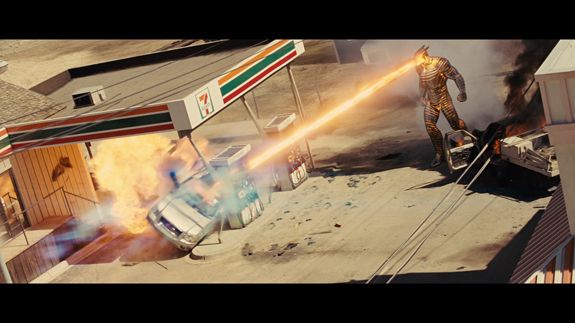 We say: Marvel's latest superhero smash cuts a truly God-like figure on Blu-ray
Paramount, All-region BD/R2 DVD, £25 approx, On sale September 26
HCC VERDICT: 4/5