Sony SVR-HDT1000 review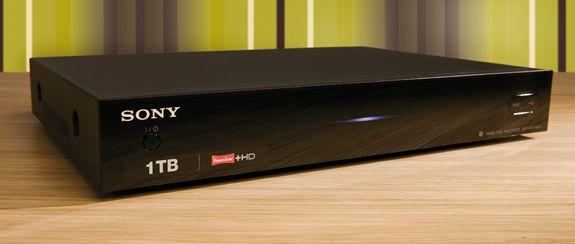 With its huge hard drive, Sony's latest Freeview+HD PVR is a telly addict's dream
Do you want a digital TV recorder that bundles all manner of extra gadgetry onboard, such as Blu-ray player, Smart IPTV functionality and media streaming? Or do you want a simple PVR with a big enough hard drive to let you Series Link without fear?
If you're cool with the latter, then Sony's SVR-HDT1000 certainly fits the bill. This Freeview+HD PVR wields a massive 1TB drive, enough for 125 hours of hi-def, but rather surprisingly cocks a snoot at the brand's own online content portal. Given that both Samsung and Panasonic have built 'net functions into their recorder rivals, this omission is somewhat surprising.
What the SVR-HDT1000 lacks in functionality it makes up for in refinement. This is a splendidly built little box with impeccable manners.
It runs with whisper silence. Unfortunately, it lacks any kind of graphical display. There's no channel numbers or clock, just a blue-white light that resembles the glare of an anaemic Cylon. The front panel sports a USB port hidden behind a ferociously difficult to unplug bung, plus two little LED indicators which glow red when it's recording.
Backside connectivity includes Ethernet, but the SVR-HDT1000 won't stream media across a LAN. The network connection is there as part of its Freeview HD specification, and is designed for Freeview's IPTV channels and BBC iPlayer (although this functionality has not yet been activated).
The user interface of the SVR-HDT1000 has graphical echoes of the brand's TV and BD XrossMediaBar, but it's not identical. This is not bad thing if you're a Sony fan, as similarities between GUIs can leave you confused as to what bit of kit you're actually looking at.
All TV recordings can be found in the obtusely named Title List, while Guide pulls up the standard Freeview EPG. All the expected Freeview+ embellishments are here, including Series Linking and hi-def programme prompts. The PVR can record two channels simultaneously, and will allow you to watch while it records (here called Chase Play).
Rather frustratingly, the PVR is slow to react to plugged-in USBs, and once recognised they're sluggish to navigate. The deck will display JPEGs and play MP3s, although presentation of the latter is mundane, with no album art or visual niceties. The principal use of this USB input would appear to be to move content onto the SVR-HDT1000's hard drive. This allows you to put that huge disc capacity to some serious use, by creating a PVR jukebox. The Title List partition can then be filtered by content type. There is no video file playback from USB.
Delivering detail
Image quality is excellent. HD material offers the same level of detail as the original transmission, and comes with no additional artefacts. Lower bitrate SD fare enjoys a similar level of clarity, with obvious caveats. This is a highly transparent recorder.
As a sop to eco-viewers, the recorder can be put into a low power consumption Standby mode so frugal it disables the tuner. This means that if one member of the family has programmed a little bit of late night entertainment, another could foil the recording by popping the deck into Standby. Personally, I suggest the savings to be had are so minimal it's just not worth the possible inconvenience.
Another useful party trick of this Sony is its ability to back up its recordings to an external hard drive. This is handy for several reasons: even if that cavernous drive does fill up, you can archive off material to free up some room. It also means that you can save complete seasons of TV shows, or broadcast movies, for your own viewing pleasure. Given the low price of external drives, this is actually a cost effective way of building a personal library of HD content. Bear in mind that the recordings made by this Sony are compliant with the XFS file system and can only be played back on this particular recorder.
Overall, the SVR-HDT1000 is a highly competent digital TV recorder. Well built, generously specified but not overburdened with features. There's purity about its design that as a confirmed telly addict I can thoroughly appreciate. Do I need all my hardware to be networking savvy and Smart? No. But you might...
---
HCC VERDICT
Sony SVR-HDT1000
Price: £350 Approx
Highs: Huge HDD; quiet operation; archiving to external HDD; music and photo jukebox functionality
Lows: No smart portal or video playback on USB; no on-box display
Performance: 4/5
Design: 4/5
Features: 3/5
Overall: 4/5
---
Specifications
HDD: yes 1TB
Tuner: yes 2 x Freeview+HD DVB-T/T2
Connections: 1 x HDMI v1.3; 1 x coaxial digital audio; 1 x Ethernet: 2 x USB; 1 x phono AV
Dimensions: 320(w) x 54.5)h) x 231(d) mm
Weight: 2.2kg
Features: Eight-day EPG; Series Link; Chase Play; MP3/JPEG media playback from USB; Jukebox functionality; Archiving to external HDD; Picture-in-picture