Sony announces range of new home cinema systems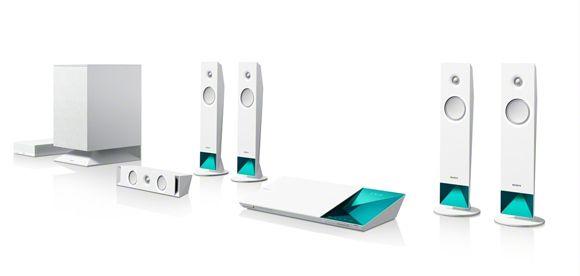 Features include 4K upscaling, NASA-influenced speakers and a curious-sounding Football Mode
Sony has released details of its forthcoming range of N-Series home cinema systems and soundbars.
Topping the lineup is the new BDV-N7100W, a 5.1 system with an eye-catching design. Features of this flagship set include 4K upscaling (should you own a 4K display and not trust its own processing...), wireless rear speakers, Near-Field Communication (NFC) and Bluetooth streaming, access to Sony's Enterntainment Network and your home network via Wi-Fi and external HDD hookup.
The BDV-N7100W claims a total power output of 1,000W across its six speakers. These use the brand's new Magnetic Fluid Speaker technology, which, says Sony, employs an advanced ferrofluid material developed by NASA to achieve achieve a 'more accurate, revealing sound – even at high volume levels. You'll hear the difference with detail-packed dialogue, clearer music and rich, focused bass.'
Another new feature is the intriguing-sounding 'Football Mode', which, apparently 'recreates that stadium thrill with all-round sound' by using acoustic data captured at a Brazilian football stadium. The mode also allows viewers to cut the commentator's voice.
The other three models in the home cinema lineup are the BDV-E2100, BDV-E3100 and BDV-E4100. The latter is uses tallboy speakers at the front, while the other two uses smaller satellites all round. The BDV-E2100 only claims an output of 800W compared to the 1,000W of the BDV-E3100. 4K upscaling and wireless rear speakers are not offered on these models.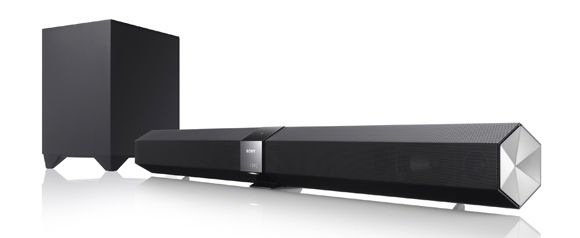 For those who don't want speakers strewn across their living room, Sony has also announced the HT-CT660 'surround' sound bar, which features 3-in, 1-out HDMI switching, a wireless subwoofer, S-Force PRO Front Surround 3D virtual 5.1 and claims a 330W power output.
The N-Series cinema systems are available in the UK from May. The HT-CT660 Surround Sound Bar is available from June 2013. Prices are TBA.