Samsung HT-F9750W review
This all-in-one system expands its soundfield with exclusive DTS Neo: Fusion post-processing
All-in-one systems are called all-in-one systems because you get everything in one box. Having lugged Samsung's new HT-F9750W package around, I'd be happy if they split its contents across a pair of boxes and called it an all-in-two. There's a lot here.
On paper, the system combines a quartet of speakers, a centre channel, a subwoofer and disc-player/amplifier unit, but in reality you get a mass of parts to assemble – this is not a plug 'n' play proposition. Each of the tallboy speakers is made from three pieces, and you'll need to thread the attached speaker wire through the heavy base plate before you can screw it on (don't be tempted to ignore the screws – the speakers will wobble all over the place without them). Then you need to lace the cabinets up to the main unit.
The rear speakers use a supplied wireless receiver. This needs to be plugged into a power socket, and you still have to run speaker wire, but it avoids cable going across your living room floor. The subwoofer is not wireless – that tech is reserved by Samsung for the active subs it partners with its soundbars.
The entire system is lovely to look at, with the silver finish making a fetching bedfellow for Samsung's own high-end LED TVs (although it's not quite the right shade to match the darker PS64F8500 plasma). The subwoofer isn't too offensive if you can't tuck it out of sight and the main unit, with its glowing valves and touch-sensitive control lights, is über-cool.
Connectivity is good. Twin HDMI inputs for external sources are joined by an ARC-compliant HDMI output, optical and analogue audio inputs and an Ethernet port. Around the front, behind a flap, is a USB input.
Audio fusion
The HT-F9750W claims a couple of key new features over previous Samsung systems, both relating to its internal electronics. Firstly, while it retains the vacuum tube amp technology first introduced to the brand's audio products last year, this is married to a new GaN (Gallium Nitride) digital amp, which claims improved efficiency and reduced distortion.
Secondly, the HT-F9750W features DTS Neo: Fusion processing, a collaboration between Samsung and DTS which, according to the Korean brand, is 'a combination of our 3D audio processing, along with DTS Neo:X post processing.' You'd assume, therefore, that it relates to the separately-powered swivel-mounted additional drivers near the top of the front left and right cabinets. However, after my audition I'll admit I'm not entirely sure what it's supposed to do. More on that later...
A word or two about usability. I've grumbled about initial installation but once everything is wired up this is a great system to drive. The user interface is both nice to look at and easy to navigate – you'll find yourself whizzing from setup menus to Smart features and your own home network with little head-scratching.
Those Smart features include a web browser (a bit clunky), an app portal including BBC iPlayer, 4OD, Netflix, LoveFilm, Blinkbox and BFI Player (but not Demand 5 or ITV Player at the time of audition, despite being present on Samsung's TV range), media playback from USB and networked devices, and screen mirroring of AllShare Cast-compatible devices. Wi-Fi is built in.
It's also important to note that this is, of course, a fully-fledged 3D Blu-ray player. Video playback is assured.
Setting up the speakers is aided by an auto-calibration system that uses bursts of irritating jangly music to measure distances and set levels. Once complete, it told me that my surround right speaker was fully 26ft from my listening position, which it plainly isn't, and then reduced the output by -2dB. I expect this was caused by room reflections; thankfully you can make manual adjustments.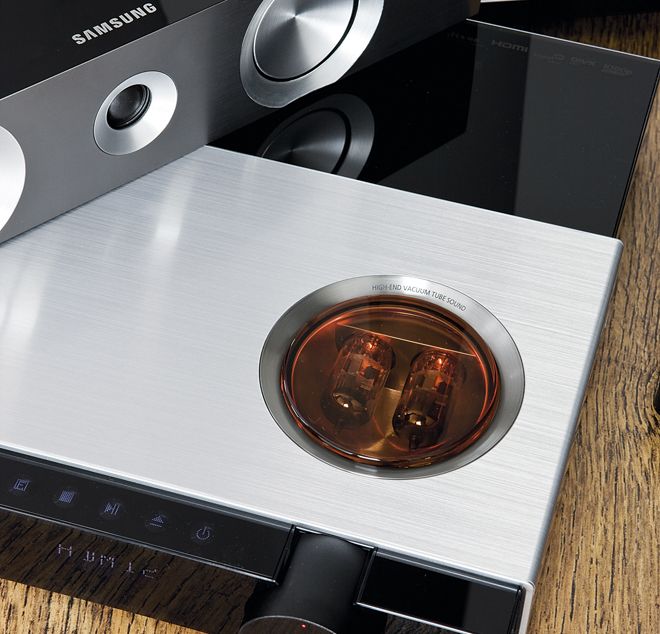 Sonic boom
Samsung's package sounds rather fabulous for what is essentially a convenience-first system, bringing a warm, enveloping and big sound to your BD collection. In the world of the all-in-one, it's a clear cut above the norm.
It's greatest strength is in the mid and low frequencies – there's a full-bodied nature to its presentation, a benefit from the multiple drivers in each tallboy, that works well with movie scores. The blues-infused soundtrack of Bullet To The Head comes across rich and fluid. Even the smaller centre channel, which is out of kilter size-wise with the rest of the array, delivers dialogue with a decent heft. However, I had to override the auto EQ setting of -4dB, as it was too quiet for my taste, and I still think the cabinet could be bigger – the drivers here are scaled-down versions of those in the surround speakers.
The twin-driver subwoofer is no slouch either, offering deep, voluminous throbs and hard-hitting thumps when required. It's rated down to 20Hz (-3dB), and although I take that with a pinch of salt, it does go nice and low. What's more, it integrates very well with the rest of the Samsung array tonally, although the upper registers of the low-end spectrum feel a bit under-served, and in a direct comparison with my £350 Monitor Audio MASS sub, it lacked tightness.
Another great trait of the HT-F9750W is its ability to go loud. During a run-through of Guns n' Roses' Chinese Democracy (CD) I let rip on the volume and was left cheered by the result. As the output grew, the sound swelled and the subwoofer became more authoratitive. It was a potent display, with only the merest hint of high frequencies becoming splashy. It reflects well on Samsung's new amp technology.
And what of DTS Neo: Fusion? Well, this processing mode comes in three flavours – High, Low or Off. When it's not selected, the top-mounted drivers remain dormant, so stick to this for pure 5.1. Switch it on and they kick into action, lifting the soundfield and adding presence to the front soundstage. However, DTS Neo: Fusion also appears to increase the output of the rear channels, and this is where my head begins to wobble. Put it into use with a two-channel source and the surrounds come into play, so with a 5.1 mix, what information is actually sprouting from the rears is unclear...
Regardless, the effect is very much like dragging the soundstage closer to your listening position, so that you are, essentially, surrounded by sonic delights. This is what Samsung has set out to achieve, and it's highly effective, but traditionalists might not approve. I'll put my hand up and say I quite enjoyed it – even though it makes films sound more diffuse – and for two-channel music it's a hoot.
Accomplished all-rounder
Samsung's premium home theatre package totes a premium price tag and, in some ways, offers a premium performance. Its speakers have an effortless quality, creating an easy-on-the-ear aural experience with plenty of bottom-end and a nice sense of scale. While the higher frequencies could be sweeter and the woofer lacks a bit of poise, it's very accomplished all-round. Marry this to the gorgeous looks and bountiful features and it's an ideal partner for one of the brand's top-flight screens. Buyers uninterested in the 'separates route' should check it out.
---
HCC VERDICT

Samsung HT-F9750W
Price: £1,500 Approx
www.samsung.co.uk
Highs: Rich, warm, big performance; appealing user interface; packed with additional features; 'wireless' rears; great design
Lows: Costs more than similarly-specced rivals; DTS Neo: Fusion won't suit everyone; hassle to assemble; auto EQ didn't like my room
Performance: 4/5
Design: 5/5
Features: 4.5/5
Overall: 4/5