Samsung Crystal Surround Air Track HW-E551 review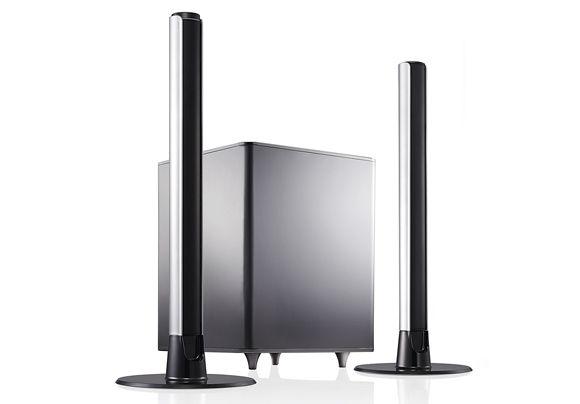 Can't decide between a soundbar or a 2.1 setup? Thanks to Samsung, you can have both...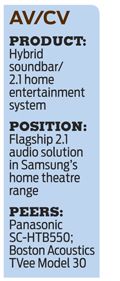 It was probably inevitable that the increasingly popular single-piece soundbar and the booming 2.1 audio market would collide. The result is a hybrid audio solution built around soundbars that can transform, Autobot-style, into traditional left/right loudspeakers.
The Samsung Crystal Surround Air Track HW-E551 is one example (Panasonic has another in its own home theatre range), built around a two-piece soundbar that can be locked together (using neat brackets and horizontal stand) to function as a single 104cm enclosure, or snapped in half, creating L/R pole speakers.
Providing bass whatever iteration you choose is a wireless subwoofer. Well, it's not strictly wireless as it needs a power supply, but decoded audio is delivered from this to the soundbar via the 5.2/5.8GHz band. Samsung claims it will work up to a distance of nine metres – although if your viewing room is that large, you really should be looking at bigger speakers...
The subwoofer also functions as an HDMI switcher, with two inputs and one output. One input supports ARC (Audio Return Channel), so live TV audio can be routed into the system without additional cabling.
Other connections include digital optical audio and a USB port. The latter allows MP3 and WMA music files to be played, although logistically how suitable a subwoofer is to thumbdrive action remains to be seen – you'll regret it if you place this somewhere out of the way, particularly as the USB port is located round the back.
Helpfully, the sub shuts down after 20 minutes of inactivity. The system also supports Bluetooth audio streaming, so you can pair a mobile for simplified playback of your music collection.
The HW-E551 looks swish, but the finish is deceptive. What appears to be aluminium is in fact lightweight plastic. Still, it makes for an entertaining listen, offering a sharp mid-range and thuddy bass. Indeed, the slam produced by HW-E551's subwoofer is surprisingly potent. It doesn't reach down particularly deep, but concentrates its energy just below the belt.
The system proves fine for regular action/adventure fare (Disney's 'toon Bolt enjoys clean stereophony and a plump bass), but it can get a little congested with more complex content – it staggered under the weight of Tomoyasu Hotei's live rendition of Battle Without Honor or Humanity (Blu-ray). In terms of reach, the system comes to life at a relatively high 50Hz (although the sub made farty noises at 31Hz). At around 10kHz there's some extraneous noises which compromise fine detail.
Genuine wallop
Overall, the HW-E551 can be considered a versatile upgrade for a flatscreen TV. It offers genuine wallop and looks splendid in either its stereo or soundbar configuration. A home theatre or audiophile solution it may not be, but for 400 notes it's certainly fair value – I suspect people staying in your guest bedroom will love it.
---
HCC VERDICT
Samsung Crystal Surround Air Track HW-E551
Price: £400 Approx
Highs: Contemporary design; versatile 'transformer' soundbar; slamming subwoofer
Lows: Bass doesn't go deep; upper registers not too clean; ineffective '3D Sound' mode
Performance: 3/5
Design: 4/5
Features: 5/5
Overall: 4/5
---
Specifications
HDMI: yes 2 x in, 1 x out
Stereo phono audio: no
Digital audio: yes one digital optical input
Dolby TrueHD/DTS-HD decoding: yes/yes
Total Amplification (claimed): 2 x 80W (left/right), 150W subwoofer
Features: Bluetooth audio streaming; Music, Drama, Cinema, News, Sports, Game and 3D Sound DSP post-processing modes; wireless speaker connection; MP3 and WMA file playback from USB