Revel unleashes Concerta on-wall loudspeakers and wireless subwoofer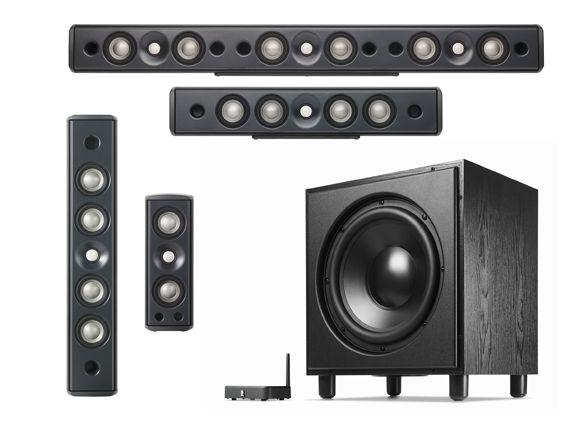 Engineered to perform on walls, not just hang on them...
Revel is promising great things from its new Concerta on-wall speaker range, which will be arriving in the UK next month.
Equipped with advanced drivers, high-order crossovers and rigid aluminium enclosures styled to complement the look of modern flatscreen TVs, the range have been voice-matched for use in any combination and consists of the 3-channel LCR8, the C10 centre, the M10 and M8 satellites and the 250W B120 powered subwoofer. While the sub does need a surface to stand on, placement possibilities are enhanced with the use of an optional TX1 wireless transmitter.
Revel claims that the entire Concerta range 'has been extensively evaluated in a variety of on- and near-wall installations through blind listening tests in the Revel Multichannel Listening Lab' and that they 'have been shown to deliver remarkably flat frequency response across an exceptionally wide listening area for clean, accurate sound in real-world listening rooms'. Obviously, we can only take the company's word for it at the moment. But we're definitely excited about giving the range a thorough workout in an upcoming issue of HCC.
Here's a full breakdown of the range...
LCR 8 (£750 ea)
Frequency Response: (±3dB) 110Hz – 21kHz
Recommended Amplifier Power Range: 10 – 125 watts (per channel)
Sensitivity: (2.83V @ 1m, 2π anechoic) 88dB
Nominal Impedance: 8 ohms
Crossover Frequency: 2-way high-order at 2.2kHz
Low-Frequency Drivers: 6x 3in woofers with Micro Ceramic Composite (MCC) cones
LF Extension: –3dB @ 110Hz, –6dB @ 100Hz, –10dB @ 90Hz
High-Frequency Drivers: 3x 1in tweeters with Micro Ceramic Composite (MCC) domes
External Dimensions: 107mm x 1015mm x 113mm
Weight (Net): 5.2kg
C10 (£500 ea)
Frequency Response: (±3dB) 110Hz – 21kHz
Recommended Amplifier Power Range: 10 – 150 watts
Sensitivity: (2.83V @ 1m, 2π anechoic) 89dB
Nominal Impedance: 8 ohms
Crossover Frequency: 2.5-way high-order at 400Hz and 2.2kHz
Low-Frequency Drivers: 2x 3in woofers with Micro Ceramic Composite (MCC) cones
LF Extension: –3dB @ 110Hz, –6dB @ 100Hz, –10dB @ 80Hz
Mid-Frequency Drivers: 2x 3in midrange transducers with Micro Ceramic Composite (MCC) cones
High-Frequency Driver: 1in tweeter with waveguide and Micro Ceramic Composite (MCC) dome
External Dimensions: 107mm x 582mm x 113mm
Weight (Net): 3.1kg
M10 (£500 ea)
Frequency Response: (±3dB) 110Hz – 21kHz
Recommended Amplifier Power Range: 10 – 150 watts
Sensitivity: (2.83V @ 1m, 2π anechoic) 89dB
Nominal Impedance: 8 ohms
Crossover Frequency: 2.5-way high-order at 400Hz and 2.2kHz
Low-Frequency Drivers: 2x 3in woofers with Micro Ceramic Composite (MCC) cones
LF Extension: –3dB @ 110Hz, –6dB @ 100Hz, –10dB @ 80Hz
Mid-Frequency Drivers: 2x 3in midrange transducers with Micro Ceramic Composite (MCC) cones
High-Frequency Driver: 1in tweeter with waveguide and Micro Ceramic Composite (MCC) dome
External Dimensions: 582mm x 107mm x 113mm
Weight (Net): 3.1kg
M8 (£250 ea)
Frequency Response: (±3dB) 110Hz – 21kHz
Recommended Amplifier Power Range: 10 – 125 watts
Sensitivity: (2.83V @ 1m, 2π anechoic) 88dB
Nominal Impedance: 8 ohms
Crossover Frequency: 2-way high-order at 2.2kHz
Low-Frequency Drivers: 2x 3in woofers with Micro Ceramic Composite (MCC) cones
LF Extension: –3dB @ 110Hz, –6dB @ 100Hz, –10dB @ 90Hz
High-Frequency Driver: 1in tweeter with waveguide and Micro Ceramic Composite (MCC) dome
External Dimensions: 296mm x 107mm x 113mm
Weight (Net): 1.6kg
B120 (£900 ea)
Frequency Response: +/–0.5dB in the pass-band
Low Frequency: –3dB at 36Hz
Extension (Anechoic): –6dB at 32Hz –10dB at 29Hz
Maximum Amplifier Output: 20Hz – 150Hz with no more than 0.1% THD, 250W RMS, 300W dynamic
Low-Pass Crossover Frequencies: 50Hz – 150Hz, 24dB/octave, continuously variable
Height: 45.0cm (including feet)
Width: 40.0cm
Depth: 35.6cm (with grille)
Weight: 23.15kg
TX1 wireless transmitter (£120)