Pro-Install: Bringing 3D home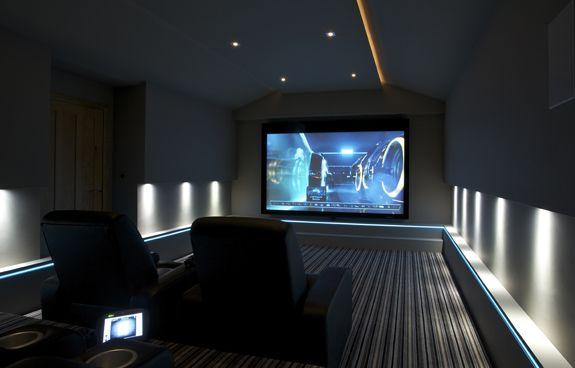 Tron-themed styling adds an extra dimension to this next-gen pro-install
For serious AV-holics a 40in 3DTV just won't do. The best way (some would say the only way) to watch Full HD 3D Blu-rays is on a projector screen. This is certainly the opinion of the owner of this dedicated movie room, which flaunts JVC's flagship X9 PJ for full-size 3D thrills.
The installation was undertaken by the Leeds office of HCC award-winners Finite Solutions, as part of a complete overhaul of a derelict farmhouse, with the proposed design mocked up as a 3D render so the owner could be sure he was getting what he wanted.
As well as 3D, other requests included child-friendly operation, Tron-inspired decor and, of course, top-quality AV performance. For the latter, Finite worked with some of the owner's existing hardware (a KEF subwoofer, Stewart projector screen and Integra pre/power combo) to build a 7.1-channel cinema system. New kit includes an 8TB Kaleidescape server/player, B&W speakers, Arcam BPD-100 Blu-ray deck, a PS3 (handling 3D duties until the Arcam's 3D update arrives) and a pair of Sky+HD boxes. The Kaleidescape system includes the brand's Child Remote, meaning the room can be used without parental supervision – the system automatically restricts the choice of content when the Child Remote is used.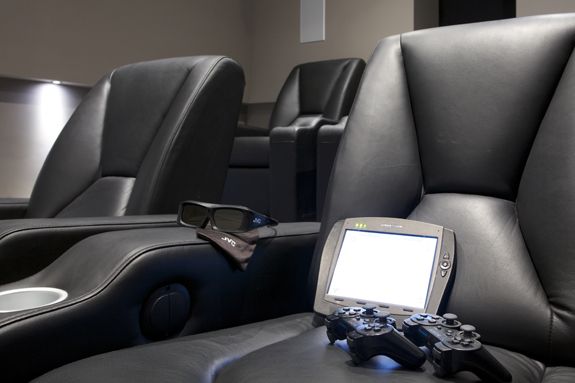 Sound improvement
Acoustically, the build benefitted from the room being an empty shell. This allowed Finite to line it with acoustically-absorbent plaster board and silicone isolators, preventing sound transferring to the rest of the house.
Raised tiers for the Signature cinema seats, plus carpeting and lighting, were also laid early on. The carpet and lighting contribute toward the subtle Tron theme in the room (although we feel a replica Lightcycle would have been a good finishing touch). A Crestron TMPC-8X touchscreen controller takes the stress out of operating the cinema, from watching a movie to choosing the lighting. It's also integrated with the home's CCTV and gating system.
So, reference-grade projector, thousands of movies at the touch of a button, intelligent lighting and 7.1 surround sound - if the future of home cinema is 3D, then this is the way to do it...
---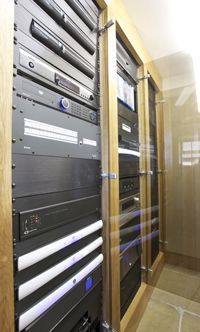 KIT CHECKLIST...
JVC: X-9B projector
Stewart: 8.5ft screen with Studio Tek Micro perf fabric and automated screen borders to switch to 4:3 format
Integra: Processor and power amplifier
DVDO: iSCAN video scaler
Bowers & Wilkins: 3 x Signature 8 NT LCR three-way speakers; 4 x CWM 7.5 surround two-way speakers
KEF: 500W subwoofer
Kaleidescape: M500 player; 1U Kserver with 8TB of storage; Kvault-10
Arcam: BDP-100 Blu-ray player
Sony: PlayStation 3
Sky: 2 x Sky+HD
Crestron: TMPC-8X; AV2; 2 x CP2E
Niko: Lighting control
Signature: cinema seating
Middle Atlantic: rack and cooling
Price: £undisclosed
Installer: Finite Solutions
---
FIVE FACTS ABOUT THIS INSTALL...
Nice rack
The sheer number of components housed in the Middle Atlantic racking meant a bespoke ventilation system was designed to ensure nothing overheated
Child's play
With youngsters eager to use the room, Kaleidescape's Child Remote is employed to make sure they can operate the system – and not end up watching Scarface
Wall of sound
The 7.2-channel system uses Bowers & Wilkins in-wall speakers to maintain the room's sleek design, while the front soundstage is mounted behind the projector screen
Five-star seating
The quintet of reclining cinema chairs from Signature makes movie-viewing a comfortable experience for the whole family
Game on
PlayStation controllers are on hand for bigscreen gaming sessions – and 3D movies until the Arcam BDP100 gets its 3D update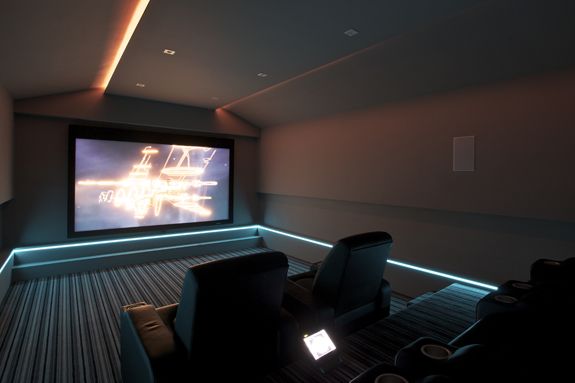 This feature first appeared in the November 2011 issue of Home Cinema Choice