Polk Audio TL1600 review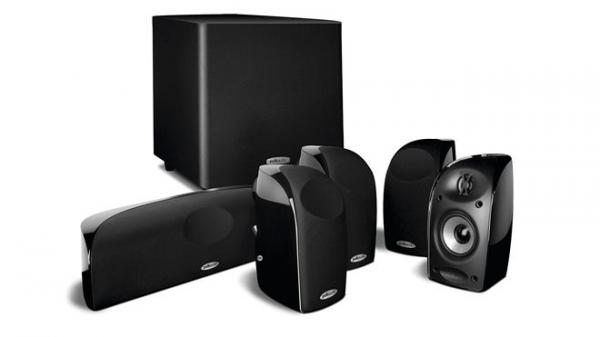 US audio brand attacks the UK speaker market with an affordable 5.1 sub/sat array

US brand Polk Audio attacks the UK compact speaker market with the TL1600, an affordable 5.1 pack bristling with innovation. In the box are four bijou TL1 satellites that stand just 165mm high, plus a horizontally aligned centre speaker and a cute, cubed sub. The satellites' gloss finish and curved enclosures catch the eye, whereas as many sub/sat rivals in this market are resolutely boxy. And note that the non-parallel construction serves an acoustic purpose in reducing internal resonances.
Each satellite has a silk dome tweeter and a mid/bass driver (two for the centre), with the tweeter recessed in the front baffle as per Polk's Time Lens time alignment design. An acoustic lens in the tweeter's grille works to improve high-frequency characteristics, while an aperiodic rear-firing bass port controls air flow to boost bass response and help the sats blend with the subwoofer, which uses an 8in driver and 100W amp.
This all amounts to an impressive performance. Play Godzilla on Blu-ray and the Polk's crisp, lively presentation suits the gung-ho soundmix well. As the Army attacks the M.U.T.O. near Honolulu airport, the rattle of machine guns is crisp and dynamic, while the sharp chug of helicopter blades whirls with panache. And big explosions don't just rumble – they're laced with a layer of treble that heightens impact.
It's a composed performer, but direct and bursting with detail. You'll appreciate the raspy edges of the brass lines in Alexandre Desplat's score, and the movements of debris and dust every time a building topples. Clarity is this system's key asset, giving the impression of refinement and openness.
And with identical satellites on front and surround duty you get that clarity, and accurate imaging, all around the soundstage. Well-defined effects fire at you purposefully from every angle, and front to back pans are smooth and decisive.
Woof woof
The smallscale subwoofer anchors the performance with big, natural-sounding low-frequencies. It's rated down to 40Hz, so doesn't plumb the absolute depths. Integration with the satellite speakers could be a little tighter, however – sometimes the soundstage feels a little disjointed.
Another minor negative is that the Polk satellites' high-frequency output errs on the polite side, which can rob some movie moments of real attacking verve.
However, the £330 asking price was always bound to come with some performance limitations. Accept these and you have a fine budget 5.1 choice.
Specification
TL1
Drive units: 1 x 2.5in midrange driver; 1 x 0.5in tweeter
Enclosure: Ported
Frequency response: To 22kHz
Sensitivity: N/A
Power handling: 100W
Dimensions: 95(w) x 165(h) x 123(d)mm
Weight: 0.8kg
---
TL1 centre
Drive units: 2 x 2.5in midrange drivers; 1 x 0.5in tweeter
Enclosure: Ported
Frequency response: To 22kHz
Sensitivity: N/A
Power handling: 100W
Dimensions: 381(w) x 101(h) x 88(d)mm
Weight: 1.5kg
---
TL1600 (Subwoofer)
Drive units: 1 x 8in long-throw Dynamic Balance polymer composite driver
Enclosure: Downward-firing vented port
Frequency response: Down to 40Hz
On board power: 100W (peak)
Remote control: No
Dimensions: 317(w) x 352(h) x 317(d)mm
Weight: 9.3kg
Connections: L/R line input; speaker-level input/output