Panasonic TX-P50ST50 review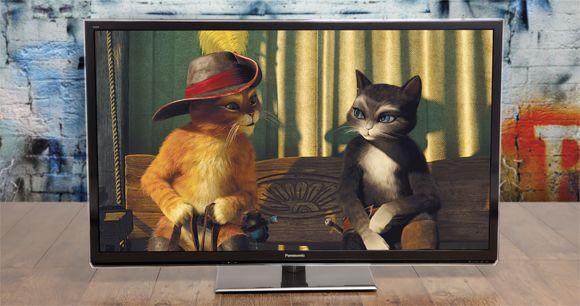 Think plasma display tech has had its day? Panasonic would like to prove otherwise...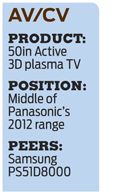 Panasonic may have been forced this year into embracing both Passive 3D and big-screen LCD technologies, but it certainly hasn't given up on its beloved Active 3D plasma screens. In fact, the 50in TX-P50ST50 plasma here isn't at all old-fashioned.
For starters, its design is streets ahead of Panasonic's previous PDPs, thanks to an appealing crystal-covered grey bezel set off by a few millimetres of transparent outer trim. The set's chassis is slim, too.
The ST50 TVs are the cheapest in Panasonic's latest plasma range to use the new version of the brand's NeoPlasma technology. Created to both improve picture quality and keep pace with ever tougher European power consumption targets, the latest NeoPlasma panels enjoy improved phosphors, a new '2,000Hz' sub-field drive system (up from 600Hz last year), and more efficient cell illumination systems.
The P50ST50 sports a Full HD pixel count, claims a phenomenal contrast ratio of 5,500,000:1 and offers Panasonic's updated Viera Connect online system. This looks and feels broadly similar to last year's portal, with the same attractive if slightly cumbersome menus. However, Panasonic has added an open web browser for the first time, and there are new apps for Netflix and Fetch TV, plus the usual roster of apps, including Skype.
To use Skype you'll need an optional USB camera, and that's not the only accessory many users will cough up for – the P50ST50 doesn't ship with any free 3D glasses. Just as well, then, that the new TY-ER3D4ME only cost around £50 a pair (and are much better designed than last year's models).
The P50ST50 does, though, deliver built-in Wi-Fi rather than requiring an optional external Wi-Fi dongle. It's also multimedia savvy, allowing you to play a decent selection of video, photo and music files from USB or SD storage devices, or networked PCs.

The single best attribute of the P50ST50, though, is its picture quality. For instance, dark scenes reveal a spectacular black level response. As Tintin explores the Haddock mansion at night in Steven Spielberg's adaptation, the TV delivers rich, dark blacks without even the slightest trace of the sort of backlight inconsistencies that plague so many LED models.
Also very significant is the way the superb black depth doesn't come at the expense of subtle details and dark colour information. Plasma can control the light level of each pixel individually, so there's no need for the more generalised light controls and brightness compromises of LCD TVs.
The P50ST50's colour gamut seems expansive, meanwhile, and tones contain superb blend finesse (at least in 2D mode). Colours look surprisingly rich, too, considering how difficult it can be for plasma TVs to deliver 'punch' without ramping up power consumption.
HD images in both 2D and 3D mode are sharp and detailed – the screen suffers hardly at all with either motion blur or unnatural judder. This latter achievement is presumably down to the screen's 2,000Hz system – it certainly doesn't depend on you using the set's Intelligent Frame Creation system. If you do want to try the IFC, though, on its lowest setting it doesn't generate any significantly unpleasant side effects.
Actually, there were times while watching the P50ST50 where I felt as if I was watching one of the brand's flagship 2011 plasmas. High praise considering the ST50 series is a mid-range 2012 model.
The P50ST50's 3D efforts are a clear step forward from those of the 2011 ST30 series, with an improved brightness and dynamism, and less crosstalk and 'striping' of colour blends than before.
However, there's no denying that both 3D and 2D images don't look nearly as bright as can be found on LCD rivals. This might make the P50ST50 a considered purchase for someone who watches TV in a very bright room. Other niggles are occasional dot crawl over skin tones during rapid camera pans, and an average audio performance – yet these aren't troubling enough to stop the P50ST50 from being an emphatic statement of plasma's continued importance to the AV world. You can get bigger TVs for less money, but you won't be disappointed if you splash out on this one.
---
HCC VERDICT
Panasonic TX-P50ST50
Price: £1,400 Approx
Highs: Stellar 2D and 3D picture quality; appealing design; decent online service
Lows: No 3D glasses included; 3D pictures in particular can look dark
Performance: 5/5
Design: 4/5
Features: 4/5
Overall: 4/5
---
Analysis
GUI: The Viera Connect main interface is dominated by large icons, but delving deeper can become a long-winded process
Power consumption: An average draw of 171W is proof that plasma still can't match LED in energy efficiency
Killer feature: The black level response of the TX-P50ST50 is first-rate, giving Blu-rays a cinematic air
---
Specifications
3D: yes Active shutter
Full HD: yes 1,920 x 1,080
Tuner: yes Freeview HD; analogue; CI slot
Connections: 3 x HDMI; 1 x component; 1 x D-Sub PC input; 1 x Scart; 2 x USB; 1 x SD card; 1 x optical digital audio; 1 x phono stereo audio; 1 x Ethernet
Sound: N/A
Brightness: N/A
Contrast ratio: 5,500,000:1
Dimensions (off stand): 1,180(w) x 709(h) x 50(d)mm
Weight (off stand): 23kg
Features: Built-in wi-fi; USB multimedia playback; SD card multimedia playback; latest NeoPlasma panel; '2,000Hz' system; Intelligent Frame Creation processing; Viera Connect online functionality; Grade C energy rating