Panasonic DMR-BWT735 review

This combination Freeview+ HD 1TB PVR and Blu-ray deck isn't quite a jack of all trades
Panasonic currently stands alone in producing decks capable of both recording Freeview programmes to hard disk and archiving them to Blu-ray, and the DMR-BWT735 is its latest such offering. Burning content to disc may seem an old-school concept – this deck does, however, feature state-of-the-art Smart functionality.
Accommodating a disc drive and a 1TB hard disk means the DMR-BWT735 is a fairly large unit, although it has a minimalist design aesthetic similar to its stablemates. The fascia flips open (automatically when inserting/ejecting discs) to reveal the disc drive tray, USB port and SD card slot.
The backplate has an HDMI output, optical and coaxial digital audio outputs and stereo phonos. There's no Scart output but an input can be used to capture video from external kit in composite or S-video quality. Also present is a second USB port, an Ethernet port (Wi-Fi is built-in) and an aerial loopthrough. The remote isn't short of buttons but logical grouping, colour-coding and shortcuts make it reasonably intuitive to use.
Compared to other PVRs we've tested recently, the UI is rather plain-looking. It is easy enough to navigate, though – thanks again in part to those shortcut buttons.
The EPG can display seven-day data in grid form for all channels, favourites or sorted by category. You can schedule automatic series recordings and set up recordings via the EPG or – including from external kit – using a manual timer or by pressing record when watching a programme. Live TV can be paused for up to 90 minutes.
On the record
Panasonic lets you specify quality settings and record two channels (or from one internal tuner and an external source) at once, including while playing a recording or disc. Disappointingly, you can't record while archiving, converting, using the apps portal or playing externally-located media files.
Recordings (and internally-stored media) appear in the Direct Navigator menu where they can be sorted by type (eg. drama) and edited by excising chunks or dividing them up. You can also create chapters and disc menus. DR-quality recordings (pretty much 'as broadcast') can be converted afterwards while other quality settings are HG, HX, HE, HL and HM for HD, and XP, SP, LP, and EP for SD recordings. There's an FR ('flexible recording') mode for external recordings.
For those eager to make the most use of space, up to 684 hours of recordings can be stored internally or 35 hours on a dual-layer Blu-ray disc using the HM setting. This shifts to 1,724 hours/84 hours using the EP mode, although image quality is visibly 'blocky' at the lower settings, HD included.
Material can be exported to a USB drive but once 'registered', drives can't be used with equipment other than the BWT735.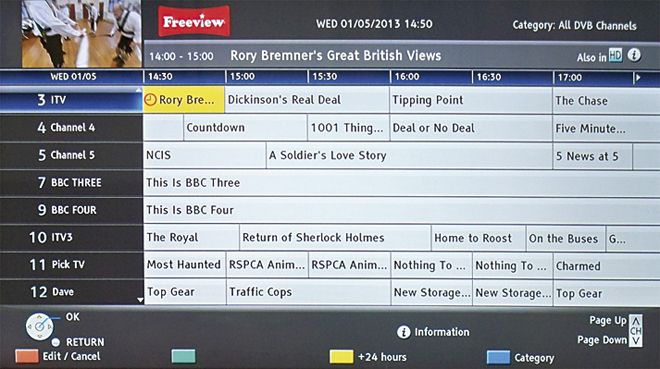 IQ test
As a Smart machine, the DMR-BWT735 is savvy with numerous media file formats, be they located internally or on USB drives, discs, SD cards or DLNA networked storage. Playlist and slideshow support is offered. It will also convert 2D video (excluding live TV) to 3D, yet the effect is generally underwhelming.
I successfully accessed files on a networked Windows 7-equipped laptop and Western Digital MyBook World II NAS drive, but found MKV streaming to be unsupported. I also got enjoyment from one of the DMR-BWT735's neat tricks – acting as a DLNA server, sharing files and TV (in SD quality only) with other devices, here a Panasonic ET60 LED TV.
A free DIGA Player app for Android/iOS mobiles/tablets can be used to control the box, browse the EPG, stream live and recorded TV over a network and schedule recordings via the web.
Upscaled to 1080p, SD and HD Freeview broadcasts are convincingly sharpened. Though a little smeary, video captured using the composite Scart output from my Virgin Media TiVo box was perfectly watchable. Blu-ray playback is no cause for concern – punchy, sharp and with plenty of detail evident during even the murkier moments of The Dark Knight Rises and Blade Runner: The Final Cut.
As a playback and recording device the DMR-BWT735 is therefore easy to recommend, but the Viera Connect apps portal lets the side down a little bit. It currently includes catch-up TV from BBC iPlayer only, whereas rival PVR and Blu-ray deck makers are adding the likes of Demand 5. Making up for this is the presence of YouTube, Netflix, Facebook, Twitter, Skype and – most useful of all – a superior Rovi EPG from which you can also schedule recordings. However, the lack of LoveFilm might annoy some.
So if you're looking for an all-in-one Freeview recorder/archiver and media centre, the DMR-BWT735 is a capable machine at a price that's about right – it's just not quite as Smart as you might hope.
---
HCC VERDICT
Panasonic DMR-BWT735
Price: £500 Approx
www.panasonic.co.uk
Highs: Freeview recording/Blu-ray archiving in one; extensive smart features; value for money
Lows: You can't record while using the apps portal or player's DLNA functionality; more catch-up TV would be nice
Performance: 4.5/5
Design: 4/5
Feaures: 4/5
Overall: 4/5