Netflix announces first original movie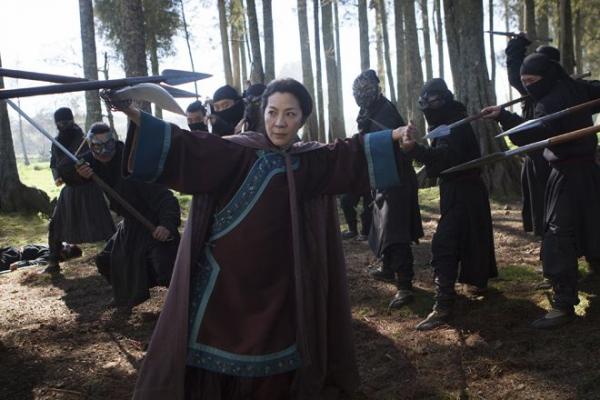 Netflix has confirmed that the sequel to Ang Lee's martial arts epic Crouching Tiger, Hidden Dragon will premiere exclusively on Netflix and in selected IMAX cinemas on August 28, 2015.
Crouching Tiger, Hidden Dragon: The Green Legend will be directed by renowned martial arts choreographer and filmmaker Yuen Wo-Ping and sees Michelle Yoeh reprise her role as Yu Shu-Lien alongside Donnie Yen as Silent Wolf in a tale of 'lost love, young love, a legendary sword and one last opportunity at redemption' (sort of like the first film, then). The film is reportedly based on the novel Iron Knight, Silver Vase by Wang Dulu (Book Five in the Crane-Iron Pentalogy) and also stars Harry Shum Jr., Jason Scott Lee, Roger Yuan, Eugenia Yuan and Natasha Liu Bordizzo.
"The moviegoing experience is evolving quickly and profoundly, and Netflix is unquestionably at the forefront of that movement," stated producer and TWC co-founder Harvey Weinstein. "We are tremendously excited to be continuing our great relationship with Netflix and bringing to fans all over the world the latest chapter in this amazing and intriguing story."
"IMAX has a terrific opportunity, via this partnership with Netflix, to release Crouching Tiger - a high-quality, action-packed film that is right in our wheelhouse - at the end of the summer blockbuster season" said Greg Foster, Senior Executive Vice President, IMAX Corp. and CEO of IMAX Entertainment. "We are particularly hopeful it will play in our highly successful China market. In territories where we simultaneously release with Netlfix, we are excited to offer consumers the option of deciding how, when and where they want to view the film, and exhibitors the opportunity to participate in thi alternative form of content in a new and innovative way."
Photo credit: Rico Torres for Netflix