LG DM2350D review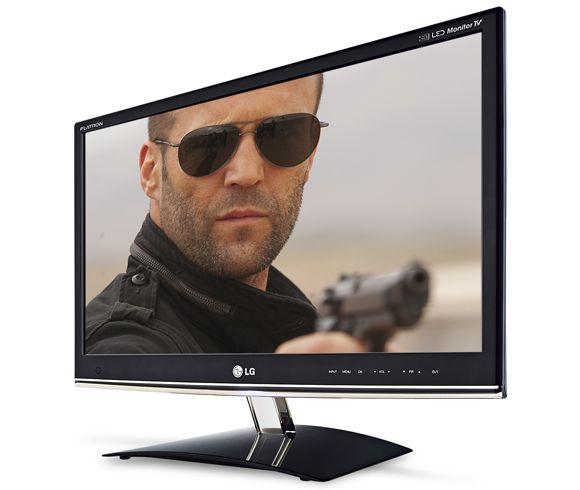 It may look like any other PC monitor, but this LG display still boasts Passive 3D and integrated Freeview!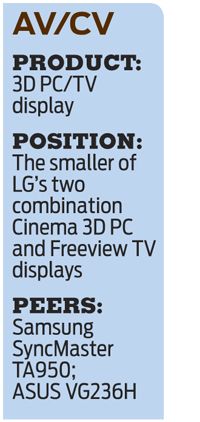 The LG DM2350D is a jack-of-all-trades 3D display. A combination Freeview TV and PC monitor, it's aimed at both 3D gamers and/or those that hanker after a multifunctional screen.
While it's not uncommon to find a PC input on regular TVs, this is very much a computer monitor with Freeview bolted-on. You can tell from the design that it hails from LG's IT division, rather than any CE group.
The design is unapologetically desktop, all lightweight gloss plastic. Design wise, Samsung's similar TA950 3D SyncMaster has nothing to fear (but then this LG is considerably cheaper). While the DM2350D lacks Ethernet connectivity, which means you won't be able to use it to access LG's Smart TV portal, it will play back a wide variety of file formats from USB (notably MKV, AVI, MP4, MP3 and JPEG).
The panel sports an anti-glare finish and offers 1,920 x 1,080 resolution with a horizontal/vertical dot pitch of 0.265 mm. While the SD Freeview tuner does it few favours, Blu-rays and PC inputs appear suitably crisp. A large LG remote is included, but there're also front-facing touchpanel controls for close quarter reach.
In TV mode, the set features the standard Freeview Now & Next and eight-day EPG guides. The rest of the user interface recalls the brand's mainstream TV line.
Dynamic snap
Image quality is fine, although you'll need to invest some time with the setup controls for the best results. Black level is adequate for both gaming and TV viewing, with a dynamic snap to images. Ease back the Sharpness control to avoid edge-ringing, which can becomes very obvious when you sit close to the screen. Colour fidelity is acceptable, although reds tend to look a tad orangey.
Passive 3D's tendency to half the resolution of any incoming 3D signal isn't a particularly big deal on a screen this size. However, its other characteristic, vertical crosstalk, is more of an issue. It's vital you sit square to the screen to avoid the exaggerated ghosting that can result if you're vertically off-axis.
The sound system onboard is loud but unremittingly thin. LG's Surround X mode attempts to add depth to the set's stereo, but its contribution is limited.Overall, the DM2350D can be considered solid value. A larger 27in model is also available should you need it, but for three-dimensional PC duties 23ins seems an ideal size. Ultimately, I believe any caveats about image quality can be balanced by the bargain price tag.
---
HCC VERDICT
LG DM2350D
Price: £250 Approx
Highs: Low-cost 60Hz 3D PC gaming monitor; solid multimedia USB reader; integrated Freeview
Lows: Passive 3D tech delivers lower resolution than Active Shutter; one-dimensional audio performance
Performance: 4/5
Design: 2/5
Features: 4/5
Overall: 4/5
---
Specifications
3D: yes Passive
Full HD: yes 1080p
Tuner: yes Freeview
Connections: yes 2 x HDMI; 1 x USB; 1 x PC input; 1 x headphone
Resolution: 1,920 x 1,080
Sound: 10w (2 x 5W)
Brightness: 250 cd/m2
Contrast ratio: 7,000,000:1
Dimensions (w/o stand): 546.7(w) x 354.2 (h) x 58.5(d)mm
Weight (w/o stand): 3.7kg
Features: 3D Ready (one pair of Passive 3D glasses supplied, plus Passive clips-ons for prescription spectacle wearers); 2D-3D conversion; USB media playback (JPEG, MP3, AVI, MKV support); 46W power consumption; anti-glare surface treatment